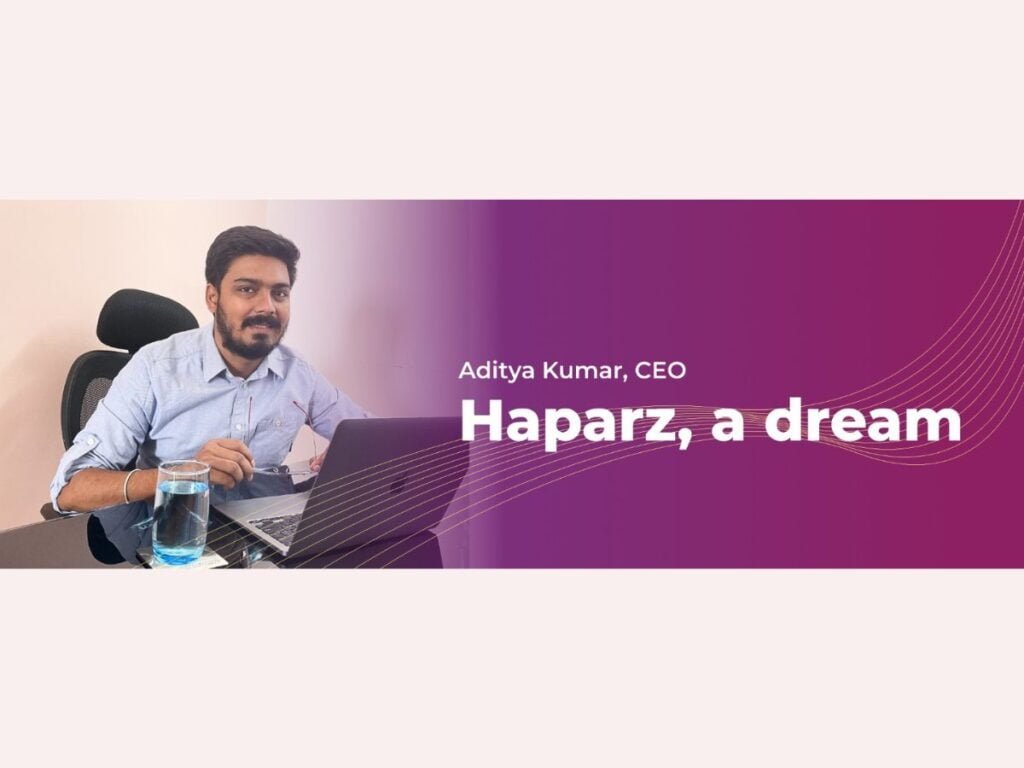 New Delhi (India), May 16: Haparz, a game-changing IT consulting and software development company, was founded in 2020 by Mr. Aditya Kumar with a vision to break the boundaries of traditional IT services. With a team of dedicated professionals who share his values of collaboration, innovation, and integrity, Mr. Kumar has created an unstoppable force that's driving remarkable change in the industry.
In the face of unforeseen challenges brought on by the Covid-19 pandemic, Mr. Kumar's unwavering commitment to his team's well-being shone through. He encouraged remote work to foster a healthy work-life balance and ensure his team could adapt seamlessly to the new reality. This approach has led to a strong sense of trust, camaraderie, and ownership, which has powered Haparz to new heights.
Today, Haparz stands as a testament to Mr. Kumar's vision and his team's shared dedication to excellence. Together, they're developing innovative solutions for multinational corporations over the globe and emerging businesses in India, shaping the future of IT consulting and software development.
As it continues to march forward, inspired by Mr. Kumar's vision and united by their shared purpose, Haparz is poised to leave a lasting impact on the industry. This is just the beginning of its journey, and the future looks bright for this trailblazing company.
Client-Centric Approach to Development
At Haparz, a client-focused approach is taken toward providing IT consulting and services. It is acknowledged that every business is different and has its own unique requirements and obstacles. To create solutions that are suited to each client's particular requirements, the team takes the time to comprehend their objectives.
According to the company's founder, Mr. Aditya Kumar, the ambition is to sustain clients' triumph by offering customized solutions that enable them to perpetrate their professional objectives. Haparz takes pride in its ability to create cutting-edge, flexible, and cost-effective solutions that nurse the growth of clients' businesses.
Cutting-Edge IT Solutions for Business Growth and Competitive Advantage
A wide range of IT services are available from Haparz, including specialized web development, mobile app development, software development, and business development solutions. The goal of the organization is to maintain competitive advantage and economic growth for enterprises of all sizes.
Increasing competition, fluctuating consumer preferences, and swiftly advancing technology are just a few of the challenges that businesses today must deal with. Innovative solutions from Haparz help customers remain on top of trends and accomplish their goals.
Whether a startup or an established company, the company delivers the expertise and knowledge to help clients succeed in today's digital environment.
Tailored IT Solutions for Unique Business Needs
Haparz believes that when it comes to IT solutions, there is no one solution that fits everyone. The company provides bespoke solutions that are tailored to each business's particular requirements. Before creating solutions that are specifically suited to the client's needs, the team of specialists takes the time to comprehend the objectives and problem points of the business.
Haparz's specialized solutions are not only state-of-the-art but also reasonably priced and expandable. The company provides specialized software development, mobile app development, and web development services to support clients in achieving their corporate goals. Clients can be confident that they will receive individualized care and establish enduring partnerships when they choose Haparz as their IT partner.
Contact Haparz Today to Learn More
For businesses seeking innovative IT solutions, Haparz is the go-to IT services and consulting firm. With tailored resolutions that approximate each client's unique needs, the team of IT experts is committed to helping businesses achieve their goals. For more information about the company's services, visit the website at www.haparz.com or call +91-86603 20579. Haparz is a leading IT service and consulting firm headquartered in Bangalore, India, providing its services worldwide. Get in touch with Haparz today to discover how the company's cutting-edge IT solutions can help businesses flourish in the ever-evolving digital world. https://haparz.com/
If you have any objection to this press release content, kindly contact pr.error.rectification@gmail.com to notify us. We will respond and rectify the situation in the next 24 hours.