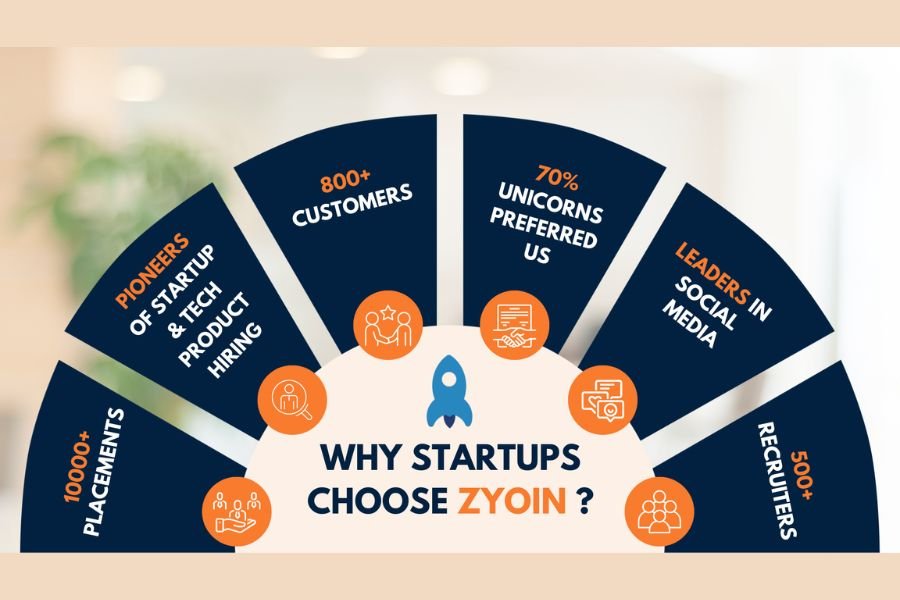 New Delhi (India), February 3: Enterprises always have it challenging when finding a candidate that fits both the job role as well as the culture of an organization. To make it easy, only a successful recruitment strategy, adequately aligned with business goals, can help. Accordingly, a well-thought-out plan becomes necessary to aid hiring and create the groundwork for any brand's long-term market success. In essence and alternatively, we can state that firms having hiring strategies, practices, KPIs, and an evaluation of their hiring capability covered, tend to be the horses of the long haul.
To that end, skilled headhunters who can aid the implementation of such recruitment tactics while upholding a reasonable budget can be of tremendous assistance to entrepreneurs. Zyoin, a recruiting firm comprising professional recruiters, is one of the prominent players in this field that has helped businesses with their hiring needs for more than 17+ years. With its unique understanding of recruitment, Zyoin has consistently stood out as a popular choice for hiring the best talent for various brands in the market.
Over the years, it has catered services to over 800+ Customers, directed 10000+ placements, and built a team of 500+ recruiters. It's pronounced focus on the value of superior competence in human resources to businesses has led it to emerge as one of the top recruitment firms in India.
Zyoin – Best talent recruiter for startups
Due to financial constraints and inadequate measures in place, hiring is particularly challenging for startups and the like. As startups can not compete for pay and perks, they find it difficult to convince potential employees that they are a better employer than well-established organizations.
Today, startups are under immense pressure to hire promptly to achieve their goals. Partial or complete outsourcing of talent acquisition can help them to save time and focus on more crucial growth endeavours. Besides, by outsourcing recruitment services, early-stage companies can improve their prospects of quickly developing into leading players in the market and availing the best staff and resources at a reasonable cost.
For this very purpose, Zyoin can be the ideal partner that startups need. Established in 2005, it has been addressing the recruitment needs of startups long before 'The Indian startup story' came into the picture. Though in its initial years, it emerged as a Pioneers of Startup and Tech product hiring in India today, its scale of operations extends to non-technical hiring. Currently, it is one of the most diversified providers of ingenious and value-for-money recruitment services.
It has so far provided its services to startups from various niches such as fintech, e-learning,
e-commerce, logistics, healthcare, etc, 70% of unicorns in India have hired through us. It has handled the early hiring needs of 74 out of 102 Indian unicorns, making it an
experienced player and an option with an edge for all emerging startups. Some of the major
Unicorns it has worked with include Flipkart and Myntra. It is also an exclusive partner to Ola
Electric.
Regardless of the size of your startup, small, large, or stealth mode, Zyoin discovers the best entrepreneurial talent to disrupt the market for you with the broad spectrum of skills they possess. It is flexible and equipped with the latest technology to help you achieve growth by locating the best talent and navigating the challenging hiring process effortlessly making them Leaders in Social media recruiting. And for that matter, the agency has a dedicated team of 100 members solely to cater to the recruitment needs of startups.
By applying its clearly defined workforce strategy in the nascent stage of a business, Zyoin makes the time-consuming and challenging process of hiring easier and faster. It gives access to a talent pool of industry-specific hiring experts who are thoroughly knowledgeable. These hiring professionals better evaluate a candidate's suitability for the position and the company against someone who might need to understand industry-specific roles fully. The competent hiring teams at Zyoin are the product of routine training on the most recent technologies, hiring trends, and best practices.
Zyoin concentrates on the hiring process in line with your startup requirements and offers services that enable modification of the hiring procedure to satisfy diverse company goals. It also completes the recruiting process within 45 days instead of a general hiring period of 60 days. Thus, ensuring the fulfilment of your talent needs seamlessly and on time.
Zyoin facilitates the setting up of a new team by providing dexterity in selecting the ideal candidate. It ensures that every applicant who enters the recruitment process is thoroughly screened and that HR procedures are upheld. Their knowledgeable staff quickly connects with sizable groups of job searchers by sharing pertinent information and getting in touch with them one-on-one using social media reach and a database of 1000000+ candidates.
Zyoin has always been a social media hiring pioneer and is well-known in the industry for the same. It is recognized by LinkedIn as the most socially engaged staffing agency with the highest number of followers, clearly highlighting its vast reach among recruiters and recruits. Besides supplying top-notch talent, Zyoin ensures that candidates and clients get treated with respect by allowing them to provide and receive value in the communities they serve.
Startups can gain from Zyoin's comprehensive knowledge of today's talent. Instead of just filling a position with any qualified applicant, hiring the right individuals with the help of Zyoin's services can help them increase their corporate performance by reducing employee turnover and increasing productivity.
It is indisputable that a well-managed recruitment process can significantly boost overall productivity and enhance the general impression of a company's commercial objectives. With Zyoin's services, startups can benefit from an increase in the employee value proposition through careful hiring process management from beginning to end. A good EVP can consequently help the startup recruit, hire, and keep top personnel without spending premium salaries. "Recruiting right and in time saves a nine "and paves the way for the long-run success of the business.
If you have any objection to this press release content, kindly contact pr.error.rectification[at]gmail.com to notify us. We will respond and rectify the situation in the next 24 hours.