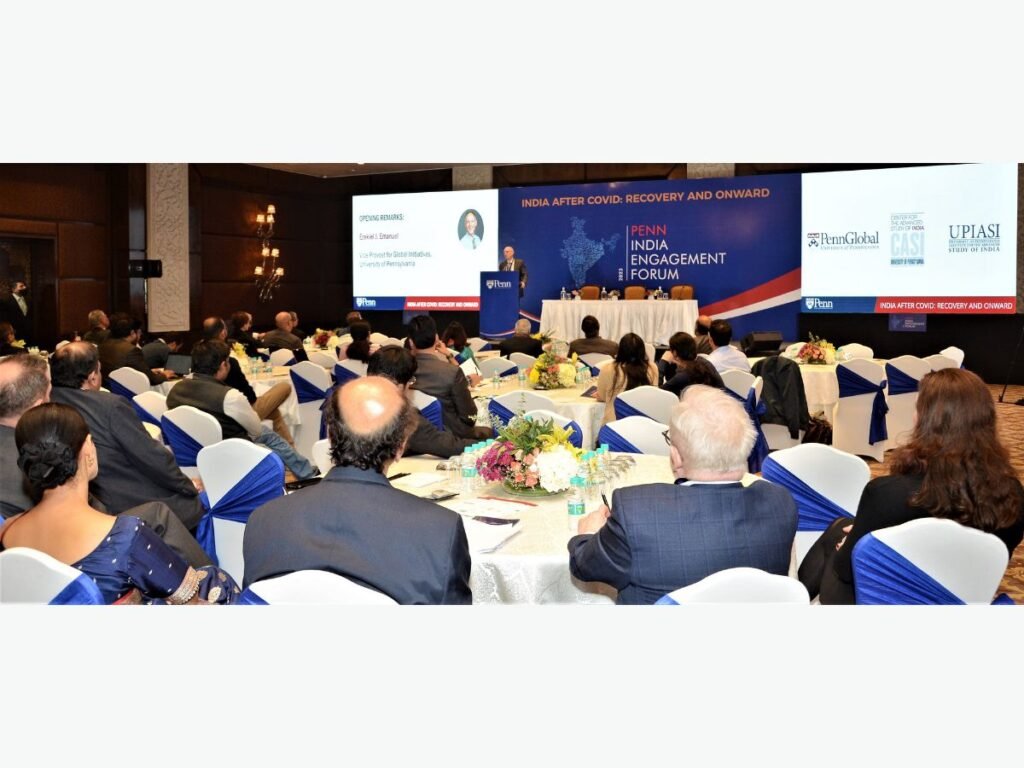 New Delhi (India), January 28: "Penn India Engagement Forum," the strategic forum organised by the University of Pennsylvania Institute for the Advanced Study of India (UPIASI) in collaboration with the Center for the Advanced Study of India (CASI) and Penn Global concluded with the promise of enhanced collaboration with India to support the country's exceptional growth journey.
The forum witnessed comprehensive brainstorming on contemporary challenges and opportunities by Penn's senior leaders, faculty, alumni, and business leaders from across the globe. The experts also discussed India-specific challenges in the post-Covid-19 era across three categories-
1) Health care in India
2) Education and the reforms needed to meet the surging demands in the country
3) Technology and technical innovation
''India is special to us. Penn was one of the first universities in the U.S. to teach Sanskrit and 25 years ago we launched the University of Pennsylvania Institute for the Advanced Study of India (UPIASI). One in eight of our foreign students comes from India and we have a deep commitment to hosting students from the country. Today every major corporation is looking for alternatives to diversify their global operations and India has a huge opportunity in this regard. This, combined with an indigenous community of innovators and entrepreneurs, suggest that the future in India is bright,'' said Ezekiel J. Emanuel, Vice Provost for Global Initiatives, University of Pennsylvania.
Echoing his opinion, Erika H. James, Dean at The Wharton School of the University of Pennsylvania added, ''Recognising the opportunities to engage with India remains our top priority. The Wharton School has nearly 1,000 alumni from India which is a testament to our unprecedented engagement with the country. We have also launched a Global Executive MBA programme that offers students from across the globe the opportunity to garner global business insights and leverage the opportunities of tomorrow. The Penn India Engagement Forum serves as a strategic platform to nurture our collaboration with India for a win-win proposition.''
Celebrating its 10th anniversary this year, Penn Global delivers thoughtful recommendations to the University of Pennsylvania for its global endeavours. Bolstering Penn's engagement in India remains a top priority. The forum commenced with prominent experts illustrating the existing picture of health care in India and the necessary reforms needed to assure quality health services to every Indian.
''The Government of India is getting more assertive on health care via centrally sponsored schemes. The National Health Policy of 2017 has embraced comprehensive primary healthcare and we now have an architecture getting assembled which has the potential to deliver universal health coverage, provided there is a greater investment both in financial resources and human resources. All the infrastructure that we build will be a carriage without wheels if we do not have the trained human resources delivering the health services,'' said K. Srinath Reddy, Honorary Distinguished Professor at the Public Health Foundation.
The event functioned as the stepping stone to suggest new policies and foster innovation in India, and enable the country to evolve as the growth engine of the globe.
Further addressing opportunities in India at the forum, Vijay Kumar, Nemirovsky Family Dean, University of Pennsylvania School of Engineering and Applied Science said, "India is important to Penn. The country is the largest source of English-speaking talent. However, the absence of a University-based research and education ecosystem hurts the country. Penn Engineering, through our vibrant alumni base, online educational programs, and research collaborations with Indian universities and industry, can play an important role to help build this ecosystem."
The eminent speakers at "Penn India Engagement Forum," also delved deep into the potential of digitisation in transforming education delivery in India and preparing students for emerging opportunities.
''Digitisation is not an option but a necessity for the education segment in India as we will not be able to meet the demands for education in our country by building campuses and hiring faculty. Only about one in four of our young population goes to college or university. As a country, we have to build and leverage technology to offer education to our students. The chance to transform learning and learning experience is still before us and it is a huge opportunity to respond to this challenge,'' said Pramath Sinha, Ph.D. from Penn's School of Engineering and Applied Science in 1991; founder & chairman, Harappa Education.
Penn Global also manages Penn's India Research and Engagement Fund to promote faculty research, teaching, and service activities associated with India and operates in close collaboration with the Center for the Advanced Study of India (CASI) and the University of Pennsylvania Institute for the Advanced Study of India (UPIASI).
The University of Pennsylvania, founded in 1740, is an Ivy League institution with a distinctive past. Its twelve undergraduate, graduate, and professional schools are located in Philadelphia on an attractive urban campus that serves a diverse community of more than 20,000 students from throughout the nation and around the world. Ranked consistently among the top universities in the nation, Penn has a longstanding reputation for excellence in graduate and professional education
If you have any objection to this press release content, kindly contact pr.error.rectification@gmail.com to notify us. We will respond and rectify the situation in the next 24 hours.