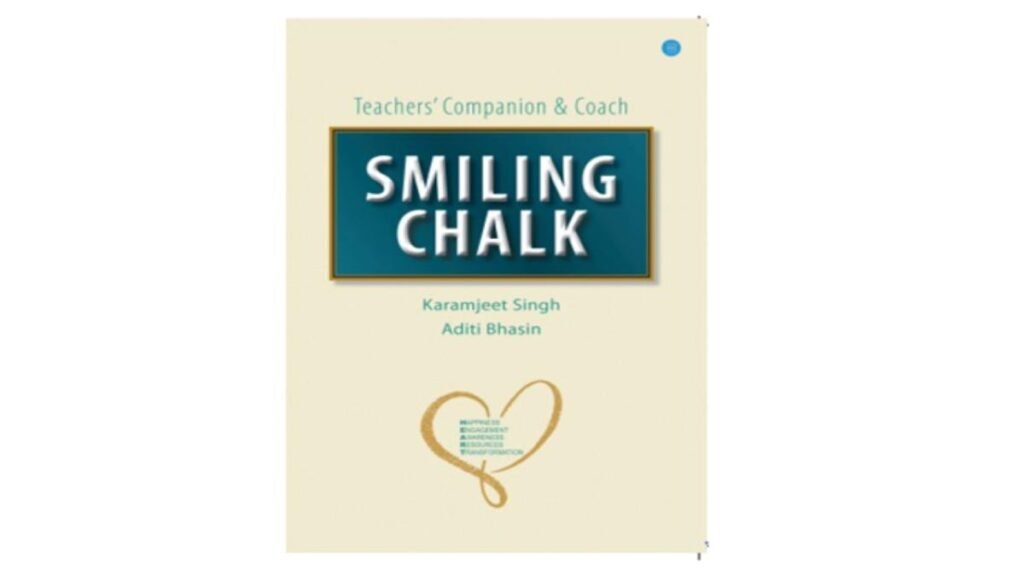 New Delhi (India), September 25: Syed Arshad, founder and managing director of BlueRose Publishers, a prominent name in the world of literature, is delighted to announce the publication of "Smiling Chalk," an inspiring and transformative book authored by Karamjeet Singh and Aditi Bhasin. This innovative work promises to revolutionize the field of education and empower teachers to create joyful and engaging classrooms.
Karamjeet Singh, an Academic Coordinator and English Lecturer, and Aditi Bhasin, a mentor teacher and English Language Instructor, have been dedicated educators serving the Directorate of Education, Government of Delhi, for more than fifteen years. Their extensive experience includes classroom observation, content development, teacher workshops, and active involvement in the implementation of progressive curriculums like the Happiness Curriculum, Entrepreneurship Mindset Curriculum, and Desh Bhakti Curriculum in Delhi Government schools.
The decision to co-author "Smiling Chalk" emerged from their rich and diverse experiences in education. Unlike their previous collaborative efforts, this book represents a personal initiative, reflecting their passion and commitment to the teaching profession. The book's official launch on Amazon, as well as its availability on Flipkart and the BlueRose Publishers' official website, marked a moment of immense pride and achievement for both authors and their families.
Karamjeet Singh's aspiration to write a book had been a cherished dream for over five years. In January 2023, fate brought him together with Aditi Bhasin during a workshop on stress management for teachers. As they engaged in conversations about the challenges of teacher burnout and the quest for creating joyful and stress-free classrooms, the idea to document their insights and experiences in a book took root. Realizing that their knowledge could benefit educators worldwide, they committed themselves to the task.
"Smiling Chalk" serves as an all-encompassing guide, offering tools, techniques, and strategies to foster happiness and joy in the classroom. The book introduces the acronym H.E.A.R.T., representing Happiness, Engagement, Awareness, Resources, and Transformation, as a comprehensive framework for creating holistic happiness within educational environments.
Each element of H.E.A.R.T. is meticulously explored in dedicated chapters, enriched with anecdotes, case studies, strategies, examples, and practical tools that have been tried and tested in real classrooms. Written in an engaging and conversational tone, the book becomes a trusted companion for teachers, offering guidance and coaching on various classroom challenges.
Within the pages of "Smiling Chalk," readers will uncover simple yet highly effective teaching methods and approaches that strengthen their connections with students. The book also equips teachers with user-friendly formats for lesson planning, resource management, and activities that can elevate classrooms from mundane to dynamic. It serves as an invaluable resource pool and quick reference for addressing classroom issues, including discipline and breaking the monotony.
Karamjeet Singh, a motivational speaker, innovator, and researcher, and Aditi Bhasin, a coordinator and administrator skilled in organizing teacher training and exposure programs, have also conducted workshops on effective communication and life skills.
The dynamic duo is already in the process of writing their next book, focusing on the classroom experiences of distinguished educators and exemplary teachers. Singh is deeply interested in writing self-help books, while Bhasin aspires to explore the realm of alternate healing. Together, they share a spiritual inclination and envision a future collaboration on a book about spiritual literacy for both teachers and students.
Their journey from educators to authors is a testament to the power of dedication, collaboration, and a shared vision for a brighter future in education. BlueRose Publishers is proud to be a part of their journey and looks forward to supporting more such initiatives in the world of literature.
As "Smiling Chalk" continues to inspire educators worldwide, Karamjeet Singh and Aditi Bhasin stand as shining examples of how dedication and a passion for education can lead to transformative change, both in the classroom and on the written page. BlueRose Publishers congratulates them on their remarkable achievement and eagerly anticipates their future contributions to the world of literature and education.
Our book has an introduction written by DyCm and Edu Minister Mr. Manish Sisodia, setting it apart from competing works.
Purchase at https://amzn.eu/d/hgwVhYb
If you have any objection to this press release content, kindly contact pr.error.rectification[at]gmail.com to notify us. We will respond and rectify the situation in the next 24 hours.