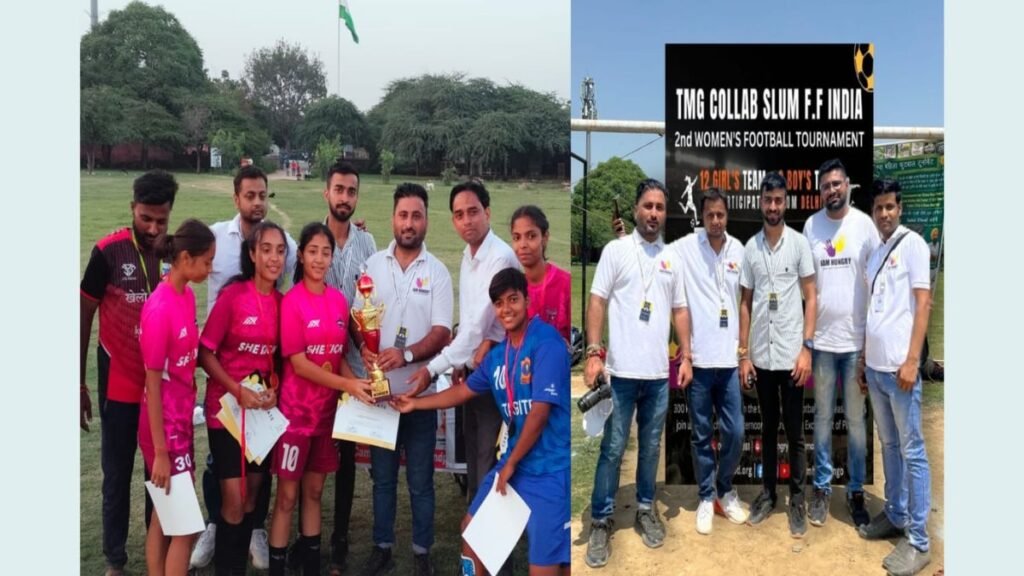 New Delhi (India), September 7: Geetansh Sharma Founder of TMG People Welfare Foundation established in Dwarka Delhi Organized Football Match on dated 2 sep 2023 into TMG Fit India Movement with Collaboration from Slum Football Foundation. TMG people welfare foundation cheers up with youth players and provides meals, refreshments, certificate, medal and troffy with support of Choudhary Avneet Pawar rashtriya adhyaksh of kisan sena.
Introduction
In a significant step towards promoting fitness and sports among the youth, the TMG People Welfare Foundation recently organized a thrilling football match under the age of 17 as part of their TMG Fit India Movement. This event, in collaboration with the renowned Slum Football Foundation, aimed to empower young athletes and encourage a healthy and active lifestyle. It successfully brought together talented players from various backgrounds, providing them with an opportunity to showcase their skills and passion for the game.
Fostering Youth Development
The TMG People Welfare Foundation has always been committed to the holistic development of young individuals. By organizing this football match, they aimed to create a platform where aspiring athletes could display their talent and receive recognition for their hard work. This event not only promoted physical fitness but also encouraged teamwork, discipline, and dedication among the participants.
The Role of TMG Fit India Movement
TMG Fit India Movement, initiated by the TMG People Welfare Foundation, is a nationwide campaign focused on promoting fitness and a healthy lifestyle. By incorporating sports activities, like this football match, into the movement, they aim to inspire the youth to embrace physical activities and stay active. The movement emphasizes the importance of regular exercise and its positive impact on mental and physical well-being.
Collaboration with Slum Football Foundation
The collaboration between TMG People Welfare Foundation and the Slum Football Foundation added a unique dimension to this event. The Slum Football Foundation is a renowned organization that works towards harnessing the potential of underprivileged children through sports. By joining forces, both foundations aimed to create an inclusive platform where talented athletes from diverse backgrounds, including those from underprivileged areas, could participate and showcase their skills.
Thrilling Football Match
The football match organized under the TMG Fit India Movement witnessed intense competition and displayed the remarkable talent of the young players. The spectators were treated to an exciting display of skills, teamwork, and passion for the sport. The match not only provided a platform for the athletes to exhibit their abilities but also served as a source of inspiration for those aspiring to pursue a career in football.
The Impact on Youth and Society
Events like the TMG Fit India Movement football match have a profound impact on the youth and society as a whole. By encouraging young individuals to participate in sports, it promotes physical fitness, mental well-being, and fosters a sense of camaraderie among participants. Furthermore, it helps in breaking barriers and stereotypes, bringing people from diverse backgrounds together, and instilling the values of teamwork and respect.
Conclusion
The TMG Fit India Movement's collaborative football match with the Slum Football Foundation marked a significant step towards promoting fitness and youth development. This event provided aspiring young athletes with a platform to showcase their talent and fostered an inclusive environment where everyone could participate and excel. The TMG People Welfare Foundation's commitment to promoting an active and healthy lifestyle through such initiatives is commendable. Such endeavors not only nurture talent but also contribute to the overall well-being of the youth and society at large.
If you have any objection to this press release content, kindly contact pr.error.rectification@gmail.com to notify us. We will respond and rectify the situation in the next 24 hours.