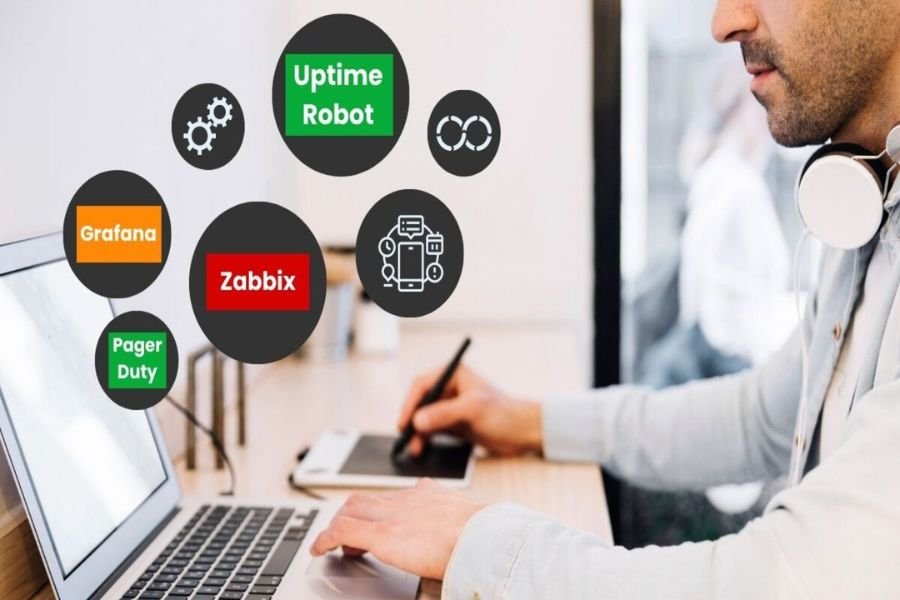 New Delhi (India), June 5: For DevOps teams, monitoring tools are essential for keeping their cloud infrastructure up and running smoothly.
User satisfaction is crucial, so monitoring tools are essential for identifying and resolving issues quickly, maximizing workflows, and enhancing overall performance.
Businesses of all sizes are choosing open-source monitoring tools because of their cost-effectiveness, flexibility, and customizability, among other benefits.
With open-source monitoring tools, you can customize and modify the software according to your specific requirements. Compared to free monitoring tools, paid monitoring tools usually offer a wider range of features, integrations, and support.
Here are some free & paid open-source and paid monitoring tools that you need to know about:
Uptime Robot: An open-source tool that can monitor website uptime and downtime. It provides email, SMS, and push notifications for downtime alerts. The tool can also monitor various types of services, including HTTP, HTTPS, SMTP, TCP, and ping, among others. Uptime Robot's user-friendly interface allows users to customize monitoring settings, view uptime statistics, and generate reports.
New Relic: A paid tool that offers application performance monitoring (APM), infrastructure monitoring, and real-time analytics. New Relic provides customizable dashboards, alerts, and integrations with popular DevOps tools. It offers a wide range of integrations with other tools and services, such as AWS, Azure, Google Cloud, and many others. 
Grafana: An open-source tool that can be used to visualize and analyse metrics data. Grafana supports a wide range of data sources, including popular databases, cloud services, and monitoring tools, such as Prometheus, InfluxDB, Elasticsearch, and many others.
CloudWatch: A paid tool offered by Amazon Web Services (AWS) that can monitor AWS resources and applications. CloudWatch provides logs, metrics, and alarms for AWS services. It enables businesses to automate actions based on specific metrics, such as scaling up or down resources, creating alerts, and executing AWS Lambda functions. 
Dead Man's Snitch: An open-source tool that can monitor scheduled jobs and report on their status. Dead Man's Snitch provides email and Slack notifications for job failures. It works by sending a "heartbeat" signal to the tool at a scheduled interval. If the signal is not received at the expected time, the tool sends an alert via email or Slack, notifying the user of the missed heartbeat.
Loki: An open-source tool that can be used to collect, store, and query log data. Loki is designed to be highly scalable and provides a simple query language for log analysis. Its unique architecture allows it to handle massive amounts of log data, while still maintaining low resource requirements. Instead of indexing logs, Loki uses a label-based approach, enabling users to search and filter logs based on specific labels, such as application name, container ID, or log level. 
PagerDuty: A paid tool that offers incident management, on-call scheduling, and alerting. PagerDuty provides integrations with popular DevOps tools and provides customizable escalation policies. With PagerDuty, teams can quickly identify and respond to incidents, reducing downtime and improving overall system reliability. PagerDuty's open APIs and integrations with various third-party tools also make it highly flexible and customizable, allowing businesses to tailor the tool to their specific needs.
Zabbix: A popular open-source monitoring tool that can be used to monitor servers, applications, and network devices. Zabbix provides real-time monitoring, alerting, and visualization of data. With this tool, IT teams can track key performance metrics, such as CPU usage, memory usage, network traffic, and disk usage, and receive real-time alerts and notifications when thresholds are exceeded. It also provides extensive reporting capabilities, enabling businesses to generate detailed reports on system performance and availability.
Nagios: A widely used open-source monitoring tool that can be used to monitor hosts, services, and network devices. Nagios provides monitoring of system logs, alerting, and reports. The tool also provides extensive reporting capabilities, enabling businesses to generate detailed reports on system performance and availability. Nagios can be easily extended with plugins, making it highly customizable and flexible. The tool also supports integration with third-party systems, such as ticketing systems, for seamless incident management. 
Icinga: An open-source monitoring tool that can be used to monitor hosts, services, and network devices. Icinga provides a user-friendly web interface, alerting, and dashboards. It is a highly customizable tool that supports the use of plugins, making it easy to extend the tool's functionality to meet specific monitoring needs. It also provides advanced features such as distributed monitoring, high availability, and automation, making it ideal for large-scale environments.
Open Source in Today's World
Open-source software plays a significant role in the development and deployment of IT infrastructure in the modern world. In simple terms, open-source software is software that comes with its source code, which makes it freely available for modifications and distribution. Several factors make open-source software necessary in today's world.
To begin with, it is often free or significantly cheaper than proprietary software. This makes it an affordable option for businesses of all sizes, allowing them to allocate resources towards other critical areas of their operation. The lower cost also enables businesses to experiment with new technologies without incurring high costs.
It also is flexible and can be easily customized and modified to meet specific needs. This means that organizations can adapt the software to their workflows and unique requirements, providing them with greater control over their IT infrastructure. The flexibility of open-source software also enables organizations to avoid vendor lock-in and switch to alternative solutions if necessary.
Open source is community-driven, with a large community of contributors who collaborate and contribute to the development of the software. This results in software that is more reliable, secure, and feature-rich, as the development process is transparent and open to peer review. The community-driven development model also encourages innovation, with developers working collaboratively to solve problems and develop cutting-edge features.
Overall, open-source software has become an essential part of modern software development and deployment. From operating systems to web servers to monitoring tools, there are open-source solutions available for almost every IT need. The benefits of open-source software make it a valuable resource for organizations looking to optimize their workflows, reduce costs, and stay ahead of the
IAMOPS: IAMOPS provides customized DevOps, SRE, and QA automation services for startups and high-growth companies in Israel and the United States. We work with tech startups across various industries, including finance, telecom, entertainment, health, technology, education, defence, and security. We source the best Indian engineers and train them to be the best DevOps teams in the market. Our DevOps teams take complete charge of the DevOps practices and cloud operations so that our clients can stay focused on growth.
We dream big and work hard to solve the tech shortage problem in the high-tech world by building teams of talented Indian and Israeli engineers.
If you have any objection to this press release content, kindly contact pr.error.rectification[at]gmail.com to notify us. We will respond and rectify the situation in the next 24 hours.