New Delhi (India), June 6: As Shakespeare said in his own writings, 'There is a tide in the affairs of a man, when, taken on the flood, leads onto fortune'. This phrase was articulated by Shakespeare in the context of an intention to seize power in Rome. Shakespeare made use of this phrase thousands of years ago which has been exciting numerous people to get directed towards their goals and aims on a timely note of dispatch.
Dr. M. Yuvaraju, the CMD of Myron Homes, is one of the best examples in modern times who stands as a thorough example of Shakespearean philosophy as to how men should rise to the occasion and achieve their ends in the most gracious manner.
Starting his career somewhere in the darkest angles of anonymity, he commenced striding over the paths of pertinacious efforts to make his mark of appreciation in the order of marketing in Real Estate. With all his resourceful nature and meticulous approach to his working timetable, Dr. Yuvaraju, in a very gradual process of trial and error, succeeded in imparting his solid professional excellence to all whom he served. Sooner, he proved himself to be the monarch of all he surveyed.
Amassing a great deal of experience resonating with immaculate stewardship, Dr. Yuvaraju rose to an echelon of reverberating identity that attracted the entire world of customers and investors dreaming of building his own castle of independent operations in Real Estate. Buttressed by friends and well-wishers from all around, he, one day, lit the ceremonial lamp of auspicious initiation of a company only with a view to launching a modular methodology to serve his ardent followers and believers to their utmost satisfaction and a deeper degree of contentment.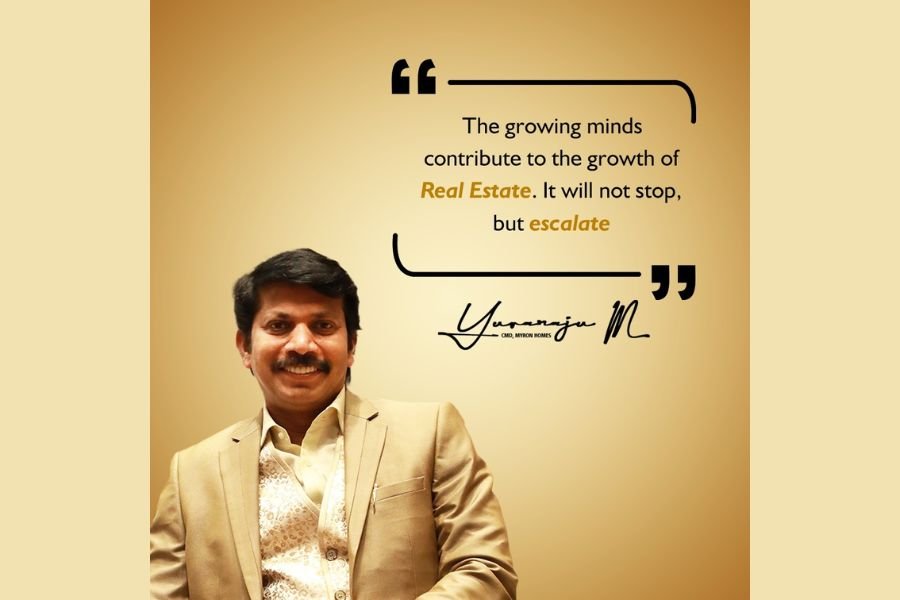 Hailing from the hidden layers of rural background, he, by birth, inherited all the noble qualities of a trustworthy attitude and disciplined style entwined with dedication towards his goals and aims, which in turn served to contribute to his dazzling appearance on a platform of everlasting entrepreneurial championship. The signatures he drew on the hearts of one and all rendered him lofty amidst the cluster of individuals with double standards and dual personalities.
Without consuming longer spells of time, Dr. Yuvaraju displayed a coruscating distinction in meeting the requisite demands of the customers and investors in the quest of their benefits. Over a period of the bygone twin decades, the Real Estate market in and around Hyderabad witnessed a gigantic growth and widespread flourish in the light of the advancement of Information and Technology wherein many quarters have surfaced in Hyderabad with a cry to cultivate the crops of their own individual benefits and indulged in hoodwinking the world of Real Estate in an unimaginably indiscriminate fashion and proved the sphere of Real Estate as one completely bereft of morals and scruples.
On reviewing the prevailing duping methods and means, Dr. Yuvaraju envisaged a new memorandum of ethical guidelines to hone a scrupulous operational system to placate the wounded feelings of the world of customers. Encapsulating all that elevates and calibrates the dais of sales, Dr. Yuvaraju regulated the formulations of his views and vision into a concrete platform and reshaped to redefine the marketing modules with his own company called Myron Homes.
Even when he dwelt to find a name for his new avatar as a wholesome company, he engaged himself in a longer deal of discussions for a proper and appropriate title for his newly formed company. After a considerably prolonged confabulation, he finally reached the desirable title of Myron Homes.
Myron was a sculptor in Greek who lived in the mid-5th century BC and made revolutionary innovations in the styles of sculpture, quelling all his contemporaries and established his rhyme and rhythm in carving out stunning angles in the world of marble.
The revolutionary symmetry that Myron has achieved in his own work to stand class apart and made him and his exclusively artistic genius exist eternal centuries together. His fabulous genius has really captivated Dr. Yuvaraju chose his name to be the title of his newly formed company.
Dr. Yuvaraju, at the very outset, took a stronger note of adulation and admiration for those who made the indelible impressions on the sands of time and followed them without an iota of hesitation and commenced his journey under the title of Myron Homes as the CMD.
Now, six years of incessant operations have elapsed to a greater amount of appreciation and exclamation from all around. Still with a renewed momentum and marvelous completion of many more projects to reckon with, Dr. Yuvaraju is making his mammoth strides into the future towards the biggest ever projects in Hyderabad and many more parts.
For more details, please visit- https://myronhomes.in/
If you have any objection to this press release content, kindly contact pr.error.rectification[at]gmail.com to notify us. We will respond and rectify the situation in the next 24 hours.