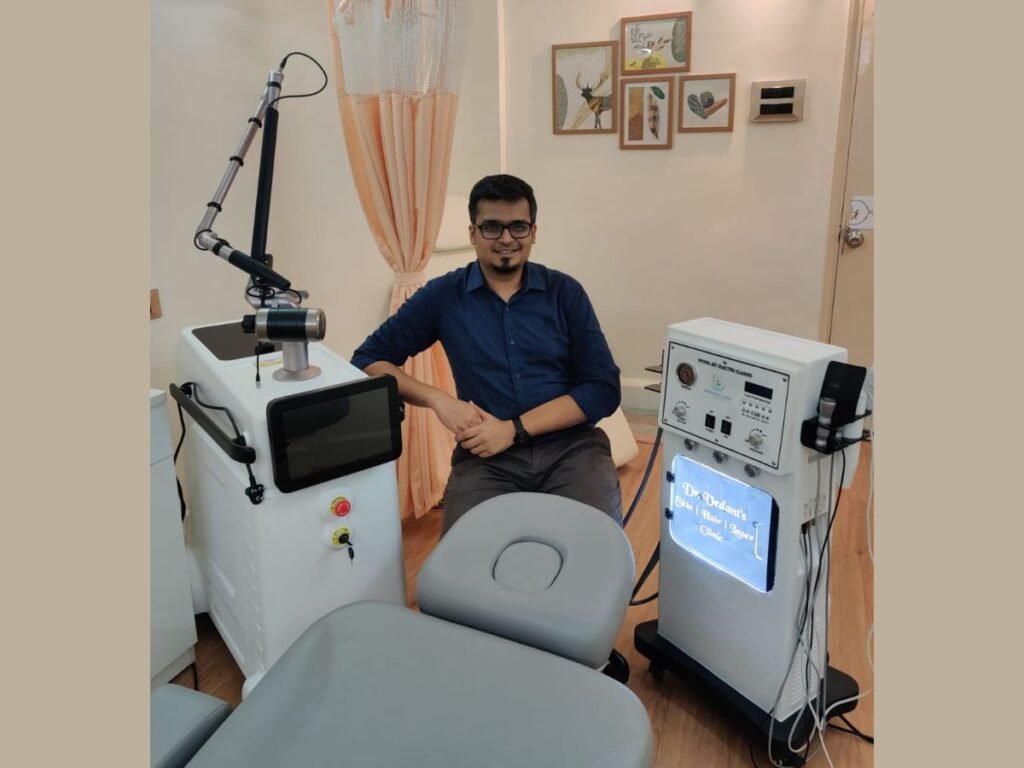 Dr Vedant Ghuse with the latest technological introductions in his clinic
Mumbai (Maharashtra) [India], May 31: Dr. Vedant Ghuse's esteemed dermatology clinic is renowned for its commitment to excellence in every treatment and solution offered. The clinic continues to strive for the best by incorporating cutting-edge technology, including the PicoFocus Nd:YAG Laser, MNRF (Microneedling Radiofrequency device), and Biomodal Radiofrequency and Electrocautery, introduced by Dr. Ghuse, a leading dermatologist skin specialist. This technological enhancement propels Dr. Vedant Ghuse's clinic forward in providing innovative dermatological solutions.
Situated within the prestigious Rane Hospital in Chembur, Mumbai, Dr. Vedant Ghuse's clinic joins the hospital's 35-year legacy of promoting health and wellness through effective treatments. Dr. Vedant Ghuse, MD in dermatology, exemplifies a dedicated pursuit of knowledge and adaptability to emerging innovations. The inauguration of state-of-the-art equipment elevates the effectiveness of the treatments offered. The PicoFocus Nd:YAG Laser specializes in various applications, including laser toning, skin rejuvenation, carbon peel/Hollywood peel, birthmarks, tattoos, and pigmentary disorders. The MNRF device targets acne scars, traumatic scars, anti-aging wrinkles, fine lines, and is even employed for vampire facials. Additionally, the Biomodal Radiofrequency and Electrocautery machines facilitate surgical excisions and skin surgeries.
These three new additions to Dr. Vedant Ghuse's clinic enhance the range of holistic treatments and care available. The laser treatments synergize with topical therapies, yielding desired results for patients. However, utilizing such advanced equipment necessitates expertise in understanding their functions, patient application, and the physics of laser treatment to effectively address each condition. As one of the best dermatologist in Chembur, Tilak Nagar and Ghatkopar area, Dr. Vedant Ghuse ensures diligent study, practice, and performance of treatments, never compromising on quality and consistently delivering the desired outcomes. With innovations comes responsibility and Dr. Ghuse makes certain to conduct every treatment with caution and care, keeping the safety and trust of the patient in view.
"At our clinic, patient satisfaction is our driving force, and to achieve that, we continuously strive for improvement in our offerings. From laser treatment for face to managing severe conditions, our equipment enables us to provide the best treatments and results that our patients seek. Their satisfaction and contentment inspire us to continuously enhance our performance," says Dr. Vedant Ghuse, Owner of Dr Vedant's Skin | Hair | Laser Clinic in Chembur.
What sets Dr. Vedant Ghuse apart is his emphasis on a scientific and clinical approach, surpassing mere aesthetics and cosmetology. He focuses on evidence-based treatments supported by scientific research and experience, catering to a wide array of skin and hair conditions which includes eczema, rashes, acne, excessive sensitivity and more.
If you have any objection to this press release content, kindly contact pr.error.rectification@gmail.com to notify us. We will respond and rectify the situation in the next 24 hours.