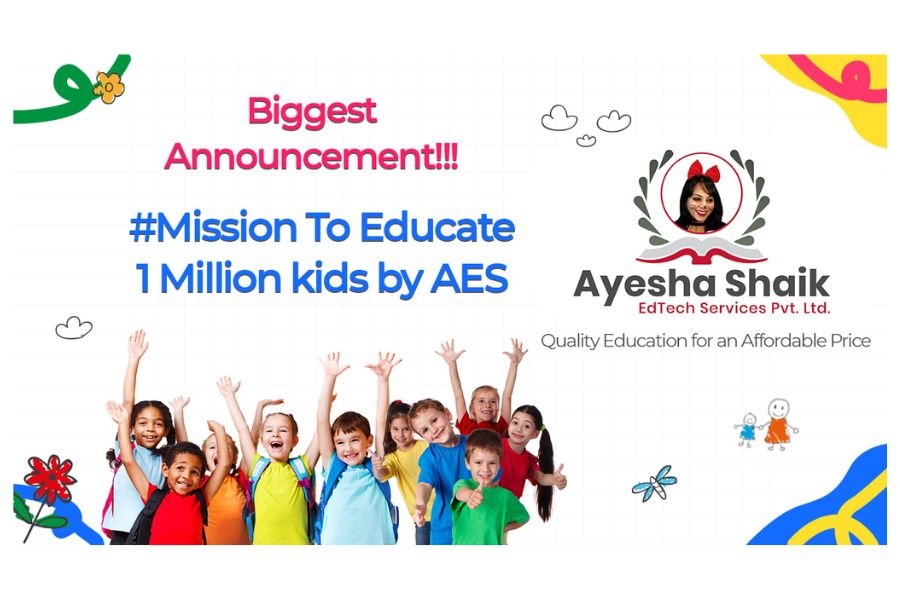 New Delhi (India), May 26: Ayesha Shaik Edtech Services, an educational technology company based in India and UAE, is proud to announce the launch of its ground-breaking initiative, #AESteach1MillionKids. This ambitious project aims to provide quality education and learning opportunities to one million underprivileged children around the world.
Education is a fundamental right that should be accessible to all children, regardless of their socio-economic backgrounds. Unfortunately, many children, especially those in underserved communities, do not have access to quality education and are deprived of opportunities to develop their full potential. Recognizing this urgent need, Ayesha Shaik Edtech Services has taken a bold step to bridge the education gap through its new project, #AESteach1MillionKids.
Through #AESteach1MillionKids, Ayesha Shaik Edtech Services will partner with local educational organizations, schools, and community centres in disadvantaged areas. The project will provide these institutions with cutting-edge educational technology tools, digital resources, and training programs to enhance the learning experience for children. By leveraging the power of technology, Ayesha Shaik Edtech Services aims to create a more inclusive and equitable educational landscape.
The #AESteach1MillionKids project will focus on delivering personalized learning experiences to cater to each child's unique needs. The educational resources and platforms provided will cover a wide range of subjects, including mathematics, science, language arts, and digital literacy. Ayesha Shaik Edtech Services believes that by empowering children with knowledge and skills, they can unlock their potential and create a brighter future for themselves and their communities.
Ayesha Shaik, the founder and Director of Ayesha Shaik Edtech Services, expressed her enthusiasm about the project, saying, "Education has the power to transform lives. With #AESteach1MillionKids, we aim to break barriers and empower children to reach their full potential. We believe that by leveraging technology and providing access to quality education, we can make a lasting impact on the lives of one million children and inspire positive change in their communities."
#AESteach1MillionKids will be implemented through a phased approach, starting with pilot programs in select regions. The project will focus on monitoring and evaluating the impact of the interventions to ensure their effectiveness and make necessary improvements along the way. Ayesha Shaik Edtech Services also invites individuals, organizations, and philanthropists to join hands and support this noble cause to expand its reach and transform the lives of millions of children worldwide.
About Ayesha Shaik Edtech Services: Ayesha Shaik Edtech Services is a leading educational technology company dedicated to providing innovative solutions to improve the quality of education globally. With a team of passionate educators, technologists, and content creators, the company aims to bridge the education gap and empower learners with knowledge and skills to thrive in the 21st century.
If you have any objection to this press release content, kindly contact pr.error.rectification[at]gmail.com to notify us. We will respond and rectify the situation in the next 24 hours.