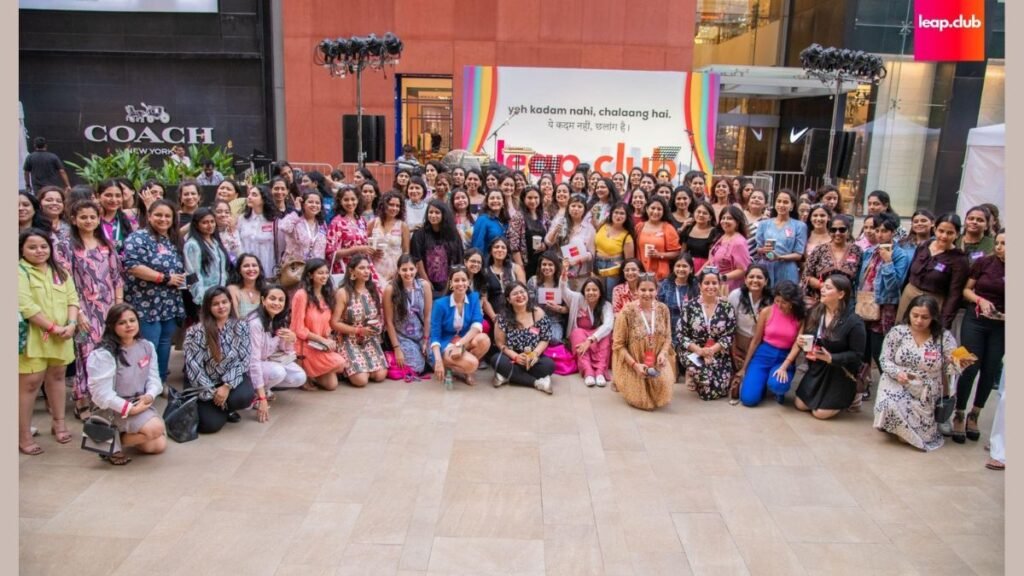 Mumbai (Maharashtra) [India], May 16: leap.club, the network built only for women, hosted the latest edition of its flagship networking event, the leap (af)fair, at Jio World Drive in BKC, Mumbai. The event saw the participation of over 900 women, including members of the leap.club network along with their guests, and had Nua, Bigin by Zoho and Vayu Learn as their mission partners.
The sprawling, sunshine-filled outdoor venue was studded with food & drink stalls, freebie corners from upcoming brands, along with experiential and speed networking zones. Members and their friends attended speed networking sessions, where they had prompted quality 1:1 conversations with other women at the event. They also gathered around to listen to records, used fluid art to decorate custom fridge magnets, and more.
Participants got to attend two speaker sessions – a panel discussion titled "Small Talk, Big Walk: Women Mean Business" hosted with the Good Glamm Group, featuring insights from Naiyya Saggi, Co-founder of The Good Glamm Group, Malini Agarwal, Founder & Creative Director of MissMalini Entertainment, and Disha Sanghvi, Director of The Good Glamm Group. They brought unique perspectives to questions asked by the audience: everything from building successful teams to perceptions of women-specific skill sets. The session was a hit, being sold out and pulling in more women from the vicinity!
The second session was titled "Let's Get Real", and was hosted by author & comedian Radhika Vaz. Eliciting the opinions of the crowd, Radhika facilitated discussions around imposter syndrome, leadership qualities that women possess, and more.
The event saw a variety of food from popular joints in the city: sliders from The Daily, signature sandwiches from Del'z Kitchen, tacos from Cafe Duco, hoppers from Hoppumm and ice creams from NOTO, all paired with drinks on the house by Bira, Stranger & Sons, Short Stories and Svami.
Aside from the networking, experiences, food & drink and speaker sessions, attendees also got to shop from women-focused brands founded by members of the leap.club network. Nutritional supplements from Cosmix, sexual wellness products from Manzuri, activewear from Seeq, teas from Tea Trunk, and makeup & skincare from Fae Beauty.
The evening drew to a close with a live performance by the Delhi-based band Chizai, leaving the members grooving to their unique renditions of popular songs.
"This is our biggest (af)fair so far, and we love how our members come out and make it what it is – a little better every time!" said Ragini Das, co-founder of leap.club when asked about the event. "It's evident: this is the way women network, and it only becomes clearer with each subsequent (af)fair. Today we've had members travel all the way from Pune, Hyderabad, and other cities to join in, too – building your community is truly borderless! We can't wait for the next one in Delhi and other cities to follow soon".
With the completion of this flagship experience in Mumbai, leap.club is set to host the next leap (af)fair in Delhi in the coming quarter. The network continues to host multiple exclusive events every month for their women-only member base.
About leap.club
leap.club was founded in May 2020 by ex-senior Zomato execs Ragini Das and Anand Sinha and has scaled to 14,000+ paying members across 2000+ companies and 200+ cities from 15 countries. It counts women from top companies like Nykaa, Meta, Amazon, Sequoia Capital, and Google as its members, along with founders, professionals, freelancers, and women on a break. Members use leap.club to expand their network, make career moves, scope for partnerships, build an audience, and make new friends.
The company has recently launched jobs by leap.club – where members leverage the ecosystem to find top jobs, and recruiters gain access to the top 1% of talent.
Website – https://leap.club/
Instagram – https://www.instagram.com/leap.club/
LinkedIn – https://www.linkedin.com/company/leapclub/?viewAsMember=true 
Twitter – https://twitter.com/leapdotclub
If you have any objection to this press release content, kindly contact pr.error.rectification[at]gmail.com to notify us. We will respond and rectify the situation in the next 24 hours.