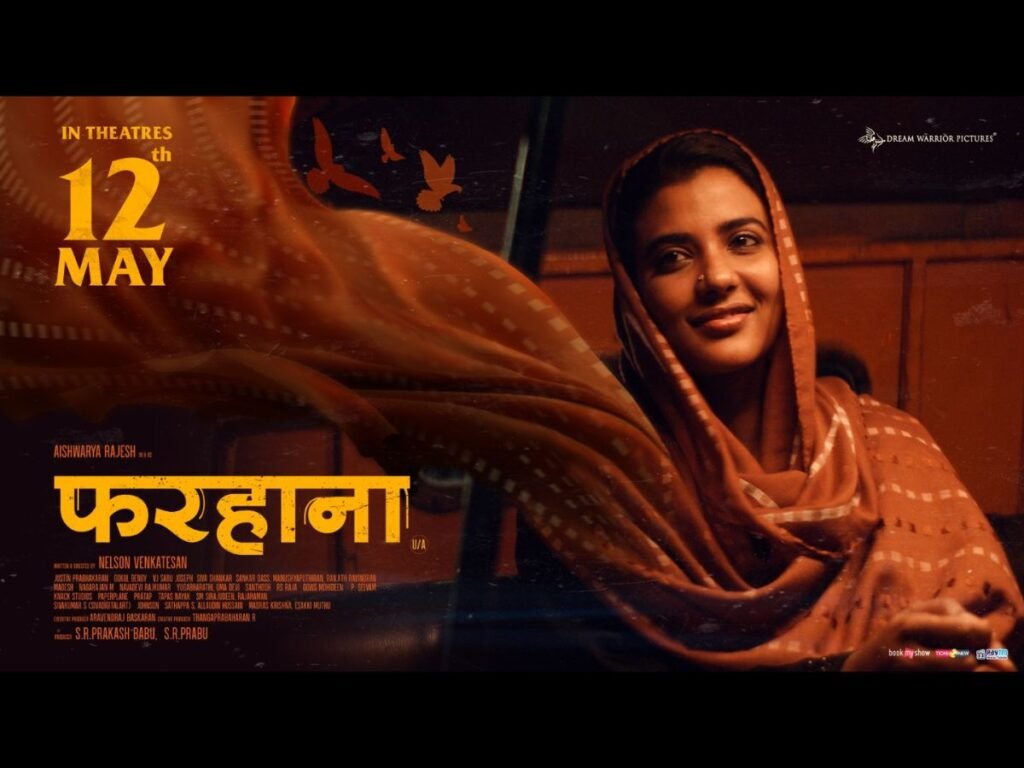 New Delhi (India), May 15: Director Nelson Venkatesan's Farhana is like a breath of fresh air; a masterful narrative that weaves together the elements of mystery, intrigue, and psychological suspense, with a silken thread of emotion.
The film revolves around Farhana and her family of husband Karim (Jithan Ramesh) and their three children. Despite her orthodox upbringing by Boots Bhai (Kitty) and his thought that women are meant to raise kids, Farhana takes up a job at a call centre to help educate her daughter.
The film grows with Farhana and her career graph as ahe transitions to a friendly chat process that pays higher incentives. Initially shocked by the explicit conversations with male customers, Farhana learns to adapt.
Here, a mysterious caller enters her life, seeking intellectual conversation rather than sex chat. This interaction provides solace to Farhana, who yearns for someone to share her feelings. But when one of her colleagues gets murdered, the mysterious man engages her in a deadly cat-and-mouse game, threatening her family's well-being.
Whether Farhana can escape the clutches of this apparent psychopath forms the rest of the story.
With Farhana, Dream Warrior Pictures adds another cerebral film to its impressive repertoire, and director Nelson Venkatesan continues to showcase his talent and versatility in content and filmmaking.
The music and background score by Justin Prabhakaran provides is engaging. The title track is gripping and as crazy as the visuals. Cinematographer Gokul Benoy's use of thrilling camera movements keeps the suspense alive, while editor VJ Sabu Joseph skillfully conceals climactic events, unveiling them at opportune moments. The art direction by Siva Sankar us laudable for the contrasting real ambience for Farhana versus the surreal one for the antagonist.
Farhana is a gripping suspense drama that showcases Aishwarya Rajesh's exceptional talent and captivates audiences from start to finish. With its compelling storyline and stellar performances, this film is a must-watch for fans of intense cinema.
Jithan Ramesh surprises with his subtlety as Karim, the supportive husband who helplessly senses his wife growing distant. Kitty impresses as Farhana's orthodox father, lending effective authenticity to his character. Anumol and Aishwarya Dutta, cast as Farhana's colleagues, are good, with Dutta playing a significant role in the screenplay's turning point. The film also features a surprise casting of a prominent celebrity in the antagonist role, relying on voice modulation and making a powerful impact in the climax.
Farhana hit the theatres on May 12, offering audiences an unforgettable cinematic journey filled with suspense and intrigue. Farhana deserves a Four star rating. Watch it if you love good cinema.
Cast & Crew:
Aishwarya Rajesh – Farhana
Selvaraghavan – Dhayalan
Kittu – Ajeez Bhai
Jithan Ramesh – Karim
Aishwarya Dutta – Sophia
Anumol – Nithya
Shakthi – Prithvi
Story & Direction : Nelson Venkatesan
Production House: Dream Warrior Pictures
Producers: S R Prakash Babu, S R Prabu
Creative Producer: Thangaprabaharan R
Executive Producer: Aravendraj Baskaran
Screenplay – Nelson Venkatesan, Sankar Dass & Ranjith Ravindran
Dialogues : Manushyaputhiran, Nelson Venkatesan & Shankar Dass
Music: Justin Prabhakaran
DOP: Gokul Benoy
Editor: VJ Sabu Joseph
Art Director : Siva Shankar
Production Controller: S.M. Sirajudeen
Stylist: Navadevi Rajkumar
Lyricists: Yuga Bharathi, Uma Devi
Sound Mixing: Tapas Nayak
Rating: 4.5
Marketing & Promotions: Esakki Muthu
EP Associate: Sathappa S, Allaudin Hussain
Media Strategy: Naarad PR & Image Strategists & Johnson.
If you have any objection to this press release content, kindly contact pr.error.rectification@gmail.com to notify us. We will respond and rectify the situation in the next 24 hours.