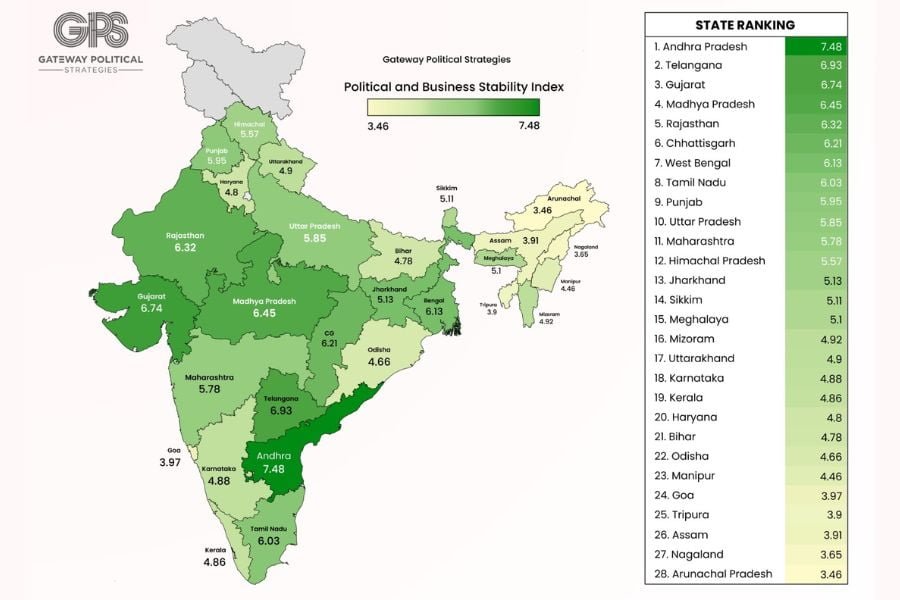 The Significance of a Political and Business Stability Index for Indian States
Mumbai (Maharashtra) [India], May 9: Amidst political instability in Maharashtra, the last-minute decision to shift the Vedanta-Foxconn manufacturing plant to Gujarat highlights the critical role that political stability plays in attracting and retaining businesses. As an example, consider the state of Karnataka, which secured the highest Foreign Direct Investment (FDI) in 2022, representing 38% of the national FDI total and surpassing Maharashtra. This achievement can be attributed to the fact that the same political party holds power both at the central level and in the state, as well as the presence of an IT hub in Bangalore. It can be inferred that political and economic factors play a crucial role in a state's development.
With a population of 1.4 billion and a burgeoning middle class with increased purchasing power, India provides a massive consumer base, making it an attractive market for global enterprises. Consequently, multinational corporations (MNCs) now place a greater emphasis on political risk analysis while investing in India than ever before. As a result, the Political and Business Stability Index (PBSI) has gained even more significance as a metric for foreign investors to determine which state would be the most suitable for investment.
Political stability can have a positive impact on attracting new businesses and investments, as demonstrated by the initiatives taken by leaders like Chief Minister K. Chandrashekar Rao in Telangana and then CM Narendra Modi in Gujarat. For example, KCR's incentive schemes helped to attract companies like Amazon and Facebook to Telangana, while Mr. Modi's "Vibrant Gujarat" campaign led to the establishment of manufacturing plants by Ford, General Motors, Suzuki and others in the state. Hence, political measures taken at the state level can have a noteworthy effect on the state's prosperity.
Parameters Used to Derive the Index
The Political and Business Stability Index uses a complex set of 24 parameters to evaluate the economic and political data points of all Indian states. It includes data such as State GDP, infrastructure development, communal riots, changes in State Government cabinets, fiscal management, state inflation, social expenditure, and many others.
The Good
The Political and Business Stability Index has revealed some interesting results, with Andhra Pradesh, Telangana, Gujarat, Madhya Pradesh, and Rajasthan emerging as the top five states in the rankings. Two of these states, namely Gujarat and Madhya Pradesh, are ruled by the BJP. On the other hand, Andhra Pradesh and Telangana are led by regional parties, whereas Rajasthan is governed by the Congress party. Andhra Pradesh's efforts to attract investment and improve the ease of doing business are bearing fruit. The recent Global Investment Summit organized by the state resulted in proposals worth around 13 crores, and the state's innovative policies have made it a leader in terms of ease of doing business for companies. Telangana's high rank on the PBS (Political and Business Stability) index can be attributed to various factors, including stable Government, efficient administrative procedures, the presence of quality infrastructure, and a skilled workforce. Gujarat's rise in political stability can be attributed to its business-friendly policies, low communal tension, and excellent infrastructure development. The state's "Double Engine Ki Sarkar," with the same party in power at both the state and central levels, has also contributed to its ease of doing business.
The Bad
Manipur, Goa, Assam, Nagaland, and Arunachal Pradesh have been placed in the bottom 5 of the rankings due to several reasons. These states have performed poorly in terms of GDP, banking, urban agglomerations, infrastructure, and social expenditure. Despite New Delhi's efforts to boost the region's economy, the Northeast still maintains a fragile ecology. Goa, on the other hand, has been struggling due to the left unions that have been slowing down progress. Assam, the dominant state in the Northeast, has implemented several infrastructure projects under Chief Minister Himanta Biswa Sarma, but the state's aggregate economy and per capita income seem to have failed to participate in the Indian growth story. While the top-performing states can be proud of their achievements, the bottom-performing states need to step up their game to make progress.
The Surprising
The states that managed to attract attention were the economic giants of the country – Gujarat, Tamil Nadu, Maharashtra, and Uttar Pradesh. Gujarat performed exceptionally well in all parameters, given that the state's developmental model is being projected as an example for the country. Tamil Nadu, on the other hand, has been dealing with political instability for almost a decade now, which has impacted its economic growth. Maharashtra has been a surprise figure, with political instability causing a major decline in the service sector as well as low agricultural produce. Uttar Pradesh, under the ambitious CM Yogi Adityanath, has shown a U-curve with his crackdown on the mafia and encouragement of industrial parks, elevating the state's ranking above Maharashtra in the ratings.
About Us
Gateway Political Strategies is a data-driven market research firm with a proven track record of delivering comprehensive and insightful analysis. We specialize in providing businesses and organizations with the intelligence they need to make informed decisions in an ever-changing marketplace. Our team of experienced professionals employ advanced methodologies to gather, scrutinize and interpret data, and provide actionable insights to our clients to support them in achieving their goals. The article was written by Abhishek Shrivastav, a data analyst at GPS. If you require a breakdown of the parameters and scores, please contact info@gatewaypolitical.com.
If you have any objection to this press release content, kindly contact pr.error.rectification[at]gmail.com to notify us. We will respond and rectify the situation in the next 24 hours.