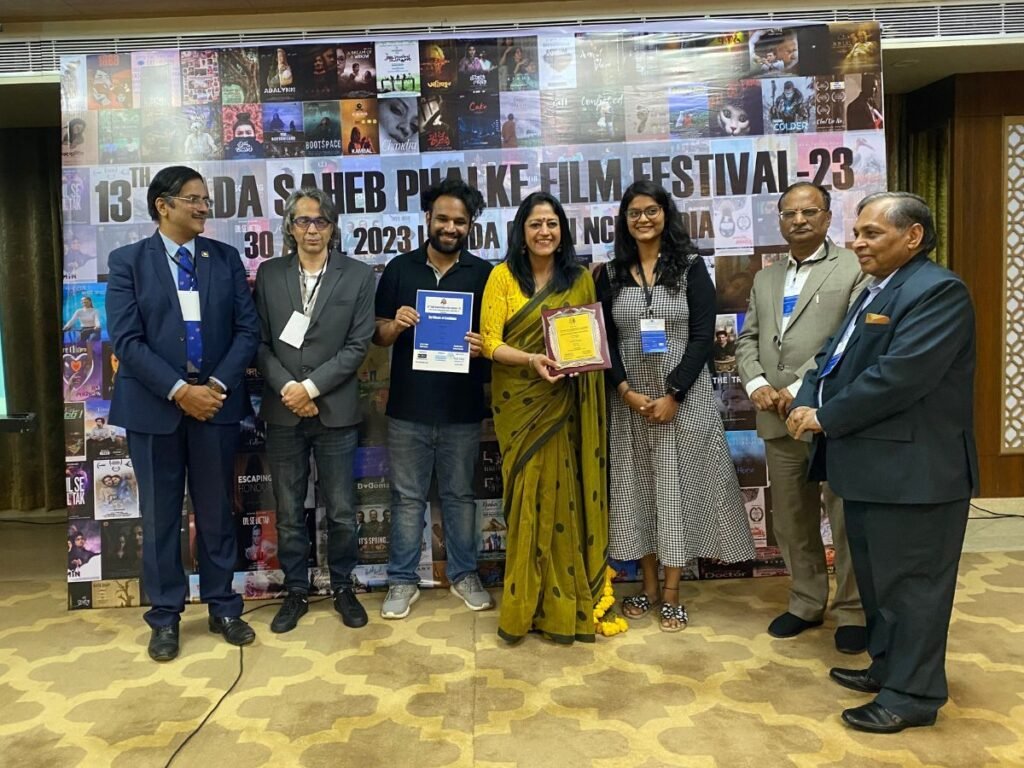 Gurgaon (India), May 3: Short films Entrapment and Raju's Conflict won honourable jury mention and Special mention at the 13th Dadasaheb Phalke International Film Festival 2023. The event is held every year on 30th April to honour the legacy of the man who is known as the Father of Indian Cinema. The two short films were directed by Prakhar Gautam and produced under the banner of Parindey Storytellers.
Entrapment is the story of a lonely woman who lives in a concocted reality of a family she never had and an idea she has lived with for years to kill her loneliness. The story of the film was conceived by Harrdeep, who also played the lead role in the film. The film was shot on a shoestring budget with a small crew and has already one other honours, including the Best Editing award at the 10th Noida International Film Festival.
Harrdeep, who has acted in various TV shows and films, said, "The making of entrapment was a very emotional experience for me as the topic was very close to my heart. My father, who left us two years ago due to covid, was the inspiration for this story. The film is about loneliness and social entrapment that almost every woman faces at some time or the other. This feeling can get so overwhelming that the mind starts concocting things as a defence mechanism".
Raju's Conflict is set in pre-independent India, and the film depicts the dilemma of Raju, a simpleton in a small village in pre-independent India. Raju is from a family of patriots who have sacrificed their lives for the country. His Brother was recently killed by the English rulers for being a Revolutionary. The dilemma he faces here is a choice between killing for an ideology or not killing for humanity. 
Anmol Bhayana, who played the role of Raju, said, "Had a fantastic time working on this film. We all went to a village to shoot this one, and it was extremely cold. It has come out well, and everyone is liking it, which makes us happy and grateful."
Anant Pavgi, who played an expert in hand-to-hand combat, said – The experience of working on this script was very different from any other. We were given only our parts of the script. The entire cast knew each other and came together after a long time which was fun! One doesn't get to work on such scripts with this experience very often.
Harrdeep, who also played an important role in this film, said Raju's conflict is a satire on the exploitation of the masses for the benefit of those in power in the name of patriotism. For me, it was quite a challenge playing the role of the "raja" in power whose conflict is that she feels sorry for exploiting the masses but still is convinced that it her right to expect them to sacrifice their lives for her.
Both films were screened to great applause and were subsequently discussed with other filmmakers at the event.
Both films were cinematographed by Meghna Agarwal and Mayank Srivastava and edited by Enosh Kumar.
Meghna said – Shooting both films was entirely a different experience for me. Shooting with Prakhar always teach me new perspectives. One film was shot in interiors, while the other was entirely exteriors. With minimal resources and a budget always challenges me to bring out the best in what we have. I would never want to stop creating magic in every film or project we all do together. Mayank said – Both the films are unique in themselves, so it was uniquely challenging while making also.
The Parindey Storytellers team includes other actors and people from the production who have worked as a team as theatre artists earlier in Delhi and have also directed short films and music videos.
Harrshit, who has been associated with the team for a while, said – Working with Parindey Storytellers for Raju's Conflict was a very beautiful experience. Learned so many new filming techniques and acting tips. The Shoot and Production were just awesome had so much fun while shooting for this project.
Devershi Srivastava, who played one of Raju's friends, said – portraying one of many insignificant battles that people fight every day. Working with the team was a great experience, and I I learned a lot from the highly talented people around me. It's overwhelming that all our efforts is getting appreciated and recognised.
Ajay Chauhan, who produced Raju's Conflict, said – It was a great learning experience, I had fun on the set and some beautiful moments & memories that will remain with me for life. We had to finish the whole shoot in just 2 days because of a limited budget.
Sucheta, who has also acted in many major ads, said – The making of this movie reaffirmed my belief that if a story resonates strongly with your thoughts and ideals, you will put in all your effort to make it believable to others. Camera work, acting, editing and all other aspects that make a film loveable fall into place. That has been my personal learning from working with this film.
About Prakhar, Anil, another actor, said – His vision as a director and his interest as a historian seeing those two aspects come alive into the camera and on the screen.
Ayush, an actor in the film, said Raju's Conflict talks about the different conflicts we have in our personal life. It was a fabulous life experience, acting in the movie and learning new perspectives about the shoot.
Jashan, also an associate director in the film, said – I feel lucky to have worked with Parindey both in front of and behind the camera. Entrapment and Raju's Conflict are two starkly different films, but the one thing that is common between the projects is the effort put in by Prakhar and his team that has brought about phenomenal success.
If you have any objection to this press release content, kindly contact pr.error.rectification@gmail.com to notify us. We will respond and rectify the situation in the next 24 hours.