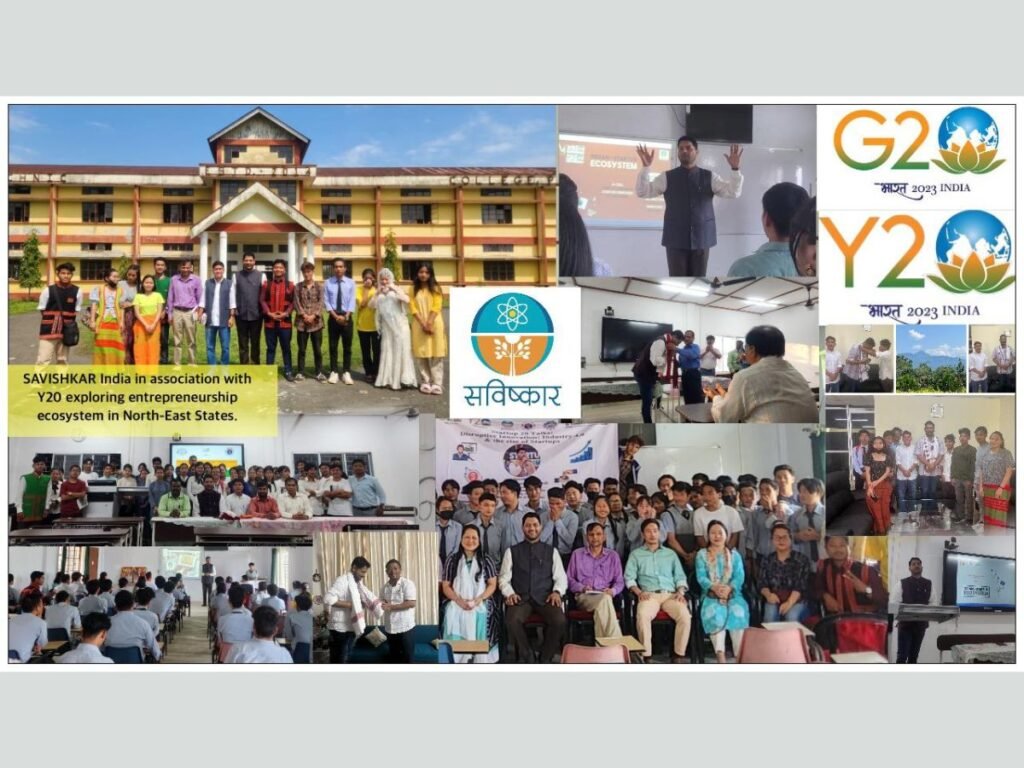 New Delhi (India), April 28: The Northeastern region of India has a rich cultural heritage and is known for its unique traditions, customs, and natural resources. The region also has immense potential for economic growth and development. The Indian government has initiated various schemes and policies to promote entrepreneurship and startup culture in the country. In this context, Dr. Punit Kumar Dwivedi, an (Professor & Group Director, Modern Group of Institutions, Indore) and National Mentor of SAVISHKAR, under the flagship of Y20 and Startup-20 visited several government educational institutions in Arunachal Pradesh and interacted with students and local entrepreneurs to promote startup opportunities in the region. National Convener Savishakar Me. Krantisagar More said, Dr. Dwivedi's visit, highlights the challenges and opportunities for startups in Arunachal Pradesh, and provides recommendations for promoting entrepreneurship in the region which is the mission of Savishakar India. He also added Savishakar India has the tie-up with Y20 and Startup 20 for promoting entrepreneurship and Startups in the Indian startup ecosystem. The aforesaid three days visit coordinated by State Secretary Tatlom Tayeng in the state of Arunanchal.
Arunachal Pradesh is a northeastern state of India that is known for its scenic beauty, diverse culture, and abundant natural resources. The state is also known for its strategic location bordering China, Bhutan, and Myanmar. According to the NITI Aayog report on the Startup India initiative, the northeastern region of India has immense potential for entrepreneurial growth and development. However, the region faces several challenges such as inadequate infrastructure, difficult terrain, and low levels of education and awareness about entrepreneurship.
Startup Opportunities in Arunachal Pradesh:
During his visit to Arunachal Pradesh, Dr. Punit Dwivedi interacted with several local entrepreneurs and students and provided insights into various government schemes related to startups and entrepreneurship. He emphasized the importance of vocal for local and self-reliance in the region, as well as the potential for e-commerce and the best use of natural resources. He also promoted the startup ecosystem in the country and shared success stories of startups in various sectors such as healthcare, agriculture, and education.
Challenges for Startups in Arunachal Pradesh:
Despite the potential for startups in Arunachal Pradesh, the region faces several challenges. Some of the major challenges are as follows:
1. Inadequate Infrastructure: Due to the difficult terrain and lack of proper connectivity, startups face challenges in accessing markets, finance, and technology.
2. Low levels of Education and Awareness: There is a lack of awareness about entrepreneurship and startup culture in the region. This results in a shortage of skilled manpower and knowledge about business processes and regulations.
3. Limited access to Finance: Startups in Arunachal Pradesh face difficulties in accessing finance due to the lack of venture capital firms and angel investors.
Recommendations for Promoting Entrepreneurship in Arunachal Pradesh:
To address the challenges faced by startups in Arunachal Pradesh, the government, institutions, and stakeholders need to take collective action. Some of the recommendations are as follows:
1. Improving Infrastructure: The government should focus on improving connectivity, creating proper infrastructure for startups, and developing incubation centers.
2. Strengthening Education and Awareness Programs: The government should promote entrepreneurship education, create awareness campaigns, and provide mentoring and training to aspiring entrepreneurs.
3. Increasing access to Finance: The government should facilitate access to finance by creating venture capital funds, angel investor networks, and providing tax incentives.
In conclusion, Arunachal Pradesh has immense potential for startups, and there is a need to promote entrepreneurship in the region. Dr. Punit Dwivedi's visit and interactions with local entrepreneurs and students has provided valuable insights into the challenges and opportunities for startups in the region. The recommendations presented in this article can help promote entrepreneurship culture and create a favorable environment for startups in Arunachal Pradesh.
Dean, College of Horticulture & Forestry (Central Agricultural University, Imphal) Dr. B.N. Hajarika, Mohonto Pangging Pao, Dr. Temin Payum, Prof. Agin Taboh, Mrs. Joya Tasung Moyong & other Renowned academicians and startup owners interacted with Dr. Dwivedi during his visit to North-East.
If you have any objection to this press release content, kindly contact pr.error.rectification@gmail.com to notify us. We will respond and rectify the situation in the next 24 hours.