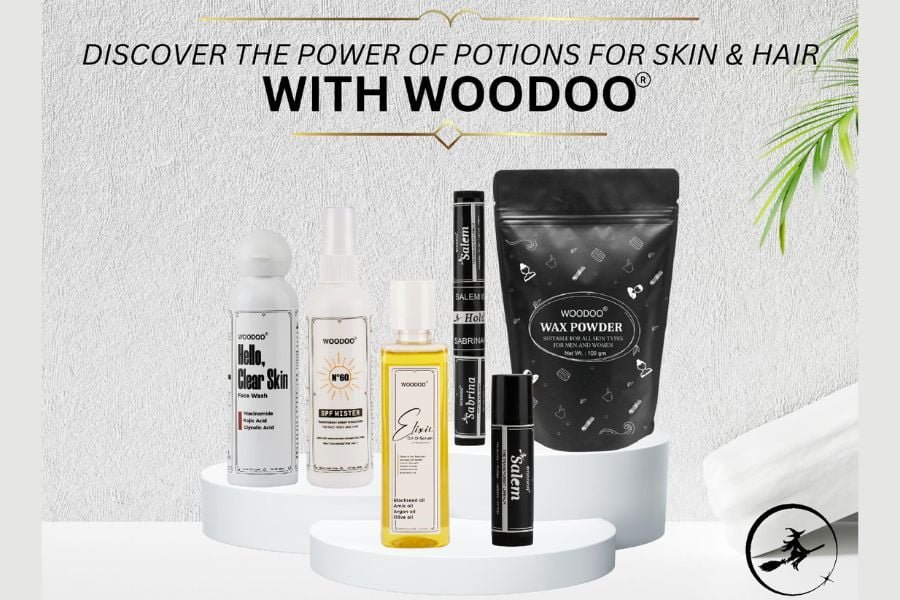 WOODOO
Mumbai (Maharashtra) [India], April 20: Woodoo is a Skincare and Haircare brand that is committed to providing effective and gentle solutions for your skin and hair for both men and women. This innovative brand creates products that work like magic. As they say that magic is fast, natural, powerful, amusing, certain, and makes one astonish, so are the potions that they have invented.
Woodoo offers a range of products from face wash, sunscreen, hair oil, lip balms to creams and even serums. Woodo's products are suitable for all skin types and are formulated to address a variety of skin and hair concerns.
Woodoo's potions are created with the amalgamation of Ayurveda and Science .So as to blend the old with the new and create products that actually do what they say.
There are a variety of facewashes available in the market that cater to different skin concerns but Woodoo's Hello, Clear Skin Facewash targets all or most skin problems faced by both men and women. Formulated with active ingredients like Kojic Acid, Glycolic Acid, Salicylic acid and Niacinamide it helps to improve the overall texture and appearance of the skin, reduce the appearance of dark spots, hyperpigmentation , Acne and pores , It leaves the skin looking young, bright and radiant.
Sun protection is essential in maintaining a healthy skin, but traditional sunscreens can leave a white cast on the skin, making it look unappealing. This is where Woodoo's N°60 SPF Mister invisible sunscreen comes into play. A revolutionary new way to protect your skin from the harmful effects of the sun without the telltale white residue. This sunscreen is formulated with advanced technology that allows it to absorb into the skin quickly, without leaving a white or greasy residue, and can be used on the face, body, and hair.
Woodoo's Elixir Oil-O-Serum is a new innovation in the hair care industry, designed to provide both nourishment and styling benefits to the hair. This product is typically a combination of natural oils and active ingredients thus providing the benefit of an oil plus Serum. Using Woodoo's Elixir Oil-O-Serum can provide the benefits of both an oil and a serum in one go, making it a convenient option for people who want to simplify their hair care routine.It suits all hair types and solves most hair related issues like dandruff, hair thinning, premature greying, frizziness and many more.
Woodoo's Lip lightening and lip plumping lip balms are designed to enhance the appearance of the lips by making them look lighter and fuller, respectively. Woodoo's Lip Lightening Lipbalm is known to have lip-lightening properties helping ones lip look pink and plum.The other Variant Woodoo's 2 in 1 Multifunctional Lipbalm helps in both lip lightening and lip plumping plus comes with a tint for everyday use that can be used as an eye, lip and cheek tint.
Woodoo is soon coming with it's skin lightening cream and skin lightening body wash. With its innovative formula and powerful ingredients, the cream promises to be a game-changer for those looking to achieve healthy, radiant skin. The aim of the body wash is to provide their consumers with a refreshing and indulgent bathing experience that leaves their skin feeling soft, smooth, and achieve a lighter, more even skin tone. As the brand continues to evolve and innovate, it will be interesting to see what other exciting products and innovations will be released in the future.
Have you tried Woodoo – Potions that work?
If you have any objection to this press release content, kindly contact pr.error.rectification[at]gmail.com to notify us. We will respond and rectify the situation in the next 24 hours.