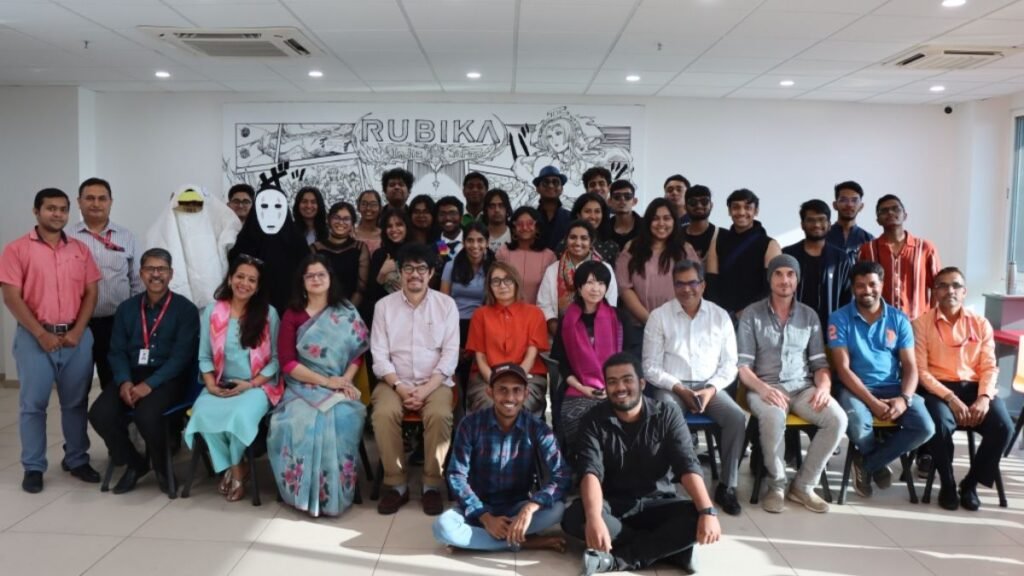 Pune (Maharashtra) [India], April 18: RUBIKA India held a two-week long Indo-Japan Cross Cultural Masterclass (Vol.1) to let the students experience and live Art & Design culture of Japan. The primary aim was to build a truly global design eco-system by bringing in multi-disciplinary, multi-cultural learning experiences from global perspective.
This initiative was the result of several years of collaboration between Dr. Manoj Singh – CEO of RUBIKA India, who is responsible for RUBIKA's overseas business development and has many achievements in the Indian education industry, and Ms. Kayoko Tsuchiya – CEO of Seekers Base, Japan, who also happens to be a Scientific Advisory Board of RUBIKA India for Industrial Design.
Masa Kawamukai San took the students on a virtual tour to the Kyoto Art University introducing them to various interesting challenging projects. Masaaki (Masa) Kawamukai is an Associate Professor of Kyoto University of the Arts, Character Design Department. He is a seasoned liberal arts educator with an extensive work experience in Silicon Valley and Tokyo. He has initiated projects with Samsung, ADK Holdings, Kyoto Tourist Association, Kyoto Cultural Convention Bureau. He has also initiated Industry-Government-Academia (IGA) projects with major enterprises such as Pixiv, Bandai and Gacha – the popular capsule toy machine company.
The Masterclass began with Kayoko Tsuchiya San presenting how Manga and Anime have become integral part of Japanese life and culture. Ms. Kayoko Tsuchiya – founder CEO of Seekers Base, Japan, has produced a series of global partnership summits in Japan, U.S.A. and India. She has addressed various global summits on topics such as "Modeling cross-border collaboration to bring innovation in traditional craft industry" at the Philip Kotler's World Marketing Summit, and Nasscom India Design Conference, "The new skill development in the era of A.I." at Envision Humanity global summit and more.
The students dived deep into the world of Character Design with Masa San. They conceptualized and created the Indian mythological characters in the Manga Art format. Yukihiro Tsujita San from Kyoto Seika university joined online for real time evaluation of students work. The students came up withtruly amazing and interesting characters at the end of the session. The students also attended the session on UX/UI and had a new perspective on the topic.
While all this was happening Shinnosuke Uchida San left everyone in awe with her creativity, focus and dedication. Shinnosuke Uchida is one of the most recognized Manga live painters in Japan with many global followers. Regarded as a new icon of the Japanese Pop culture, and a leading figure in the simmering creator's economy, she is known for her filigree detailed style inspired by an artist Katsuhiro Otomo. Working for continuous five days she has put to life a huge canvas of 2.28 X 4.20 Meters with the theme "Destruction and Recreation" drawing everyone's attention to her detailing to perfection.
Students produced exceptional enthusiasm and engagement and demonstrated their full commitment, support and participation. They surprised everyone with their enthusiastic participation in the Cosplay, which is a very popular culture in Japan. They truly merit credits for their hard work and dedication.
For the unversed, RUBIKA is an institute of Digital Creation specializing in the fields of Video Game, 3D Animation and Industrial Design. RUBIKA consists of three pioneering schools: The School of Industrial Design – ISD ,Supinfocom and Supinfogame (2001). Established in 1988 by the Chamber of Commerce and Industry of Grand Hainaut, France, these schools have distinguished themselves by setting up a pedagogy closer to the needs of businesses. RUBIKA has campuses operational in Valenciennes (France), Montreal (Canada) and Pune (India).
RUBIKA has shaped students to become remarkable professionals in the fields of Animation, Video Game and Industrial Design. Classified as the top rated school by ROOKIES in 2021, Rubika has been ranked 2nd best International Animation School in the World, 2019, by Animation Career Review and 1st in Video Game in France by Le Figaro since 2015.The School has won more than 150 international awards in Industrial Design. RUBIKA has over 4000 alumni spread over 50+ countries worldwide.For details visit: www.rubikaindia.in
If you have any objection to this press release content, kindly contact pr.error.rectification[at]gmail.com to notify us. We will respond and rectify the situation in the next 24 hours.