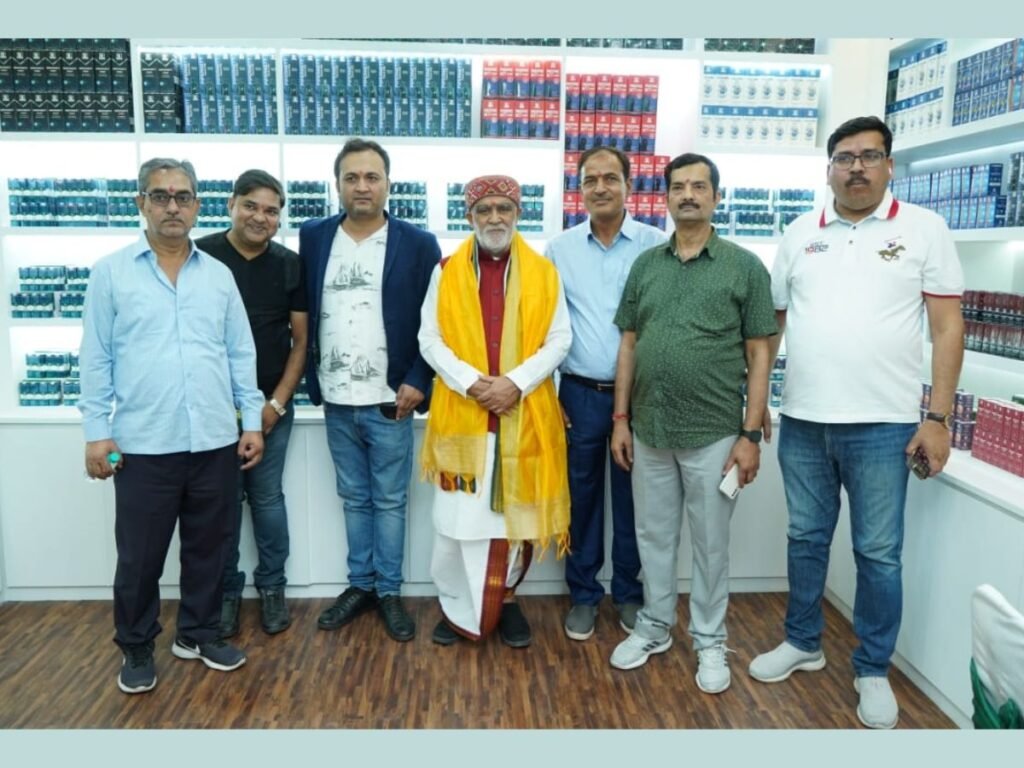 Noida (India), April 17: Union Minister Ashwini Choubey inaugurated Burnett Homeopathy's outlet and clinic in Noida, on this Wednesday, 12th April. Dr. Nitish Chandra Dubey, a well-known homeopathy doctor of the country, who belongs to Bihar, has opened an outlet and clinic of his homeopathic medicine company Burnett Homeopathy Private Limited in Noida as well. After huge positive response from his outlet in Madhya Pradesh, Bihar, Gujarat, the Burnett outlet has started in Sector-18 of Noida near Delhi, where all the products of the company can be bought under one roof, as well as a homeopathy doctor for medical consultation will be available for the patients. Dr. Nitish Chandra Dubey, CMD of Burnett Homeopathy Pvt. Ltd., himself also runs a clinic named Hari Om Homeo Kalyanpur in Delhi, Patna, Bhagalpur, Munger and Begusarai, where he sits in different clinics on different days of the week. A huge number of patients of all the clinics be it Delhi or Bihar trust Dr. Nitish Dubey for their treatment and there is always a rush in his clinic. Union Minister of State Ashwini Kumar Choubey arrived on Wednesday to inaugurate the new outlet of Burnett Homeopathy in F Block of Noida Sector-18 and congratulated Mr Nitish for the huge success. After inaugurating the outlet, Ashwini Choubey said during a media interaction that Dr. Nitish Dubey, is a talented and wonderful doctor of homeopathy. "Due to his talent and hard work, Dr. Dubey has not only given a big position to his clinic or pharmaceutical company in a very short time, but has also done a commendable job in the direction of taking the entire homeopathic system of medicine to the masses. Dr. Nitish has won the hearts of everyone by organizing a big function recently in Nagpur and also outside the country in Dubai for the upliftment of homeopathic medicine and in honor of homeopathic doctors. I congratulate Dr. Nitish that he should continue to raise the flag of homeopathy honestly" said Ashwini Choubey, Union Minister. Ashwini Choubey said that starting such a grand outlet and clinic in Noida is a big achievement and milestone. The opening of such grand homeopathy clinics also suggests that public confidence in this accessible and safe medical method is increasing and is only possible with such knowledgeable doctors like Nitish Chandra.
Dr. Nitish is specialized in treating mental, physical, nervous, paralytic, sexual, male and female ailments. He has years of experience and in-depth knowledge in homeopathy for diseases like infertility, ADHD, autism, arthritis, psoriasis, eczema, vitiligo and many more disorders. Dr. Nitish was very happy to have a new outlet for the treatment of people where he would the homeopathy treatment will be more accessible to people of Noida. "Every moment of my life has been devoted to homeopathy. I neither think nor do anything other than homeopathy. My aim is that homeopathy should be accessible to the masses. With this objective, an outlet and clinic has been started in Noida, where specialist doctors will be available for treatment" said Dr. Nitish Chandra Dubey, CMD of Burnett Homeopathy Pvt. Ltd.
If you have any objection to this press release content, kindly contact pr.error.rectification@gmail.com to notify us. We will respond and rectify the situation in the next 24 hours.