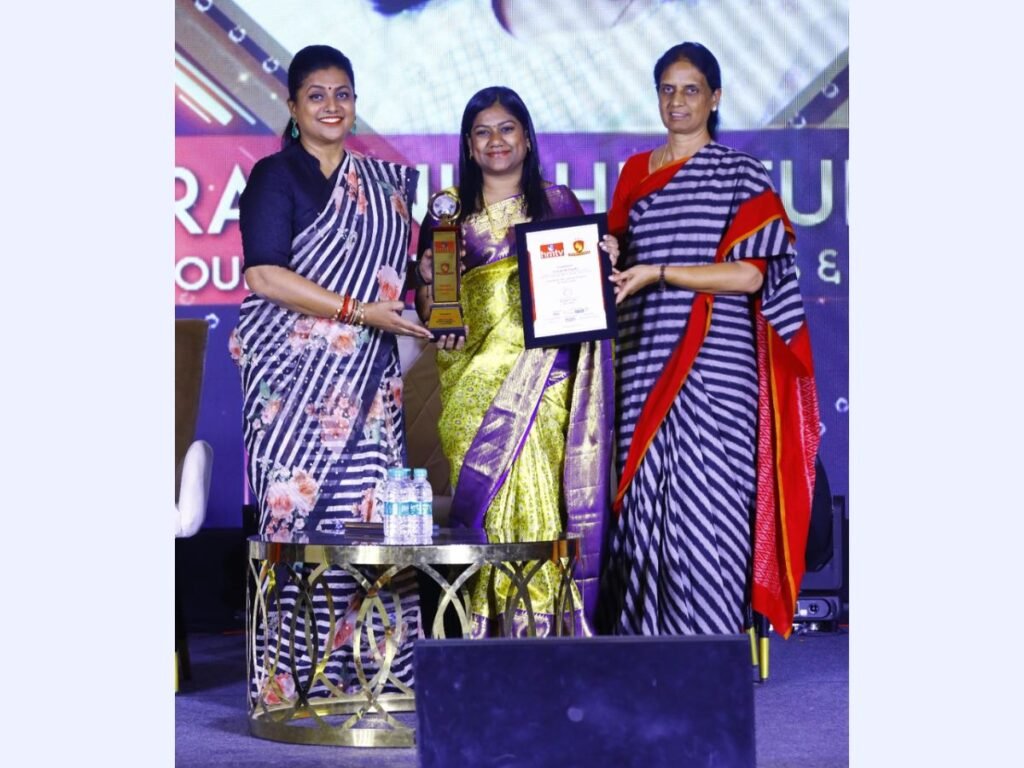 Sravani Chettupalli, CEO of Sravani Hospitals honored with HMTV Naari Puraskar 2023
Hyderabad (Telangana) [India], April 3: Sravani Chettupalli, the founder and CEO of Sravani Hospitals, Educationalist & Serial Entrepreneur in Hyderabad Madhapur, made history by attending the prestigious Forbes 30/50 Summit held in Abu Dhabi recently. She was the only woman from India to attend this event, which was a huge achievement for her.
To further honor her accomplishments, HMTV Telugu News Channel held their annual NAARI Puraskar Award 2023 ceremony in recognition of exceptional women from various fields. For the 2023 edition of this award ceremony, Sravani Chettupalli was chosen as the winner from Medical & Hospital Category On 31st March 2023 she was felicitated by renowned dignitaries including Smt Kavitha (MLC Govt. Of Telangana) and Smt. Sabitha Indra Reddy (Minister for Education, Govt. Of Telangana) & Smt. Roja Selvamani (Minister for Tourism, Culture and Youth Advancement of Andhra Pradesh), Smt. Laxmi Rao ( CEO, hmtv).
Smt. Sravani Chettupalli has shown that with hard work and dedication, anything is possible – no matter one's gender or background. Her story is a testament to how important it is for young women especially to break down barriers and find success in the male-dominated business world. Through her example, she has inspired many aspiring entrepreneurs to work hard and pursue their dreams without worrying about any kind of social constraints.
The illustrious leader spoke at length about her journey during the award ceremony and shared her experiences while attending the Forbes 30/50 Summit with other inspiring entrepreneurs from around the world. She expressed happiness over being able to represent India's entrepreneurial spirit and shared stories of creativity and innovation at international conferences such as these – highlighting how collaboration across nations can foster real change in our global economy. Sravani Hospitals CEO and founder, Mrs. Sravani, has been named one of the Forbes 30/50 Most Powerful Women of 2023 Chaired by Mika Brzezinski & Honorary Hillary Rodham Clinton Former United States Secretary of State, Senator, First Lady, Lawyer, Author and Activist Hillary Clinton @ Abu Dhabi , a prestigious recognition in the healthcare industry
Her win at HMTV NARI Puraskar 2023 serves as an inspiration for all young female professionals out there who are working tirelessly towards achieving their goals and dreams despite facing adversity. Indeed Sravani has set an example that shines brightly on what can be accomplished when one puts their mind to it – regardless of age or gender!
Mrs. Sravani Chettupalli has also received numerous other accolades, including the Top Emerging Hospital in the South region and Hyderabad, the Pride of Hyderabad Award, and the Women Entrepreneur of the Year Award.
As the CEO of Sravani Hospitals, Mrs. Sravani manages the strategic and day-to-day operations of the entire hospital, ensuring that all sections are fully staffed and that all staff and deliveries are seamless. With her leadership and guidance, the hospital has received numerous awards and recognitions for its exceptional patient care.
In addition to her role at Sravani Hospitals, Mrs. Sravani Chettupalli is also the founder and managing director of AYUSH KIDS PRESCHOOLS CHAIN and the managing director of OPPORTUNITY SOCIAL WELFARE FOUNDATION, Hyderabad. Her dedication to supporting underprivileged children and providing them with a hope for life and access to education has earned her the APJ Abdul Kalam Award for innovation in school education.
Mrs. Sravani is known for her exceptional leadership skills and her commitment to improving the healthcare and education sectors in India. Her contributions to the community have been recognized with the Nari Puraskar Award and the 75 under 75 Award for Best Women CEO of a hospital.
The UGADI 2023 Puraskar Awards recognized Sravani Hospitals' health camp services, which were conducted in collaboration with Vedahitha Foundation and SMS Real Property Management. Mrs. Sravani's dedication to improving healthcare access and education for all is truly remarkable and inspiring. Her contributions to society have earned her the respect and admiration of many, and she is a role model for women in leadership positions everywhere.
If you have any objection to this press release content, kindly contact pr.error.rectification@gmail.com to notify us. We will respond and rectify the situation in the next 24 hours.