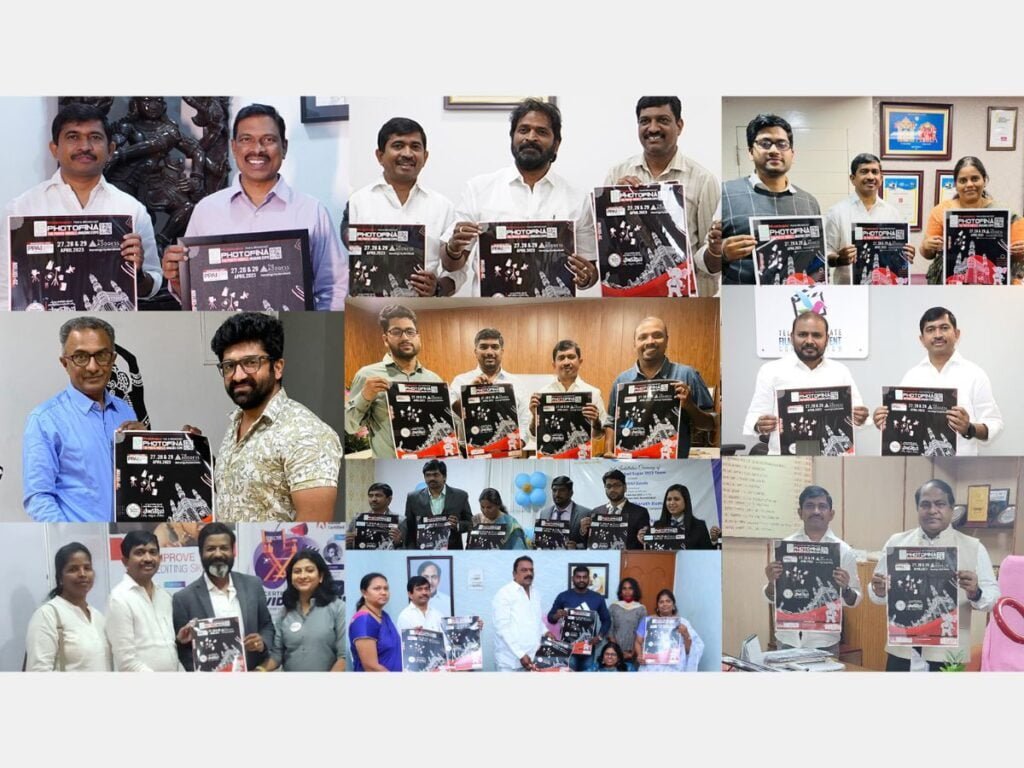 EditPoint India Announces India's Largest Exhibition Photofina 2023 brought to you by KBK Hospitals Happening on April 27th, 28th, 29th
Hyderabad (Telangana) [India], April 3: EditPoint India a Reputed Photography & Videography company in Hyderabad is organizing its 20th edition of Photofina Expo in association with Telangana State Department of Language and Culture & KBK Hospitals on April 27th, 28th and 29th at The Address Convention (modern and extraordinary, 9 acres convention) in Narsingi in collaboration with Professional Photography Association of India (PPAI), Telangana Photo & Videographers Professions Association, Telangana Photographic Professions welfare Society and Vande Bharat Trust. Eppalapalli Ramesh Founder & CEO of EdiPoint India said that Photofina Expo is being organized with 9 acres of spacious premises, more than 500 leading companies with the most technical values. For the first time, Photofina Expo will provide product demos, workshops, related to fashion photography along with products from the film & broadcast sector and clear doubts with famous photographers. It has been explained that various foods will be presented in the Expo to reflect different cultures in the Photofina Expo. Celebrities from the fields of politics, sports, fashion and cinema are going to participate as chief guests. "Vande Bharat Bhishma Vishishta Puraskar Awards" will be presented in this expo to eminent persons from nine fields who are proficient in cinema, TV, media, education, health care, business, music, food, innovation and many kinds of services provided by NGOs. Dr. Eppalapalli Ramesh said that there are many benefits for those who have registered.
Dr. Kakkireni Bharath Kumar, Founder Chairman of KBK Group, is thrilled about the opportunities that Photofina presents for business owners in the photo and video industry. He believes it's a fantastic platform for entrepreneurs to learn about new technologies, enhance their knowledge, and network with other experts in the field. This one-stop solution will help upskill their industry knowledge, experience the latest advancements, and learn from experienced speakers. What's more exciting is that 10000+ Health Cards will be issued to participants by KBK Multispeciality hospitals, which provide discounts and free teleconsultations. With Photofina, you'll gain so much more than just new contacts!
Dr.Eppalpalli Ramesh informed that as a Special Privilege, everyone attendee who visited the registered expo can get various services such as a mini website, name registration in India photo directory, discounts on products through traders. HMTV is the official Media partner for the event, The HANSINDIA is the Print Partner, Photo Spot, Digital Connect as Digital & PR Partner, Event Management Partner – US Event Planners, Photomama as Photography Partner, JCI Hyderabad SUPAR as the Outreach Partner
Sri Mamidi Harikrishna, Director, Department of Language and Culture, Government of Telangana, Sri V. Srinivas Goud, Minister of Prohibition & Excise, Sports & Youth services, Tourism & Culture and Archeology of Telangana, Sri Anil Kurmachalam, Film & TV Development Corporation Chairman of Telangana, Sri T Prakash Goud MLA Rajendra nagar, Sri D. Chandra Sekhar, Director of the National Institute for Micro, Small and Medium Enterprises of Telangana, Mrs. Lakshmi Rao – HMTV CEO, Sri Sekhar Master , Best Choreographer & CEO Sekhar studio, Sri Ganesh & Pooja, Ganesh Academy Nagpur, Janseva Photographer Association, Nagpur & JCI Hyderabad SUPAR President Nikeelu Gunda, Head of Arna Photo Albums Mrs. Eppalpalli Shailaja, CEO & CO-Founder of Digital Connect – Swathi Kiran, JJ Prasad Babu (Vice President – JCI Hyderabad SUPAR), Sudheer Sandra (Founder & CEO – SUPAR School), Koppula Vasundara Southtv, Dr. Sajida Khan 6GHZ, G.Suryakanth, Head of SS5 TV Nagesh have launched the Posters of Photofina 2023
He informed that a wall poster will be released soon with celebrities from the fields of politics, sports, fashion, cinema etc.
Here are the List of Companies Participating in Photofina 2023
Sony, Panasonic, Canon, Nikon, Fuji, Foto Flash Colour Lab & Studio, Shivajyothi Electronics, Naveen Technologies, Vardhman Computer, Epson, Vintech computers, The Shootinspot, The Kidz Fotogarage, Tollywood Film Gears, Aputure India Pvt Ltd, Bhatia Photo Industries Pvt Ltd. Perfect Solutions, Daata Marketing, GJ New Born Props, Shetala Agencies Pvt Ltd, Wrap Mahal, Angel I mart pvt ltd, Jona Led, TSS Moulding & Frames, Print Imaging Solutions, Cherishing Moments, Unicard Automation Pvt Ltd, Fi Tech Bags, Nitesh Color Lab, Hawaii sing and ledllp, Proquip Enterprises, Arrow Multimedia, Manikanta Digitals, Chaaya photo services, Signup desgin's, Monarch Soft Tech LLLP, CDM Technologies and Solutions Pvt Ltd, AJS Innovations, Omega Leather Box (BAGPRO), ZEISS, APRAMATT, Sri Sai Profiles, Lavens Enterprises, Baby n Belly, ShadowS Creations, PR Computers & Peripherals, MR Creations, Ruchi Id Solution, Pavan Digital Press, Babu Electronics, Newtech video systems pvt ltd, Multi Hardware Solurions, Shrishti Photo Good's, Felix Schoeller India, Hey Mom, Rubby Industries, Abhishek shah, Harsitha Computer Services, Kamlapure Dress Rentals, Dmax Designs, Indianphotoclub, Pavin Bansode, RS Led, Quick Academy Of VIdeo Editing, Anurag Academy, Ganesh Albums Academy of Photography Pvt. Ltd, Aarna Albums, Digital EFX, Eagle Recover Studio, Raju Roy Films Photo, I Colors, Vidhi Data Recovery Lab, Magic Laser Art, Royal Arts, Mega Sublimation Wholesale, Lakshmi Wood Canving, 15th March, Wow Photo, Hari Computer Center, Magic Props, Vishwa Digital Printing, Ashok Info Tech Services, Nexgen Image Gears, Nexgen Image Gears, Sai Printers, Learn And Design, Andhra Pradesh Photography Akademi, Anand Enterprises, Shooting Zone, Zaka Automation Pvt Ltd, Harshita Academy, NM digita, ls, Unique Baby Studio, NSTUDIOS, Marcello Strada S.R.L, Fab Albums, Printx Digital Press, Arhiant Traders, SN publications, Vijaya Traders, Tanusree SwagruhaFoods, Sri Ganesh Traders, Mayasaba and VBN Associates are participating in about 40 companies. Events, Advocates Association For Social Responsibility And Awareness (AASRAA) , South TV, 6GHZ, Super School, Buysell Interactions Private Limited, Rudra Ayurvedic, Meghalaya Digitals, Balu Photo, AJS innovations, KalaRaj Media and Entertainment, K Ganesh Academy, PHOTOARTiO – ACADEMY OF PHOTOGRAPHY ART, SiGMA ACADEMY, Vimal Parmar ACADEMY, Hridgandha Mistry ACADEMY, Shari Academy Of Professional Photography & Digital Imaging, MY People Welfare Organization, Expo Galaxia Pvt Lt, Aakar Exhibition Pvt Ltd Organizations are supporting the Event
Dr Ramesh Eppalapalli, Founder and CEO of Editpoint India, said, "We have been organising PhotoFina trade exhibition for the last 19 years. We are expecting a footfall of more than 30,000 people at the expo." According to Dr Ramesh, the registration to attend the PhotoFina exhibition is free, and the visitors can register via the website
https://www.photofina.in/hyderabad2023
Nominations for Vande Bharath Bheeshma are now open Apply Now at :