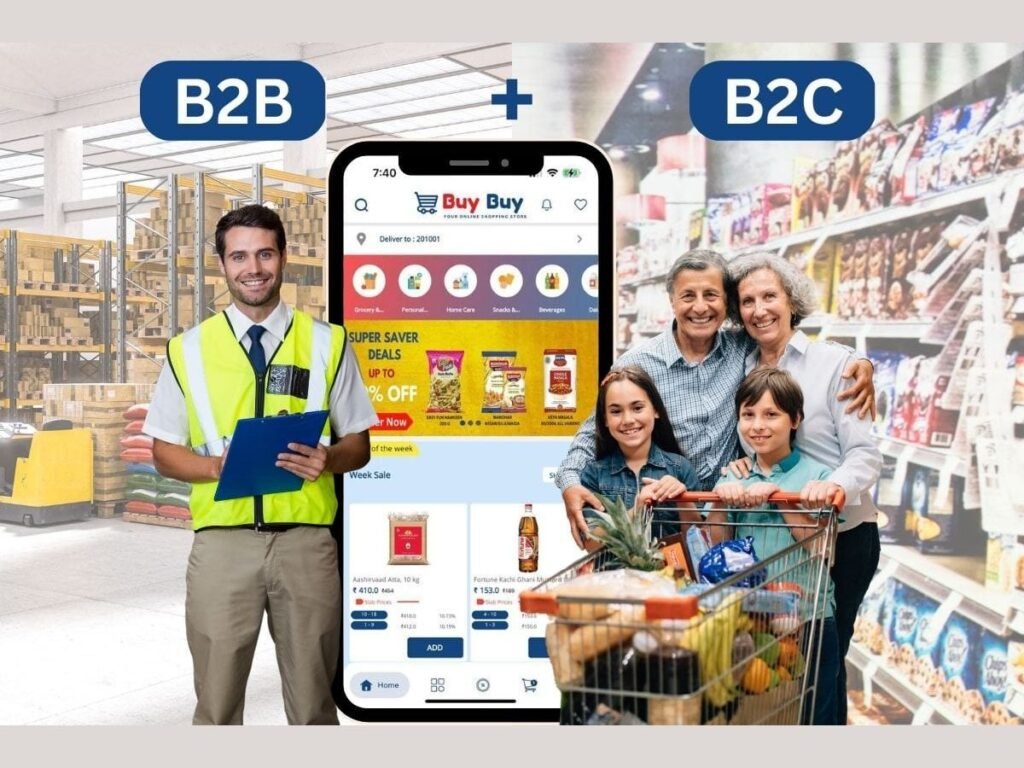 New Delhi (India), April 1: BuyBuy Technologies Pvt Ltd is a tech company that caters to value retail chains operating under the 'BuyBuyCart' brand. The Refurbishment of kiranas to create a customer-centric platform to cater to top-notch services and quality products at discounted prices is a segment that BuyBuyCart plans to leverage through digitalization. Consumers need a modern shopping experience in their neighborhood while retailers need hassle-free, profitable business operations.
If you are a kirana owner and running out of stock, don't worry because they have solved your problem with their app. Now, they have added B2B Segment to their Grocery App. Bulk orders are delivered to businesses on the same day with just the provision of the GST at multi-brand wholesale prices. What makes BuyBuy Technologies unique and stand apart with its technological genius is that it is the only application in India that serves both B2C (Business to Client) and B2B (Business to Business) on a single dedicated app.
The company has successfully incorporated the digital segment into its business model to get a competitive edge. BuyBuyCart, a grocery delivery app with a humungous variety of shopping brands available online and the conventional offline stores includes local specialties. Customers either B2C or B2B can use the BuyBuyCart app to order groceries and essentials online. The solutions include technology lead inventory management and supply, omnichannel front end for consumers, digital payments, and better savings, among others.
The company has an omnichannel presence with the Brick & Mortar Model and E-commerce platform. The technology implemented will help stores modernize the billing process and inventory management. The procurement and value chain, Inbound and outbound logistics is a highly evolved system. With software like OMS (Order Management System) and WMS (Warehouse Management System) being implemented the management, storage, and flow of goods have been automated and optimized, eliminating the traditional ways of data entry and recording- hence, making logistics human error-free, efficient and fast.
BuyBuyCart is also open to low-cost franchise offer with certain prerequisites to maintain high standards. The physical stores 'BuyBuyCart Stores' have made their presence felt in 10 locations across Delhi, Noida, Greater Noida, and Ghaziabad. They provide all the assistance in branding, promotion, marketing, logistics, and more. Further details can be provided by connecting on the company website.
U.S based Beacon Hill Partners LLC is planning to invest in this tech start-up venture as partners. This Technology start-up is set to close at 1.5 million by September this year and proposed 5 million U.S dollars next year.
The Founders Ashish Pandey and Sumit Kumar have built a business that combines strong growth with attractive unit economics. This powerful duo with their erudite knowledge of marketing and finance is all set to emerge as leaders in grocery E-commerce.
The company aims to have 300 stores in Pan India by next year.
"We continue to believe in the vision of being one of the leading players in the e-commerce industry, contributing to diverse business segments with a large array of clients. We are working on the expansion strategy and technological innovations to bring a new experience in ecommerce domain," says Ashish Pandey the founder of BuyBuyCart with utmost confidence.
With the accreditation of the Kirana stores through technology, BuyBuy Technologies aims to be the leader and Best Fit in the everyday needs of the local community. 
If you have any objection to this press release content, kindly contact pr.error.rectification@gmail.com to notify us. We will respond and rectify the situation in the next 24 hours.