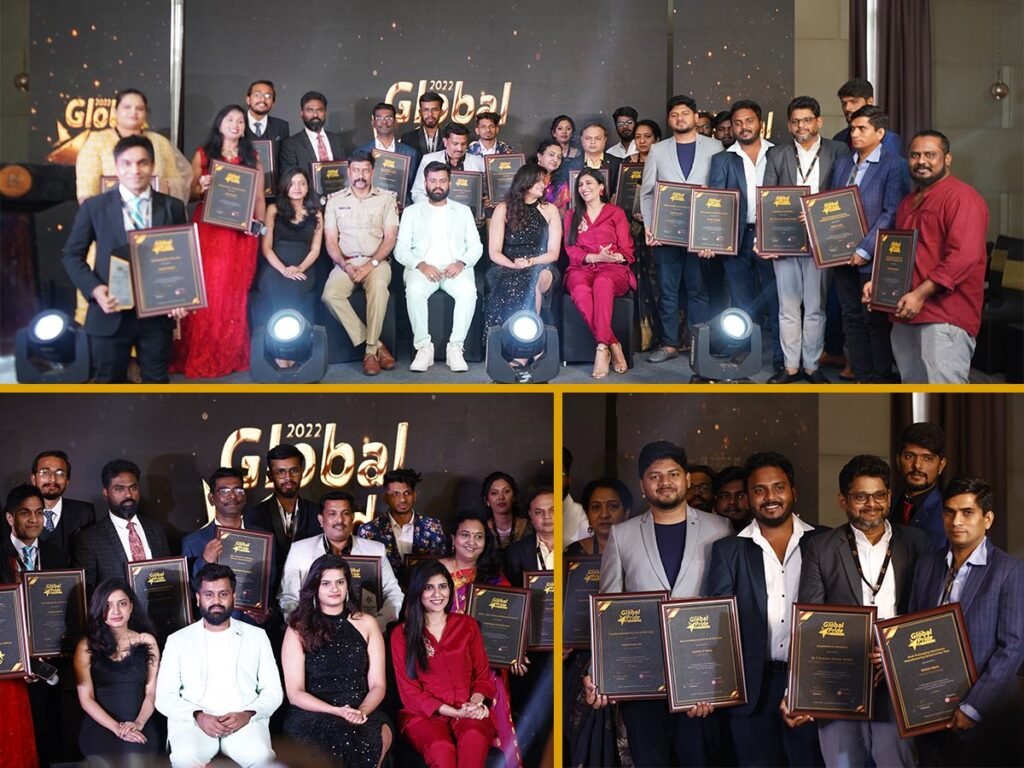 New Delhi (India), March 31: The Global Pride Awards, an initiative of the Global Pride Foundation, is set to recognize exceptional achievers in all industries nationwide. The first edition of the Global Pride Awards, held in January 2023 at the Renaissance Bengaluru Race Course Hotel, was a resounding success, with entries received from all over India. The event was made possible thanks to the support of co-sponsors GV Groups and Shaala, who helped to make the awards a reality.
The awards ceremony was grand, with prominent personalities from various industries gracing the occasion. The event was a testament to the commitment of the Global Pride Foundation to recognize and celebrate excellence in all fields. These individuals and organizations have made remarkable contributions to India's socioeconomic welfare, inspiring others to strive for excellence.
-Creative Business Award presented to Biswajit Baruah (Hive Sustainable Solutions),
-Best Pastry Chef Of The Year-Moksha (Moksha Patissier and Chocolatier),
-Architectural Firm of The Year-Sachin V Olety (Archedia),
-Emerging Fashion Talent Of The Year- Mohana Thangavel (Fashion Designer),
-Creative Designing Firm of the year- Haricharan KV (Hexin Designers),
-Excellence In Customer Service- Ramsudeer R (Ramji Cables & Networks),
-Dynamic Business Award- P.S. Mohan (Eco-Friendly Waterproofing),
-Innovative Principal of the Year- Naveen Kumar (Wisdom School),
-Intellectual Coach of the Year-Deepti Sharma (Your Voice In My Voice),
-Excellence In Customer Service- Nithin Kere (Fillpack Technology),
-Best Customer-CentricBusiness- Satish BN (Xito Consultancy Services Private Limited),
-Overall Social Worker of the Year- Dr. Nawab Shaik Ibrahim (Indian National Congress),
-Promising Service Provider of the Year- Vasanth (Crystal Event and Service),
-Creative Women Entrepreneur 2022- Praveena, (PAVIZ Interiors),
-Best Entrepreneur Business & Professional Services.- Affan Shaikh,
-Women Icon of the Year 2022-Dr. Sahithya Reddy (Magic Lantern Studios),
-Best Media Academy- Abin & Siddhu BLU (Academy),
-Best Homebaker of The Year-Vani Sundar (Vani Creative Bakers),
-Young Achiever Award- Kaushal Kumar (R-Concept),
-Best Builders Of The Year- Mukeshwaran (GSM Builders),
-Best Permanent Makeup Clinic & Training Academy- Dr. Shangavi Balasubramanian (Esthetica),
-Recognition For Research In Space Science & Technology- Samkeeth Kumar D (Rescape Aerospace), and
-Outstanding Education Provider of The Year- Dr. Saurabh Kumar Agarwal (Madhavrao Scindia Public School).
-The list also has Emerging Technology Services Startup- Tharinish E (Soni Tech Touch),
-Emerging Startup Of The Year- Digital Marketing- K Sai Jayachandra Reddy (Urban Hands Pvt Ltd),
-Best Crypto Exchange Platform- Bharat Solanki (Rubber Coin),
-Most Creative Fashion & Corporate Photography Crew- Gauthamvalavan (Team Creators),
-Best Career Guidance Professional- Gayathiri Shivalingam (Aspire AIIMS),
-Entrepreneur Of The Year In Service Business- Ashish Kumar Goel (Maple Events),
-Emerging Sustainable Organic Farming Brand Of The Year- Adv. A.U Hrishikesh & Dr Sreeni K R , (Sarvathobhadram Organics),
-Upcoming Architecture & Interior Designing Firm Of The Year- Ar.Rishab Bafna (Inspire Architects & interiors),
-Young Innovator- Chandru.KP (College 360),
-Dr. Rajender Ramagiri- Best Diabetes And Lifestyle Disease Reversal Doctor
-Business Trainer Of The Year- Venkatpathi B M (Business & Crypto Expert),
-Fastest Growing Restaurant Chain Of The Year- Vigneshwaran (Grill Nights),
-Mr. Amogh Madhukar Kudatarkar- Business Leader Of The Year
-Innovative Designing Firm Of The Year- Vinay Kumar Goda (Godadecors), |Digipreneur Of The Year- Mudasir Ahmed (Techmars Services Pvt.Ltd),
-People's Choice Overseas Education- Syed Amer Ahmed (Forum lead Overseas Education Advisors Pvt.Ltd),
-Excellence in Dentistry- Dr. T. Praveen Kumar Reddy (Dr. Praveen's Specialty Dental Hospital)
-Outstanding Innovative Structural Consultants in INDIA, Since 1949-Sailesh Mahimtura (Mahimtura Consultants),
-Dynamic Entrepreneur- Arts & Entertainment- Tapas Das (Twist N Turns),
-People's Choice Prominent Emcee- Savi Prakash (Emcee & Theatre Artist),
-Exemplary Women Icon (IRON- LADY) Lifetime Achievement Award- Snehalata Girish Borkar (First generation Entrepreneur, Author & Educator),
-Female Business Icon Of The Year- Dr.Amudala Thejo Kumari (Theja Business Solutions),
-Young Artist Of The Year- Prince Katara (Fashion Model),
-Most Enterprising Business- Sourcing, Manufacturing & Exports- Deepak Goyal (Jindaram Exports),
-Excellence In Business- IT Services- Yogesh Srinivas (Interrival Technology Services India Pvt Ltd),
-The Rising Star Of The Year- Soubir Bhatt (V&E Consulting Group),
-Young Dental Achiever Of The Year- Dr. Izas Ahamed (Elil Dental Clinic).
The first edition of the Global Pride Awards was graced by esteemed chief guests, including Dr Ravindran Kishore, Padmasree Manjama Jogathy, Mr. Chandu B Gowda, Mr. Pramod Boppana, Ms. Spandana Prasad, and Mr. A.V Ravi. Their presence added to the event's grandeur, and their support for the awardees encouraged them to strive for excellence in their respective fields.
The second edition of the Global Pride Awards promises to be even bigger and better, with entries open to exceptional achievers from all over India. With the overwhelming response received during the first edition held in 2023, the second edition nominations have begun. A panel of experts will review the nominations, and the winners will be announced at a grand ceremony later this year.
If you have any objection to this press release content, kindly contact pr.error.rectification@gmail.com to notify us. We will respond and rectify the situation in the next 24 hours.