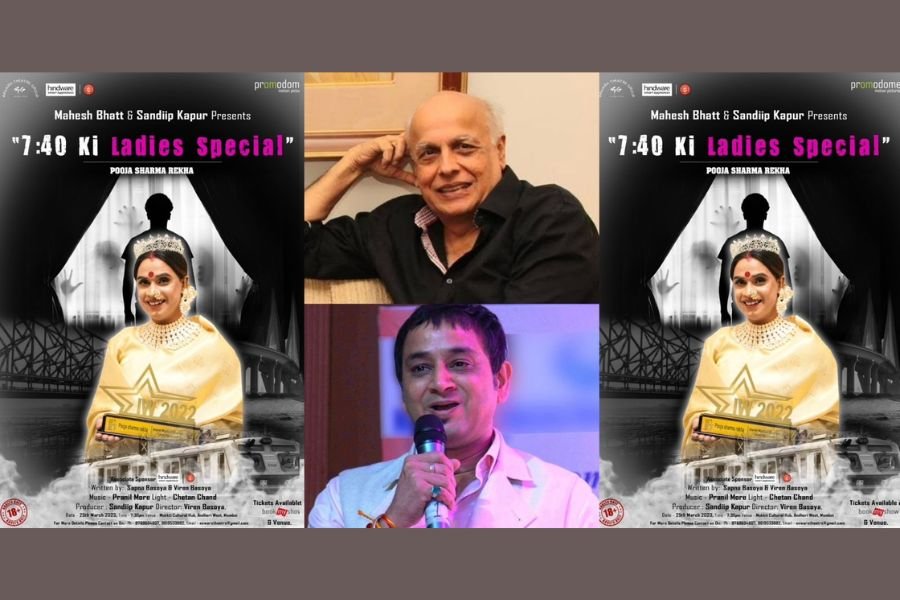 New Delhi (India), March 30: The play, which centers on the experiences of transgender Pooja Sharma, has been praised by audiences and critics alike for its authentic portrayal of the struggles and triumphs faced by the community. Written by Sapna Basoya and Viren Basoya and directed by Viren Basoya, "7:40 ki Ladies Special" is a compelling and nuanced exploration of Pooja Sharma's experience.
Actors from Aawara Theatre Group are surely a force to be reckoned with as everyone shines in their moments. The play's success is due in large part to its powerful performances by the cast, who bring depth and authenticity to their roles. Leading the cast is transgender actor and activist Pooja Sharma, Sharma's performance is a tour de force, as she brings nuance and empathy to his portrayal of a character struggling to find acceptance in a world that often refuses to see her for who she is. Filmmaker Mahesh Bhatt also complimented the group stating " Kaafi barso ke baad maine itne honest actors and technicians dikhe ", which aptly captures the intent of the group.
The play's themes of identity, acceptance, and community have resonated with audiences, drawing in diverse crowds from all walks of life.
Despite addressing an intense subject the play has its moments of laughter and celebration which keeps it tight and engaging. Dance performances and subtle humor in the play are not to be missed for sure. The play ends with an open interaction with Pooja and it's an experience of its own kind
After the play, Viren Basoya expressed his hope that the play would help to raise awareness and understanding towards transgenders. "I wanted to create a play that would shed light on the issues faced by the transgender community, and hopefully, create a greater sense of empathy and understanding among audiences," he said.
"7:40 ki Ladies Special" is a triumph of theater and a must-see. With its powerful performances, nuanced writing, and universal themes, the play has quickly become a cultural touchstone, sparking important conversations and raising awareness about the challenges and triumphs faced by transgender individuals
The cast and crew, including Pooja Sharma Rekha, Sapna Basoya, Swaroopa Ghosh, Ranjay Kumar, Vaishnaav Vaani, Pratiksha Ingole, Shamim Rayeen, Jogen Dewasi, Aisha Choudhary, Rajor P Raj, Geeta Saroha, Siddharth Negi, Abhay Mishra, Gaytri Negi, and Shivam, all delivered impressive performances. The music was composed by Pranil More, the lighting was designed by Chetan Chand, costume by Geeta Saroha, Make Up by Vinisha Chokshi & Drishti Didwania and the choreography was done by Sayali More.
It's an Aawara Theatre Group Production and Produce by Promodome Motion Pictures (Sandip Kapur)
If you have any objection to this press release content, kindly contact pr.error.rectification@gmail.com to notify us. We will respond and rectify the situation in the next 24 hours.