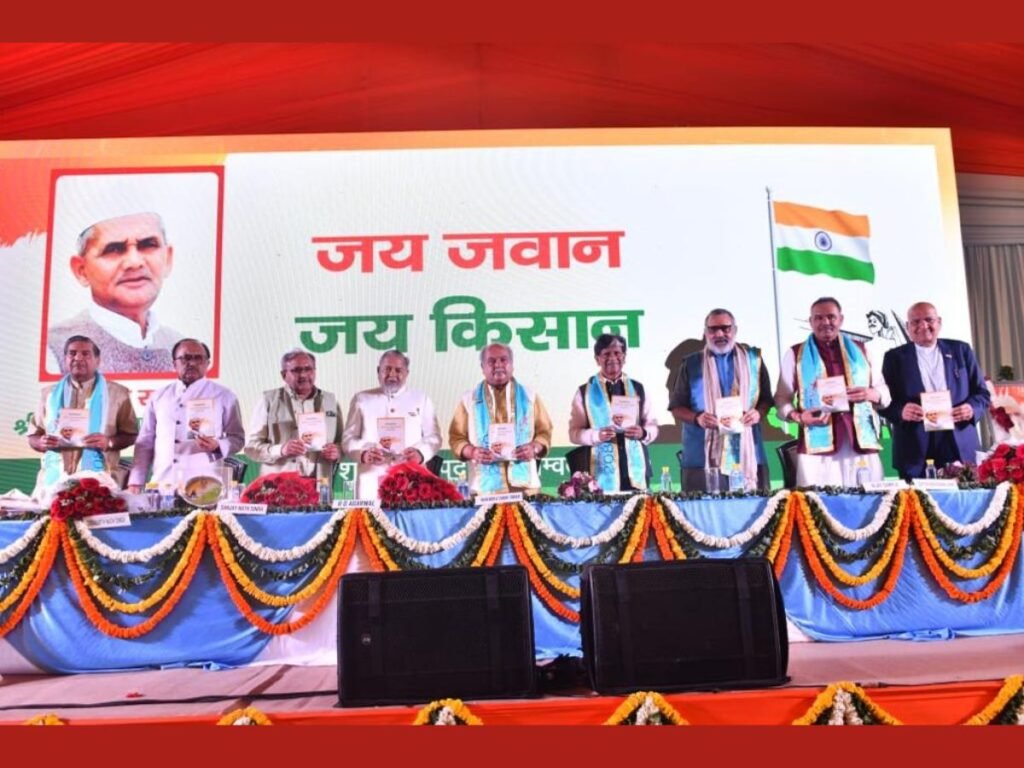 Cabinet ministers Mr. Narendra Tomar and Mr. Giriraj Singh, Mr. Anil Shastri, Mr. Siddharth Nath Singh, Mr. Sanjay Nath Singh, Mr. Vijay Sampla; Mr. R G Agarwal, Mr. Satya Bhushan were present
Unveils portrait of Late Prime Minister Lal Bahadur Shastri
Experts call for change in the cropping pattern and adoption of technology for agricultural purposes
New Delhi (India), March 24: On the occasion of World Water Day 2023, which coincided with the first day of Vikram Samvat 2080, Hon'ble Minister for Agriculture & Farmers Welfare Shri Narendra Singh Tomar praised the leadership of former Prime Minister 'Bharat Ratna' Late Shri Lal Bahadur Shastri Ji saying his initiative of doing farming at Prime Minister's residence inspired Indian farmers to attained self-sufficiency in food grain production.
"Shastri's personality was incomparable. At the peak of the food grain crisis in 1965, he, not only did farming at his official residence but also exhorted the farmers of the country to go to the field with a slogan of 'Jai Jawan, Jai Kisan' so that as a country we could become self-sufficient and never had to depend on others. Like Shastri Ji, today people follow our Prime Minister Shri Narendra Modi," Shri Tomar said while citing the example of how people gave up gas subsidies on the PM's call.
Shri Tomar was speaking at a function organized on the occasion of World Water Day 2023 by Dhanuka Group.
Shri Tomar also unveiled a newly made portrait of Late Prime Minister Lal Bahadur Shastri Ji and a booklet on his life written by his grand-son Shri Sanjay Nath Singh amid the gracious presence of family members of 'Bharat Ratna' Late Shri Lal Bahadur Shastri Ji – son Shri Anil Shastri, grand-sons Shri Siddhartha Nath Singh and Shri Vibhakar Shastri, Shastri Ji's daughter-in-laws and and Shri R. G. Agarwal, Chairman, Dhanuka Group.
Other eminent persons who graced the unveiling of Shastri Ji's portrait were Shri Giriraj Singh, Union Minister of Rural Development and Panchayati Raj; Shri Vijay Sampla, Chairman, National Commission for Scheduled Castes; Dr. Harsh Vardhan, former Union Minister; Member of Parliament – Shri Virendra Singh and Shri Rajendra Agarwal; Dr. M. Srinivas, Director of AIIMS; Shri P.K. Singh, Agriculture Commissioner; Dr. R. S. Paroda, former Secretary, DARE & DG ICAR; Shri Satya Bhushan Jain, National Vice Chairman, Confederation of All India Traders and Shri Suresh Jain, Bhartiya Vikas Parishad among others.
The newly unveiled portrait, which has the 'Jai Jawan Jai Kisan' slogan ingrained on it, will be presented to all the members of Parliament including both Lok Sabha and Rajya Sabha.
Earlier in the day, Dr. Rabindra Nath Padaria, Joint Director (Extension), ICAR-IARI, New Delhi; Shri R. G. Agarwal, Chairman, Dhanuka Group and Shri Sanjay Nath Singh, Working President, All India Farmers Association & Grandson of Shastri Ji jointly addressed a press conference to highlight the importance of water conservation.
Addressing the press conference, Shri R. G. Agarwal, Chairman, Dhanuka Group said, "It is estimated that 70-80% of water is used for agricultural purposes in India. With ever-decreasing groundwater levels, there is an utmost need to promote drip and sprinkler irrigation techniques instead of the conventional flood irrigation technique. Such a precision irrigation system has enabled countries like Israel, with more than 60% wasteland, to flourish as a world leader in the agriculture sector producing high-quality and high-yield crops. We as a country need to adopt precision farming in a big way, which will result in saving water while increasing crop quality, production, and profitability."
Sharing his views during the media briefing, Dr. Rabindra Nath Padaria, Joint Director (Extension), ICAR-IARI, New Delhi said, "In the last 30 years, our cropping pattern, our technique of crop cultivation, and our preferences have turned water-intensive. The approach requires course correction and the time is ripe for changing our crop pattern. This will benefit all stakeholders including farmers."
Shri Sanjay Nath Singh, President, All India Farmers Association & Grandson of Shastri Ji too expressed similar views and advocated steps, which may enhance farmers' income and benefit other stakeholders at the same time.
As part of the celebrations of World Water Day, various documentaries on water and related subjects were showcased to guests, which included policymakers, bureaucrats, academia, representatives of the industry and media among others.
It is pertinent to mention here that for more than a decade, Dhanuka Group has been at the forefront of spreading awareness and promoting sustainable use of water in agriculture and other economic activities. The Group has been educating and spreading awareness on water conservation through its flagship campaign "Khet ka pani khet mein aur gaon ka pani gaon mein". In the past, to conserve rainwater, company has also funded the construction of check dams at Jugalpura, Devipura (District Sikar), Mainpura-ki-Dhani and Sankotra, (Jaipur district), Rajasthan, which are now fully operational and have been filled with rainwater.
If you have any objection to this press release content, kindly contact pr.error.rectification@gmail.com to notify us. We will respond and rectify the situation in the next 24 hours.