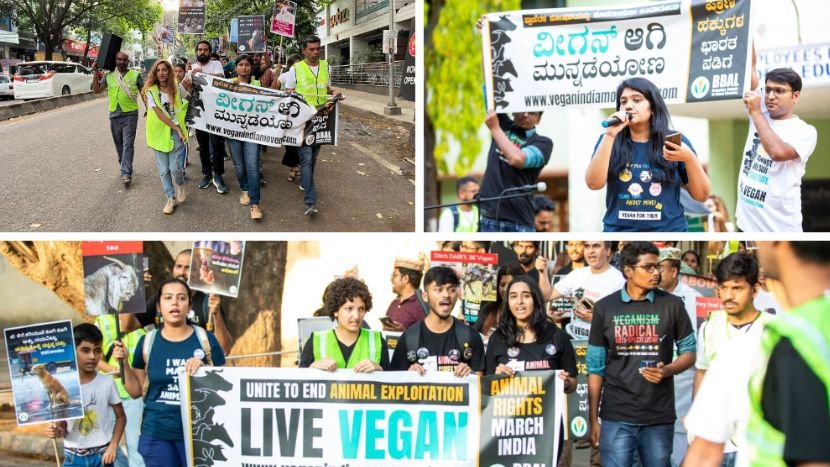 Vegan India Movement (VIM) & Bengaluru Brigade for Animal Liberation (BBAL) Host an Inspiring South Zone Animal Rights March
Vegan India Movement (VIM) and Bengaluru Brigade for Animal Liberation (BBAL) organise Rally Against Animal Abuse & Host an Inspiring South Zone Animal Rights March. Over 500 passionate activists from across Southern India took to the streets of Bengaluru's Jayanagar, joining forces in a powerful demonstration against animal abuse.
Bengaluru (Karnataka) [India], March 23: Over 500 passionate activists from across Southern India took to the streets of Bengaluru's Jayanagar on 18th March 2023, joining forces in a powerful demonstration against animal abuse. The South Zone Animal Rights March, organized by Vegan India Movement (VIM) and Bengaluru Brigade for Animal Liberation (BBAL), aimed to raise public awareness about the cruelty involved in using animals for food, clothing, entertainment, and experimentation.
With Rani Sarala Devi College in Jayanagar as the starting and ending location, the south zone march brought in activists hailing from Karnataka, Kerala, Tamil Nadu, Telangana, Andhra Pradesh, and other places. The day's events kickstarted with Chalktivism at 10 AM, where activists displayed messages/drawings on the street using chalk to convey the idea of Animal Rights and veganism.
With participants gathering on the grounds by 3:30 PM, several activists took to the stage to give speeches and enthuse the crowd for the march. The cruelty behind meat, milk, eggs, leather, circuses, zoos, and products tested on animals was highlighted, and the crowd was called to action to raise awareness about the horrors behind animal products. Activists marched out of the grounds at 4:30 PM for a 3.6 km impassioned walk holding placards and posters with Animal Rights messages for the public, covering key hotspots on the route like Madhavan Park, Cool Joint, BDA Complex, and Jain Temple.
The march aimed to raise awareness amongst the general public about animal rights. The messages shared depicted the stories of animals and the conditions they are needlessly subjected to just to gratify human desires. Placards and posters held short but impactful messages encouraging people to think about their choices. Messages like "Treat animals the way you would like to be treated" and "Meat is not a personal choice" encouraged people to re-evaluate their relationship with animals. Posters also depicted images of animals accompanied by the writing "Not your mom. Not your milk", "Not an egg/milk machine", or "Their skin, not leather". Bystanders were also encouraged to look up a short video on YouTube titled "Unholy Cattle of India" to learn about the cruelty behind the consumption and use of milk. The march's aim was to demand animals' basic rights to life, liberty and freedom from torture. People's attention was also drawn to the concept of veganism, which is a way of living that encourages people to take a stance against the commodity status of animals by boycotting all forms of animal use (for food, clothing, entertainment, experimentation).
Commenting on the event, Richa Annie Thomas, Co-founder of VIM and BBAL, said " To end animal exploitation, we need more awareness. Education and empowering individuals can help them make ethical choices. Our society often ignores the cruelty in animal products and uses, such as separating cows from their calves for milk and confining animals for testing and fashion. Awareness is key to making people conscious of the impact of their choices on innocent beings."
Chaitanya, a vegan and cyclist who cycled more than 12,000 km across the country to raise awareness about animal rights, joined the Bengaluru march too and will cycle 200 km every day to join the Indore march on 25th March.
"Animals feel captivity's pain like us. Oppression is oppression, no matter the species. Our innate sense of justice is forgotten through conditioning. Movements like this restore faith in morality and equality. Most humans wouldn't want to be treated as they treat animals, knowingly or unknowingly. That's reason enough to reconsider animal treatment in society." said Nitin Jain, Co-founder of BBAL.
Completing the circuit and returning to Rani Sarala Devi College at 7:30 PM, participants of the march were treated to a vegan dinner and community-building activities organised by BBAL. Post-march music, speeches, and screenings highlighted Animal Rights issues, with the owners of several vegan businesses taking to the stage to emphasize the work they do and how it aids the Animal Rights Movement. The post-march activities planned gave participants an opportunity to mingle with other like-minded people, connect with vegan brands that are making a difference in the plant-based space, and of course, enjoy some delicious vegan food while they're at it. Jayaseelan TD and Sai Vignesh, founders of Ahimsa Farm Animal Sanctuary and Almighty Animal Care Trust, respectively, highlighted their rescue efforts for farm animals and their contribution to the Animal Rights Movement, tugging at the heartstrings of the crowd gathered.
The successful Animal Rights March was just one of the many initiatives taken by VIM and BBAL to raise awareness about the plight of animals and demand an end to the commodity status of animals.
VIM, which is a pan-India collective of grassroots activists, was established in 2018, and so was BBAL, a Bangalore-based grassroots group of activists. Both groups undertake ground-up action to educate people about animal rights and veganism in various forms, such as street outreaches, lectures in schools/colleges, screening of documentaries, etc. The education is aimed at changing people's perception of animals to help them realise that they are not "commodities" but sentient beings who can perceive pain and suffering. Since its beginning in 2018, VIM has grown to have major outreach locations across the country, bringing people together for Animal Rights. The group's efforts have been instrumental in the skyrocketing popularity of veganism in India today. The Bangalore-based group, BBAL, has successfully grown from a team of 4 activists to one with more than 300 activists. BBAL conducts outreaches at various locations in Bengaluru every weekend. 
Those who are interested in joining or want more information can email goveganwithbbal@gmail.com or visit https://veganindiamovement.com/ for more information
If you have any objection to this press release content, kindly contact pr.error.rectification[at]gmail.com to notify us. We will respond and rectify the situation in the next 24 hours.