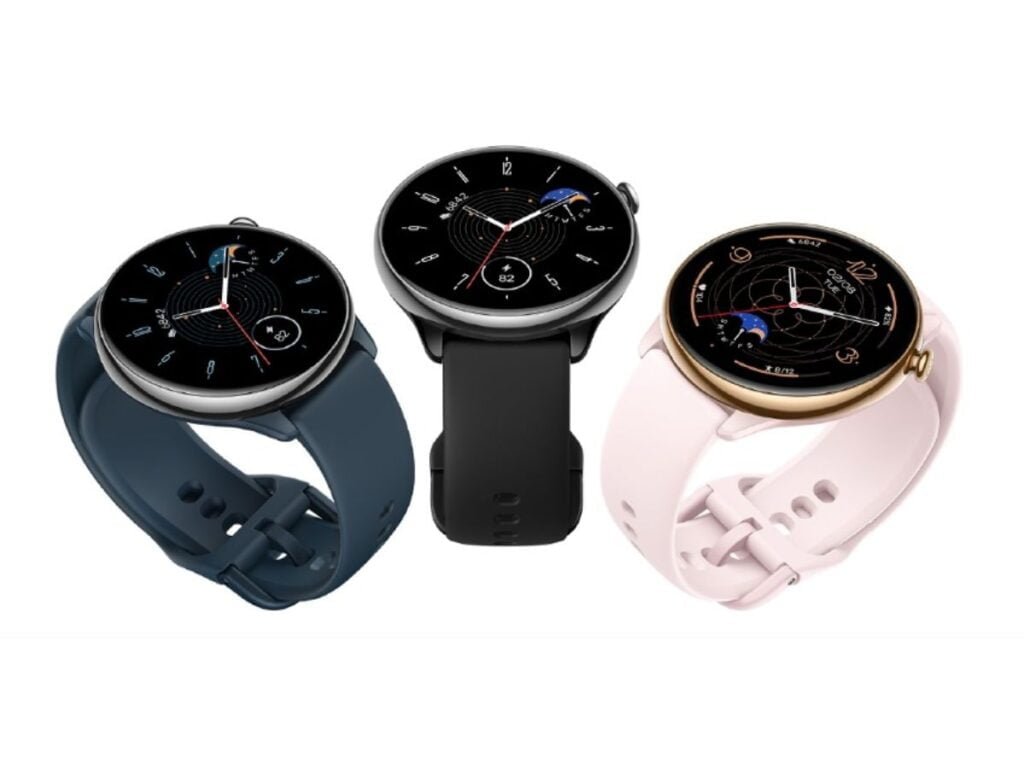 Experience Unmatched Fitness Monitoring with Amazfit GTR Mini's 120+ Sports Modes and Advanced Health Features
Stay Connected and On the Move with up to 14 days' Long Battery Life and 5 Satellite Positioning Systems
New Delhi (India), March 17: Amazfit, a leading global smart wearables technology brand owned by Zepp Health, a health technology company, has announced the launch of its latest product, the Amazfit GTR Mini. The powerful, slim and stylish smartwatch is designed to cater to the needs of individuals who value both functionality and fashion. With its sparkling stainless steel frame, 120+ sports modes, 24/7 Heart rate, SPO2 and advanced health monitoring features, the Amazfit GTR Mini promises to be a game-changer in the wearable technology industry. The watch comes at an attractive price of INR 10,999/- and is equipped with 5 satellite positioning systems and boasts a battery life of up to 14 days, making it a reliable companion for people on the go.
"At Amazfit, we are committed to innovation and excellence in wearable technology. The launch of the Amazfit GTR Mini is a testament to our dedication to providing our customers with cutting-edge products that meet their needs. We believe that technology should seamlessly integrate into every aspect of our lives, from fitness to fashion. The Amazfit GTR Mini represents this vision perfectly – a smartwatch that blends sleek design with cutting-edge features, empowering users to track their fitness goals and stay connected on the go." said the Amazfit spokesperson.
Specifications and Features:
Design
The Amazfit GTR Mini watch breaks fashion norms with its classy round design. Its slim, light body features sparkling stainless steel and a glazed back panel matching its soft, skin-friendly silicone strap. At only 9.25mm and 24.6g, this watch is the perfect accessory for those who want to stand out and embrace their exceptional style.
Display
The Amazfit GTR Mini boasts a stunning screen design with curved glass and an anti-fingerprint coating. The 1.28″ HD AMOLED display delivers crisp and clear visuals with 326 PPI, making it easy to read in any lighting condition. Along with a wide selection of 80+ vibrant watch faces, the new Portrait mode lets users upload 3 of their favorite pictures to the watch face, for an alternating personal touch every time they wake up the display.
24/7 Health Management
The health-centered Zepp OS 2.0 and the advanced BioTracker

PPG optical sensor provide insights into heart rate, blood-oxygen saturation, and stress level, allowing users to understand their body easier than ever. When 24-hour health monitoring is activated, the watch can remind any abnormal readings, such as high or low heart rates, low SpO₂ levels, or high-stress levels, and even recommend stress-reducing breathing exercises. With the super-convenient One-tap Measuring function, users can measure all three metrics simultaneously with just one tap, and get results in as fast as 15 seconds.
With impressive specifications, the Amazfit GTR Mini is a smartwatch that provides style and functionality for any occasion.
A Dynamic Power-up
The Amazfit GTR Mini is a powerful smartwatch that is powered by Zepp OS 2.0 and a dual-core Huangshan 2S chip. The watch can conserve battery power for up to 14 days at a time with typical usage – or even up to 20 days on battery saver mode. Its long battery life makes it a perfect choice for anyone who needs a reliable and efficient smartwatch.
Strong and Accurate GPS Tracking
The watch also has continuous GPS usage, making it a perfect companion for outdoor adventures and city exploration. Equipped with Amazfit's patented circularly-polarized GPS antenna technology which picks up almost twice as many satellite signals as regular antennas, the Amazfit GTR Mini is capable of stronger and more accurate GPS tracking. It supports five satellite positioning system which picks up almost 100% of signals and greatly reduces signal interference in environments with tall buildings or trees.
Elegant Wellness/Fitness Tracking
The Amazfit GTR Mini has over 120 sports modes and smart recognition, making it the perfect companion for any workout. The watch can track data for over 120 different sports, and users can get a post-workout report when they're done. The watch is also 5 ATM water-resistant, meaning it can withstand the equivalent of up to 50 meters of water pressure, making it perfect for swimming. Moreover, the watch features ExerSense

which allows smart recognition of seven exercise types, including Outdoor Running, Outdoor Cycling, and more, to keep your workouts seamless and focused.
The Amazfit GTR Mini allows users to share their workout data with various fitness communities and smartphone apps, including Strava, Relive, adidas Running, Apple Health, and Google Fit. This feature allows users to connect with others, compare their progress, and receive additional support and motivation for their fitness journey.
Price and availability:
Amazfit GTR mini is set to make a grand debut with an unbeatable price of INR 10,999/- exclusively on Amazon India. Offering a range of exciting features and functionalities, this stylish smartwatch is available in three captivating colours – Midnight Black, Misty Pink and Ocean Blue.
To learn more about the Amazfit GTR Mini, visit https://www.amazfit.com/ and https://www.zepp.com/.
Amazfit, a leading global smart wearable brand focused on health and fitness, is part of Zepp Health (NYSE: ZEPP), a health technology company. Offering a wide selection of smartwatches and bands, Amazfit's brand essence is "Up Your Game", encouraging users to live their passions and express their active spirits freely. Amazfit is powered by Zepp Health's proprietary health management platform that delivers cloud-based 24/7 actionable insights and guidance to help users attain their wellness goals. With outstanding craftsmanship, Amazfit smartwatches have won many design awards, including the iF Design Award and the Red Dot Design Award.