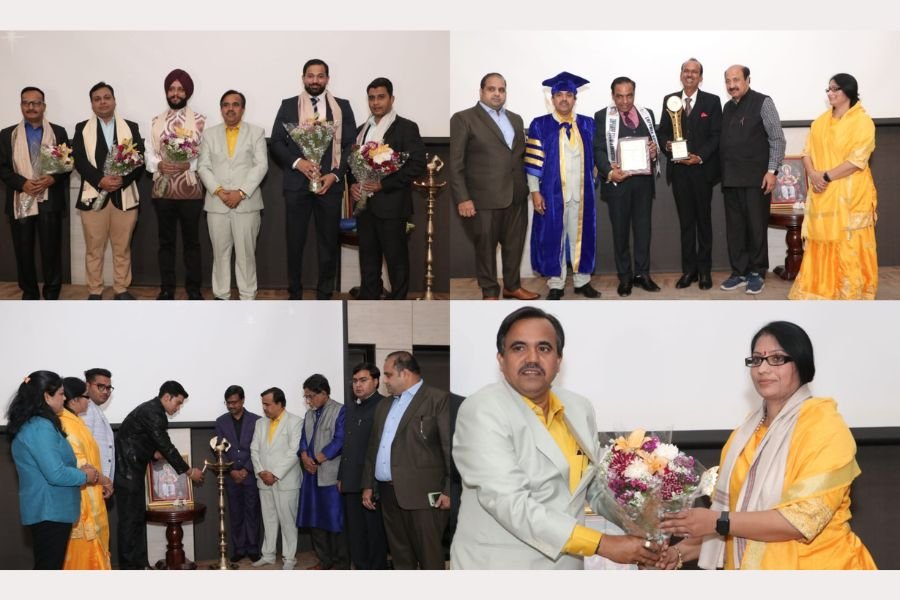 Empowering children through education is crucial for their growth and development. Social and educational trusts play a vital role in providing opportunities to children from various backgrounds to access quality education.
Empower Social and Education Trust organized the 10th Empower Award in New Delhi, India. The main guest of the award was the Director of Finance of Oman, Mr. Mohammed Atif Hussain. The event was graced by esteemed guests such as Mr. Deepak Singh (Cultural Ambassador of Seychelles Government), Sadhvi Mridula Didi, Dr. Narendra Bodeke (Director of Competition Commission of India, Delhi), Mr. Pawan Vasudev (Coordinator of Himachal Pradesh Bharatiya Janata Party, Delhi State President), Chauguleji of Maharashtra Legislative Assembly, Mangala Suresh Angadi (First woman member of parliament of the Lok Sabha), Dr. Amjad Pathan (Research Scientist in Mumbai), Zia-au Raheman (General Secretary of Jakat Foundation Delhi), Mr. Mohmad Nazhath Ali Siddhiqui (Director of Signature Group, Saudi Arabia), Deepak Sharma (Tihar Jailor ASP), Mr. Niraj Sharma (Indian Film Producer), Mr. Prasum Mukherjee (Singer), Dr. Mohammed Riyaz (National President of All India Congress Social Organization), and Mr. Kunwar Afzal Choudhary
Empower Social and Education Trust is a non-profit organization that focuses on providing quality education to children in India. The organization has a team of dedicated committee members who work tirelessly to ensure that children have access to education regardless of their socio-economic backgrounds.
The committee members of Empower Social and Education Trust are Shrutikolambe and Avishkar Kolambe, both trustees of the organization. Sonali Memane is the CEO of the trust, and Dr. Raj Kale serves as the Senior National President. Dr. Som Shekhar is the National President, while Rajesh Waranakar serves as the Event Coordinator. Santosh Hankare is the Media Partner, while Rajasekharke is the National Governor. Dr. Deepak Day is the National Convener, and Jay Karya serves as the National Convenor. Ancar Dinesh More, Sachin Warase, and Vivek Lokhade are also part of the Empower team.
The committee members bring a diverse range of skills and expertise to the table, making the organization's work all the more effective. They work towards providing underprivileged children with access to education, scholarships, and other opportunities that can help them succeed in life.
Empower Social and Education Trust has undertaken various initiatives to support education in India. The organization provides scholarships to students who excel academically but cannot afford to pay for higher education. They also organize events, workshops, and training programs to help students enhance their skills and gain exposure to different career paths.
The trust's committee members work closely with schools and colleges to identify students who need support and then provide them with the necessary resources to excel academically. The organization also provides financial assistance to schools that require funding for infrastructure development, classroom equipment, and other educational resources.
One of the significant initiatives of Empower Social and Education Trust is its digital literacy program, which aims to provide children from low-income backgrounds with access to computers and the internet. The program also teaches children how to use technology effectively and safely, which is essential in today's digital age.
In conclusion, Empower Social and Education Trust and its committee members are doing a commendable job of empowering children through education in India. Their efforts to provide quality education to underprivileged children and support them in their academic pursuits are laudable. With their dedication and hard work, the trust has been able to positively impact the lives of many children and help them achieve their full potential. The committee members' diverse skillset and expertise make the organization's work even more effective, and we hope that their efforts will continue to make a positive impact on the lives of many more children in the future.
If you have any objection to this press release content, kindly contact pr.error.rectification@gmail.com to notify us. We will respond and rectify the situation in the next 24 hours.