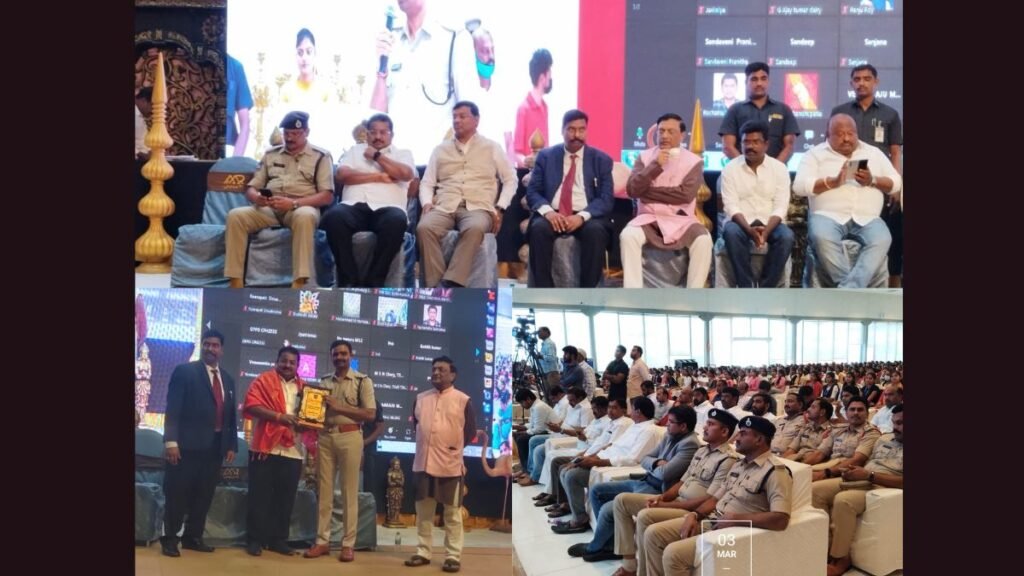 Ignite IAS Academy Offers Career Guidance for Students at Prerna2023, Karimnagar
Ignite IAS Academy Offers Career Guidance for Students at Prerana 2023, Karimnagar​​​​
Telangana (Hyderabad) [India], March 7: The Karimnagar police recently organized an impactful awareness programme, 'Prerana-2023', to guide the students on careers and educate them on various topics such as drugs, online fraud, loan apps, and misuse of social media. The event, which was attended by over 1,000 participants physically at the function hall and through the Zoom app via LED screens set up in multiple locations, aimed to bridge the gap between law enforcers and citizens with essential knowledge that will help them make better decisions in their lives.
The event was inaugurated by S. Srinivas Addl, DCP (L & O), Karimnagar, who delivered the welcome speech. Following this, Sri.L. Subbarayudu, IPS, Commissioner of Police, Karimnagar, gave an introduction to the event. Furthermore, the Special Guest for this event was Sri R.V. Karnan, IAS District Collector, Karimnagar, who shared his valuable insights with the participants on how they can use technology safely while also highlighting its importance in today's world.
The main aim of Prerana-2023 was to make youth aware of issues such as drugs and drug abuse, online frauds posed by loan apps and other similar platforms that could lead to exploitation or loss of wealth and resources if not used properly. The program also included activities like debates, panel discussions and interactive question-answer sessions, which were conducted by eminent members of the police force as well as experts from various fields related to these topics, such as cyber security and digital forensics.
The programme concluded with a powerful message from Mr Karnan that resonated among all the attendees – "Be aware and use technology responsibly". He further urged that it is only through proper education and awareness we can ensure a safe and secure environment for future generations.
The inauguration of Prerana-2023 was graced by BC Welfare and Civil Supplies Minister Gangula Kamalakar, who shared his insights on vocational training opportunities and employment scope available to the youth. Rasamayi Balakishan, MLA, encouraged the students with his motivational songs. The police also provided online counselling services for Students. Ignite IAS, a leading institute in Andhra Pradesh and Telangana for integrated programs like Inter with IAS, Degree With IAS, and Direct IAS Courses, played an integral role in this event by taking care of the Career Counseling & Motivation Segment. Ch. Srinivas Reddy, Director and AN Reddy, Dean Civils of Ignite IAS, addressed the participants about job opportunities in Central and State governments such as CAPF, EPFO (Employees Provident Fund Organisation), SSC (Staff Selection Commission), Group 1, Group 2 etc., In addition to this, renowned author Yandamuri Veerendranath also took part in the event to provide career guidance for the youth. During his session, he advised them to be bold and develop communication skills in order to make their way into successful careers. Gampa Nageswar Rao, Keynote Speaker at Prerana -2023, praised Ignite IAS for organizing such a meticulous civils program and urged the students to attend the free career guidance webinars that they are currently running.
AN Reddy, Dean Civils Interacting with Students at Prerana 2023
The response from the attendees was overwhelming as they showed enthusiasm upon receiving valuable tips on how to face challenges in life. This initiative has come as a mark of appreciation for the Karimnagar Police for their efforts in realizing a safer tomorrow through the education of today's youth. It has opened up avenues of dialogue between citizens and law enforcers that could pave the way to a secure future.
Ignite IAS Academy Hyderabad also expressed its commitment towards improving the overall quality of life by imparting skill sets required to succeed in competitive exams such as Civil Services(Union Public Service Commission).
Overall, the success of Prerana-2023 has highlighted how important it is for young adults to receive proper guidance from knowledgeable sources if they want to make informed decisions in their lives.  Everyone praised that such programmes are essential if we want to build a secure future for our youth. Prerana-2023 provided a great platform for educating people on potential risks associated with various technologies so that they stay protected from any fraudulent activity or exploitation in their day-to-day lives. The success of this event serves as an example of how initiatives like these are important for our society's growth and well-being at large.
If you have any objection to this press release content, kindly contact pr.error.rectification[at]gmail.com to notify us. We will respond and rectify the situation in the next 24 hours.