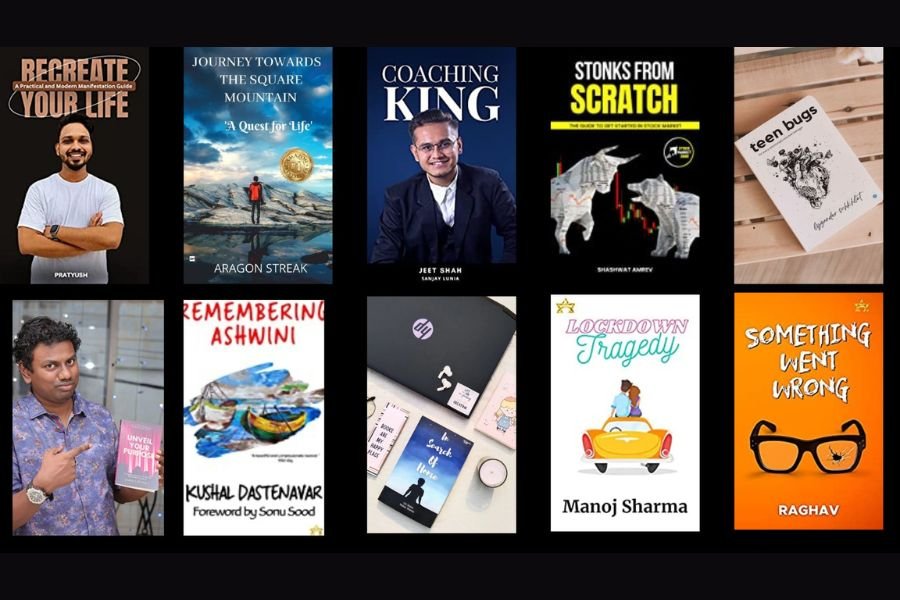 New Delhi (India), March 3:
1. "Recreate Your Life: A Practical and Modern Manifestation Guide" is a comprehensive and actionable book that provides a step-by-step guide on how to create an effective manifestation strategy to achieve your goals and bring the impossible to life. Written by Pratyush Patil, this book offers practical techniques and tools based on modern science and spirituality that readers can implement to transform their lives.
2. "Journey towards`the Square Mountain – By Aragon Streak"; is a splendid fable in and of itself. One of the most prominent reads of 2022, thus making it to our Top 5 category. The book takes readers to a different zone altogether; teaching them about the 'Quest for Life'; which is also the subtitle of the book. Aragon Streak, aka Tushar Sharma, has put a great deal of effort into making the characters come to life, and the wisdom of a lifetime has flown through them with ease. Enticing the reader's curiosity and expanding their intellect to a broader dimension which made the book land as an Amazon bestseller in Asian literature and Tushar Sharma in the list of Top 100 influential people of 2022. The book can be grabbed from Amazon https://amzn.to/3JbaPKy
3. "Coaching King" is an all-inclusive guidebook written by Jeet Shah that delves deep into the world of creating and launching successful courses in 2022. This book is a comprehensive study that covers all the important aspects of course creation and marketing, including selecting a profitable niche, designing a curriculum, creating engaging content, pricing, and promotion. Shah provides readers with actionable tips, real-life examples, and proven strategies to help them achieve success in the competitive world of online education.
4. "Stonks from Scratch: The Guide to Get Started in the Stock Market" by Shashwat Amrev is a practical and straightforward book that serves as a helpful companion for anyone embarking on their stock investing journey. With a focus on the fundamentals, this guide covers the basics of the stock market and provides essential knowledge and tools to navigate the world of investing. Whether you're a beginner or an experienced investor, this book is an invaluable resource that will equip you with the knowledge and confidence needed to make informed investment decisions.
5. "Teen Bugs", a poetry book that explores the themes of teenage dysphoria, self-discovery, and the challenges of growing up. What sets "Teen Bugs" apart from other poetry books is its unique approach to language and grammar. When the book was first published, no effort was made to correct any grammatical errors or typos. The author made a deliberate choice to leave the book as it was, with all its imperfections and flaws. The reason for this was to convey the message that not everybody is perfect, and that as teenagers, it's okay to make mistakes and learn from them. In a world where perfection is often prized above all else, "Teen Bugs" is a refreshing reminder that imperfection can be just as powerful. The book is a celebration of the messy, complicated, and beautiful journey of teenage life, and a testament to the power of self-discovery and growth
6. "Don't just live a purposeful life but live the purpose of your life". This is the underlying theme of Dr. John Giftah's latest #1 New Release on Amazon, "Unveil Your Purpose". (Host of Top-ranking Podcast "Fuel for the Soul with John Giftah". The light and easy-to-read book is a one-stop hub to learn fundamental truths about our purpose in life and on having a purpose-driven mindset and lifestyle. It is also a step-by-step guide to discover our purpose and to walk in it.
7. "Remembering Ashwini" by Kushal Dastenavar is a moving and personal memoir that pays tribute to the author's late wife. Dastenavar shares his experiences, his family's struggles, and his wife's unwavering spirit through heart-wrenching anecdotes. The book is a powerful testament to the enduring power of love and the human spirit, reminding us to cherish every moment with those we hold dear.
8. Life doesn't come with answers, it comes with questions. In Search Of Home is a heart-touching book written by VK Mehta and Mahek Sharma. It revolves around Dev and Rehaan as they try to figure out the answers to life's questions together. The book captures several emotions and you feel connected right from the beginning. It brings out an incredible picturization of characters, scenes, and feelings. This young adult novel is available on Amazon & Flipkart.
9. Amid the pandemic, Shirley and Tarun's love story blossomed despite lockdown measures separating them. However, tragedy struck when Tarun contracted COVID-19 and was hospitalized. Shirley's unwavering love gave her strength as she waited for news, and Tarun miraculously recovered. They reunited, cherishing their time together and celebrating life's fragility. Manoj Sharma's well-crafted and accessible book tells their story of resilience and hope, a powerful reminder of the enduring power of love amidst adversity.
10. Dr. Anand loses his enchanted sunglass, which ends up in college scholar Prajin's possession. As Prajin discovers the power of the sunglasses, the fate of the magical world lies in his hands. Will Dr. Anand reclaim his treasure and restore balance? "Something Went Wrong" by Raghav M.S. is a captivating fantasy tale of hope and destiny, chronicling aspiring writer Harish's journey towards publication amidst countless rejections. Will his dreams come true?
If you have any objection to this press release content, kindly contact pr.error.rectification[at]gmail.com to notify us. We will respond and rectify the situation in the next 24 hours.