Hisense India launches two AC series IntelliPRO and CoolingXpert
IntelliPRO WIFI smart controls work with Google Assistant with 4D swing.
The two ACs feature 5-in-1 Convertible Pro, Equipped with Indoor & Outdoor Anti-corrosion Hairpin Coating, 100% Inner-Grooved Copper Tube, PM2.5 Health Filter, Auto Clean and Intelligent Inverter Compressor with a 10-year warranty.
New Delhi (India), February 23: Hisense, a global leader in consumer electronics and appliances, is set to revolutionise the Indian market with its latest air conditioners, the IntelliPRO and CoolingXpert. These feature-rich ACs are packed with a wide range of features, such as a WIFI Voice Control, 5-in-1 Convertible Pro and many others and also provide a 10-year warranty on the compressor. The IntelliPRO and CoolingXpert offer capacities ranging from 1 ton to 2 ton, with prices starting from Rs. 31,000/-, and are available at leading electronics stores across India.
Instilled with next-generation features, the new Hisense IntelliPRO comes with WIFI and voice control, easing up midnight remote hunting as it controls the temperature and modes with just a voice command. Equipped with a 4-way swing, the AC ensures uniform and consistent cool air throughout the room, making the user's experience accessible and comfortable.
Unique features such as the sleep mode, which automatically changes the temperature, and the 5-in-1 convertible mode paired with an inverter compressor that adjusts energy usage save up to 36% on energy usage, making the home more environmentally friendly. Additionally, both ACs have 100% inner-grooved copper tubes that provide long-term use and excellent cooling efficiency for much-needed seasonal changes.
Supporting health in a harmful environment, both IntelliPRO and CoolingXpert come with a PM2.5 health filter that protects your health by filtering out harmful PM2.5 pollutants in the room, as well as an auto-clean mode that prevents mold, moisture, and dust from accumulating in the indoor unit, giving a strong and odour-free cooling home.
Stating on the launch, Mr. Steven Li, MD of Hisense India, said, "Hisense India is focused on bringing innovative and high-quality products in various categories to offer the best quality products and services to attract Indian customers. The launch of the IntelliPRO and CoolingXpert air conditioners is a continuation of this commitment and a step towards providing customers with unparalleled comfort and convenience at home. The AC's features not only provide customers with a delightful experience but also help save energy and maintain a healthy home environment. We are excited and looking forward to bringing more world-class products in various categories."
Next-Gen Hisense AC features include –
Wi-Fi & Voice Control
The IntelliPRO comes equipped with WIFI Smart controls, making it easy to operate the air conditioner from anywhere with your smartphone, tablet or with just voice using Google Assistant. The access-free benefit enables users to set temperature, change modes, set temperature, etc.
Health Filter and Auto Clean
IntelliPRO and CoolingXpert come with a PM2.5 health filter which protects your health by filtering out harmful PM2.5 pollutants in the room. Auto clean mode prevents mold, moisture, and dust from accumulating in the indoor unit, allowing the user to enjoy strong and odour-free cooling at home.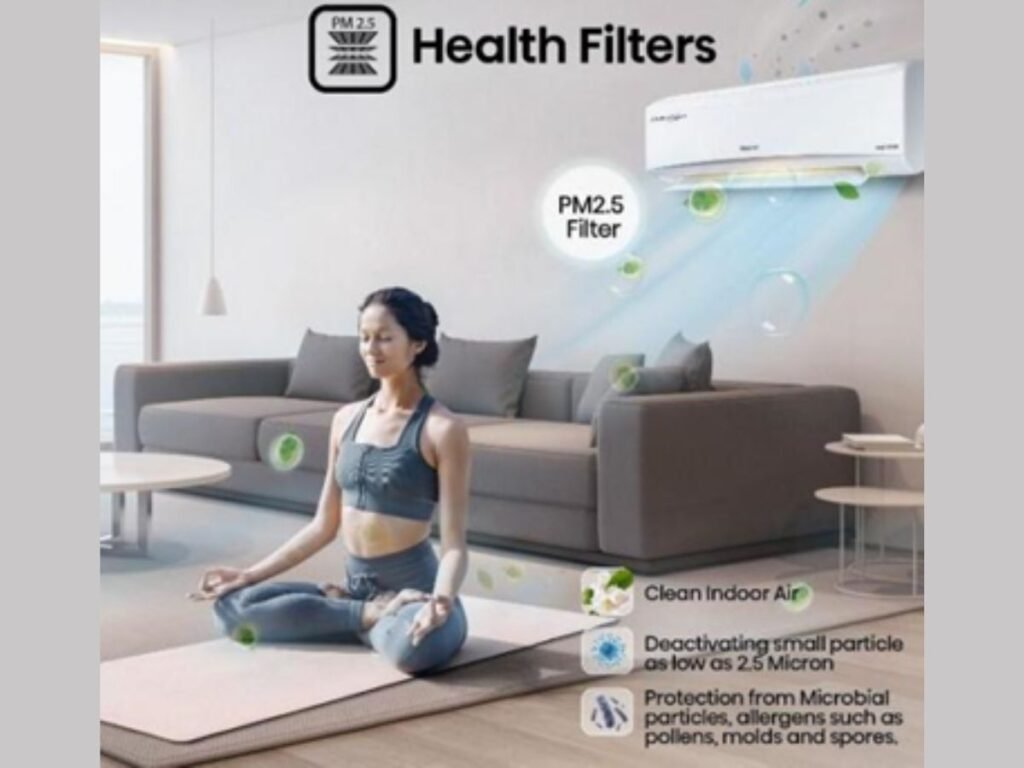 Quick Chill
Stepping in from a hot and humid environment the Hisense QSD technology brings Intelligent Inverter Compressor high speed running for a quick and effective chill on demand.
5-in-1 Convertible Pro
Both ACs have 5 modes which can be chosen depending on how much cooling power is needed. Starting from 50%, it goes up to 110% in quick time, giving a powerful and instant chill room.    
Corrosion Shield
The Ac's are equipped with indoor and outdoor unit's hairpin coating technology and blue fins to prevent rust and ensure durability and longevity.
Smart Modes
Swap between different modes as per room requirement to make the most of your AC rather than fumbling between temperature and fan speeds. The AC automatically selects the best temp and fan speed based on that mode for best performance.
Stabilizer-Free Performance
Even at extreme temperatures, this air conditioner operates smoothly in voltage circumstances ranging from 140V to 290V. This saves the expense of purchasing a separate stabilizer.
100% copper & Eco-friendly Refrigerant
This air conditioner's evaporator and condenser are composed of 100% inner-grooved copper tubing for improved operational safety, increased hardness, easier maintenance, long-term use and high-efficiency heat exchange. Air conditioner uses the R32 eco-friendly refrigerant, which emits fewer greenhouse gases and requires less refrigerant.
Smart Diagnosis
The smart diagnosis mode will show an error code for easy problem diagnosis and quick resolution. Offering a comfortable feel at home. Hisense ACs are a must-buy for the cool season knocking on the door.
About Hisense:
Founded in 1969 with the core value of integrity, innovation, customer focus and sustainability, Hisense has become one of the largest consumer electronics and home appliances company in the world. Hisense offers products and services ranging from TV, smartphones, commercial displays, household appliances including refrigerators, freezers, and air conditioners, among other products., IT intelligent systems to real estate and modern services.
Hisense has a strong global workforce of over 90000 and its flat-panel TV market share in China has been No.1 for 13 years consecutively. Hisense sales revenue crossed CNY 175.50 billion in 2021.
Globally, Hisense has established 38 overseas companies, 29 industrial parks and 20 R&D centres and has become a leading player in laser display, ULED, quantum dot display and frequency conversion technology. Hisense's products are currently sold in over 130 countries and regions around the world. In addition, Hisense has built strategic partnerships with trusted global corporations such as IBM and Hitachi for the development and marketing of various products and services.
For more information, kindly visit: https://www.hisense-india.com/about-hisense