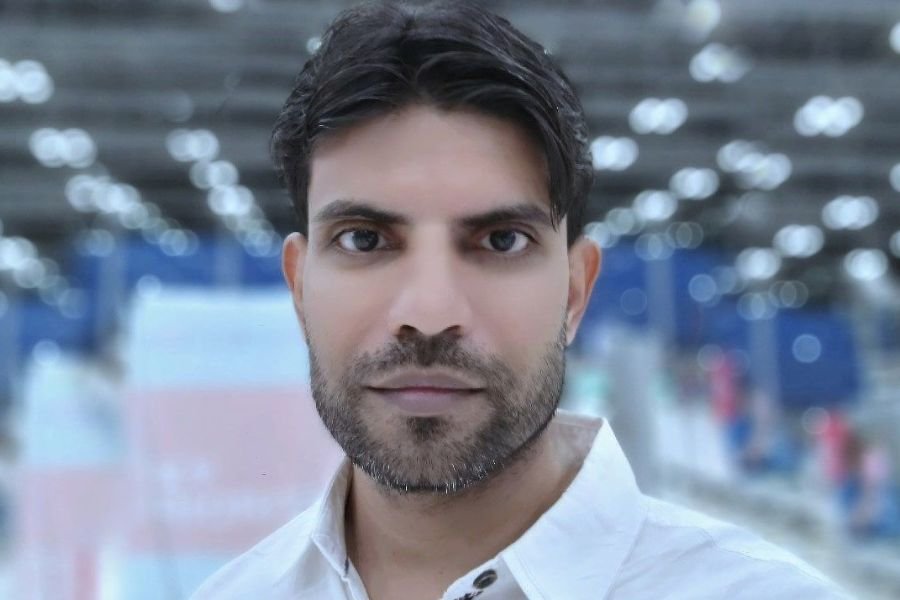 Renowned Indian Entrepreneur and Celebrity, Kailash Rathi
New Delhi (India), February 20: In the fast-moving vibes of Mumbai, our passionate team was eager to meet the talk of the business world, glam world, and B town, a guy who has the nerve to change existing systems and innovate –Kailash Rathi, a proud Indian, a celebrity and a nationally recognized topmost entrepreneur, multi industries expert, public figure, film producer, director, author, influencer, innovator, mentor, and motivator. Kailash Rathi is eminent for his strong suit in business, entrepreneurship, film production, new technologies, innovation, and cross Industries proficiency.
Kailash Rathi has been honored with national awards like 'The Innovator of the Year' in India and 'The Company of the Year' in India and nominated for many prestigious honors including Asia-level awards like 'Asia Pacific Entrepreneurship Awards' and others.
Kailash Rathi founded the Sashakta group, which is involved in information technology, business consulting, outsourcing, film production, entertainment, and education. Kailash Rathi is also the official owner of some prestigious country-level mega Fashion and beauty shows. With his NGO and, in general, also he does some social services and is working on a unique platform for 'Biological Parent Deprived Children'. Kailash Rathi strongly promotes that there are no 'Parent Deprived Children' in this universe as everyone is God's child, and Kailash wishes to eliminate the unjust word 'or**an' from dictionaries of the world.
Kailash Rathi is renowned in the film industry for his incredible quality, unmatched creativity, and top-notch Bollywood, regional, and story-based films. His distinguished works include Naraaz Piya, Samjhote, Teri Aankhein Badi Anmol, Hath Fadle, Khudara Aakar, Matlab, Main Hoon Tera, Teri Baat Aur Hain, Ishq Ka Mausam, Main Tera Kaun Hoon, Tera Deewana, Zahir Kare, and other numerous film productions. He has great plans for the expansion of the entertainment business.
A public figure and very energetic, modest, and cheerful person, Kailash Rathi was born in the small city of Marwar in Rajasthan. Kailash Rathi is a self-made childhood entrepreneur and became self-dependent in his teenage "by his own choice". Based in Mumbai, his businesses are operated mainly in Maharashtra and Rajasthan.
It's amazing that Kailash Rathi began sparking ideas from childhood. In his teenage when other children used to study and play, he took risks and ventured into business with his distinctive positive approach, confidence, and ardor. In his early teenage itself, he also started social welfare to help the poor by organizing fashion, entertainment, and sports events.
Kailash Rathi pioneered interesting thoughts much before a famous movie was showcased recently. His concept is clear: Study to gain knowledge in various fields of your interests. A career isn't required to be based on your studies, but on what you want to work – from perspectives of interests, passion, and to financially enable yourself and towards your responsibilities. His self-done education is outstanding, and his qualifications include C.S. (Company Secretary), PGDMSM Marketing & Sales Management, Gold Medalist Masters in Commerce Business Administration, Bachelor in Commerce Honors, Globally Certified SAP Consultant, MCPD, MCTS, and many niche and soft skills, but his main ventures are almost in fields different from his studies.
Kailash had earlier worked with some top global companies. His passion includes travelling and reading. He mentors youth in general and career and also mentors artists.
Kailash Rathi is acclaimed globally for his creative innovation from Shri Bhagavad Gita and for revealing first time to the world – the concept, perspective, insights, and expertise on 'Management Mantras for Business' from Shri Bhagavad Gita.
Hidden behind his amazing sounding life and achievements is a very hard journey – full of significant hurdles, struggles, pain, problems, and sacrifices, but fighting all the odds with his self-confidence and dedication, Kailash Rathi kept moving ahead on his self-made paths with utmost positivity, valour, fervour, and firm determination.
People follow Kailash Rathi as their role model. Large numbers of followers follow him on Social media. Kailash Rathi wins the hearts and minds of people globally. He admires Lord Krishna and Chanakya.
Authentic, popular, and official social media handles of Kailash Rathi are available on Instagram, LinkedIn, Facebook, Twitter, IMDb, etc.
Kailash Rathi is undoubtedly an amazing and interesting personality to meet anytime.
If you have any objection to this press release content, kindly contact pr.error.rectification[at]gmail.com to notify us. We will respond and rectify the situation in the next 24 hours.