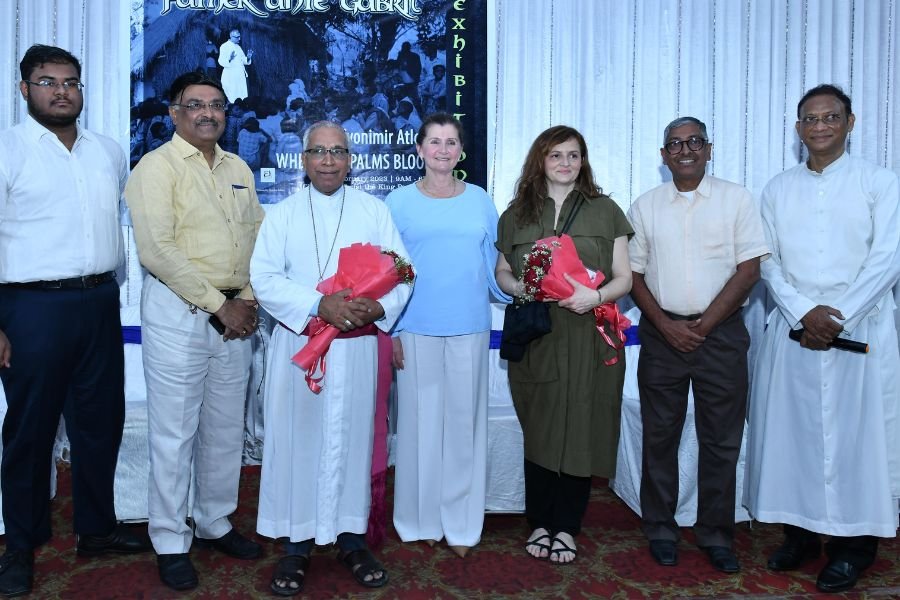 Archbishop of Kolkata, Your Excellency Thomas D'Souza, at the inauguration of a photo exhibition in Kolkata – "Where the Palms Bloom" – on the life of Late Fr Ante Gabric, a Croatian Jesuit priest also known as "The Apostle of the Sundarbans" who worked with Mother Teresa
Kolkata (West Bengal) [India], February 18: A two-day photo exhibition on the life and work of the Late Father Ante Gabric, a Croatian Jesuit missionary who worked closely with Mother Teresa and spent five decades (1938 – 88) in eastern India, started today at the Mother Teresa Hall in Christ the King Church, Park Circus, Kolkata. Late Fr. Gabric is known as the "Apostle of Sundarbans" for his socio-religious and charitable work carried out over 50 years. Father Gabric had a close relationship with Mother Theresa, and their mutual respect and admiration intensified in trying to excel the other in following Christ daily.
Similar exhibitions will be held at Basanti February 23-24 and Gosaba February 26-27, both in Sundarbans. The Kolkata exhibition, "Where the Palms Bloom, " is being organized by Violeta Orsulic and Martina Vrecko from Croatia in collaboration with the Archdiocese of Calcutta and Baruipur diocese. Similar photo exhibitions have been held in Croatia and other European cities since 1990; the last ones were held in six cities in Croatia in 2022.
The exhibition, featuring some of the rare photos of Fr. Gabric, were taken by Croatian photographer Zvonimir Atletic in 1977 and portray the early works of Saint Mother Teresa of Kolkata and the Late Fr. Gabric, who is now a Servant of God – which is the first phase in the four-stage canonization process namely Venerable, Beatification and Canonization. The canonization process for Father Gabric was opened on his birth centenary, February 28, 2015, by Cardinal Josip Bozanic, Archbishop of Zagreb. The prelate declared him a "Servant of God."
Vice Postulator Father Mirko Nikolic, who works for the causes of canonization, says they have finished the diocesan part of the process and need to interview a few more witnesses in Croatia. Informed sources said that the testimonies from India should be submitted to The Vatican.
Born in the city of Metkovic in Croatia in 1915, Fr. Gabric came to Kolkata in October 1938 and died in 1988. His body was buried in a village parish he started in the Sundarbans, where he had spent 45 years serving its many parishes. He joined the Society of Jesus on May 15, 1933, with a desire to work in the missions in India and was ordained a priest on November 21, 1943, at St. Mary's Theological College, Kurseong, West Bengal.
"From then on, Father Ante (Gabric) was a man on fire and a man for the frontiers, finding new avenues and opportunities to reach out to the unreached and unreachable in the dacoits-infested and communist-ruled islands of the Sundarbans," wrote late Nicolas Naskar, a catechist who had worked with the Jesuit since his arrival in the flood-prone deltaic region of the Sundarbans.
Father Gabric was a prolific letter writer, especially to his family members, friends, acquaintances and most importantly, benefactors. He also started many self-help groups imparting skills like carpentry and tailoring to help people to earn their livelihood.
"The photo exhibition is very nostalgic and aptly brings back to life the time when Fr. Gabric was a familiar face in the Sundarbans. Old folks still recall growing up hearing stories of Father Gabric being a familiar figure walking and cycling through challenging terrains to reach out to the people in need," said Mr. Subrata Ganguly of Church Art.
Violeta, who established the `Fr. Ante Gabric Foundation', says Father Gabric and Mother Teresa have inspired her to organize the program in India. Martina expressed the joy of visiting the places touched by Father Gabric.
If you have any objection to this press release content, kindly contact pr.error.rectification[at]gmail.com to notify us. We will respond and rectify the situation in the next 24 hours.