Venture Suite's platform connects you with top investors and provides customized fundraising strategies
Pune (Maharashtra) [India], February 13: Venture Care, a Pune & Cambridge-based MNC Professional firm, has added value by developing the AI-powered Venture Suite for the next generation of business owners and investment bankers. Venture Suite is an AI-based, integrated platform for founders. It integrates all aspects of technology and professionals' expertise for the founders.
Before starting any AI project, it's critical to understand how data collection and analysis relate to artificial intelligence. The days of AI being referred to as the future are long gone. The future is now. AI can be used in almost any business strategy. The platform's mission is to make raising capital for businesses easier and more efficient from the founders' point of view. The concept has been bolstered by the development of an AI-powered platform that offers a range of expert-led services and startup management tools.
In recent years, a lot of businesses have enthusiastically embraced AI to get the most out of the data they are already collecting. Think about the following:
According to Grand View Research, the size of the global AI market was $62 billion in 2020, and from 2021 to 2028, it is projected to grow at a rate of 40.2% annually.
In McKinsey's "The state of AI in 2021" survey, 56% of respondents report implementing AI, up from 50% of respondents in 2020.
According to Accenture's AI report, 84% of C-suite executives believe utilizing AI will help them achieve their growth goals.
These figures demonstrate that AI is no longer a cutting-edge technology used only by a few niche companies. In many businesses worldwide, it has made its way to being a crucial part of operations.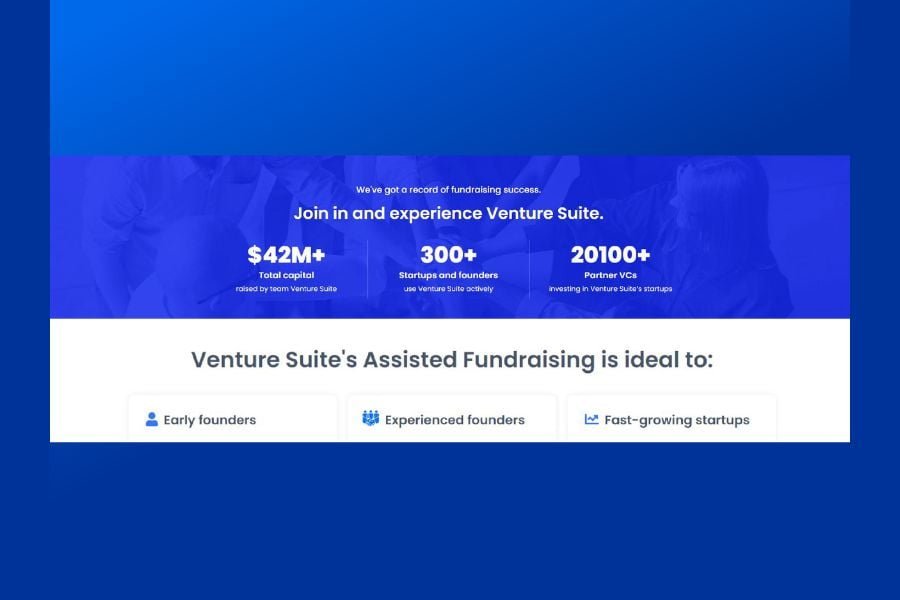 The Venture Suite platform, which combines AI, investment bankers' professional expertise, and related services for early-stage to established startups, provides a comprehensive solution to this issue with quick results and low costs. The platform seeks to help entrepreneurs in the top startup ecosystems around the globe, such as those in North America, the United Kingdom, Australia, South Asia, and Middle Eastern countries.
According to CS Abhishek Kumar, the founder-entrepreneur, Venture Suite is already providing great opportunities to founders. More than 20 startups have received assistance with fundraising, marketing, investor outreach, and other critical business functions in the last 3 months.
He stated that he wanted to help founders, who must typically approach 100–200 investors before raising a few million dollars for their seed round—and hundreds more before even approaching that figure. A startup receives funding at a 400-to-1 ratio on average. Numerous dollars and hours are spent without ensuring success. However, a founder doesn't only face problems with funding. The entire process of establishing a startup is full of multiple challenges that necessitate a one-of-a-kind approach on multiple levels. Venture Suite is exactly the solution for this conundrum. The platform includes a variety of tools to aid the founders' work, including Outreach CRM, Investors Catalogue, Pitch Hosting, Data Vault, Assisted Fundraising, Founders' School, etc.
In the founder's words, "We aim to be the most preferred platform for founders to scale their startups quickly." They have a substantial network of start-up experts and a built-in facility that can provide direct access to more than 150,000 VCs, PEs, family offices, and angel investors on the platform to help businesses scale. They will also continue to improve the platform until the typical startup processes are completely automated. Abhishek stated.
As the startup revolution spreads around the world, solutions like the Venture Suite become more important for streamlining founder processes and facilitating better startup management. The founder-first approach and "for entrepreneurs by entrepreneurs" philosophy will assist the platform in accessing and scaling data from within the startup framework and from the founder's perspective.
To know more, visit – https://venture-suite.com/ and https://venture-suite.com/assisted-fundraising/
If you have any objection to this press release content, kindly contact pr.error.rectification[at]gmail.com to notify us. We will respond and rectify the situation in the next 24 hours.