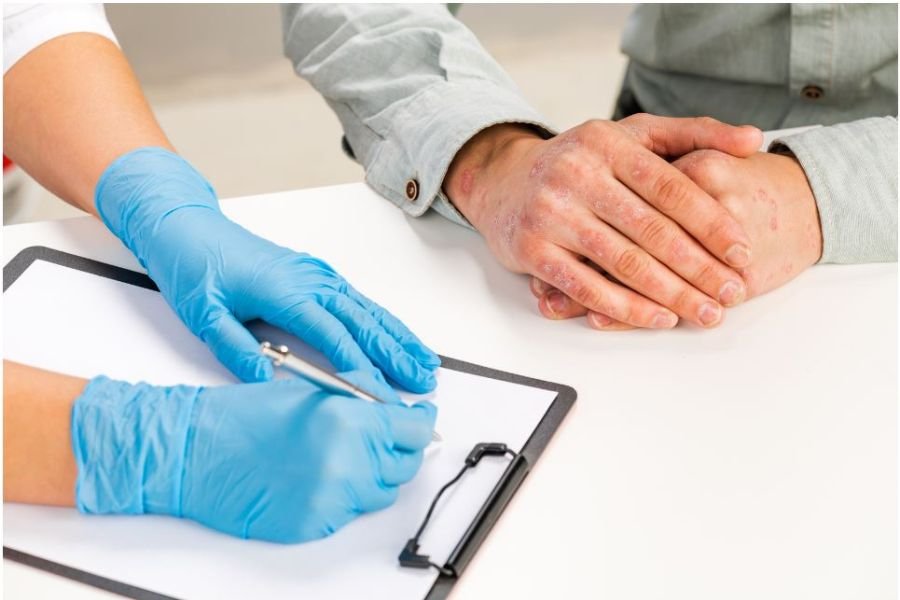 New Delhi (India), February 13: As per the study published in the Journal of Dermatological Science on (December 1, 2004), by Milestone, Leonard M, an average adult individual sheds around 500 million skin cells every day. The human body has around 30 trillion, or over 100,000 times the amount of skin cells shed each day. The reason for the thick scaly patches on your skin could be Psoriasis skin disease.
According to the National Psoriasis Foundation, the average onset of this skin disease is between 15 and 35 years, and it affects men and women, equally. Only about 10 to 15% of people with psoriasis disease are diagnosed before the age of 10.
Psoriasis can occur on the scalp, toe, nails, neck, back, face, and any other part of the body. The skin condition is chronic with flare-ups happening frequently or it can re-emit even after subsiding for some time.
WHAT ARE THE CAUSES OF PSORIASIS DISEASE?
The specific cause of psoriasis is yet unknown, however, it is considered an auto-immune disease where the infection-fighting cells attack the active and healthy skin cells. Someone who has a relative suffering from Psoriasis is more prone to suffering from the same as genetics play some role in skin cell development. A paper published on PubMed Central a literary journal of the National Center for Biotechnology Information (NCBI) states that "The heritability factor for Psoriasis ( The proportion of trait attributed to a genetic component) is estimated between 60-90%".
TYPES OF PSORIASIS
There are different types of Psoriasis which are, Plaque Psoriasis involves dry, itchy, raised skin patches coated in scales, nail Psoriasis affects fingernails and toenails, the nails appear pitted, and Guttate Psoriasis is mostly a result of bacterial infections such as strep throat. The skin folds of the pelvis, buttocks, and breasts are the most commonly affected by inverse psoriasis. Erythrodermic psoriasis, the least common form of psoriasis, can cover the entire body with a peeling rash that can itch or burn severely.
PSORIASIS TREATMENT IN HOMEOPATHY:
Homeopathy is a proven science that helps in the treatment of psoriasis. It provides effective and long-lasting results without any possibility of side effects. As stated in the Journal of the European Academy of Dermatology and Venereology (JEADV), psoriasis patients who received homeopathic treatment saw substantial improvements in their quality of life (QOL) and a reduction in their psoriasis symptoms.
Homeopathy is cost-effective and follows a holistic approach to treatment that treats the patient's condition by getting to the root cause of the ailment. Homeopathy takes a patient's physical and psychological well-being into consideration. Homeopathy doctors too conduct in-depth sessions to understand the patient's condition better.  
If you have any objection to this press release content, kindly contact pr.error.rectification[at]gmail.com to notify us. We will respond and rectify the situation in the next 24 hours.