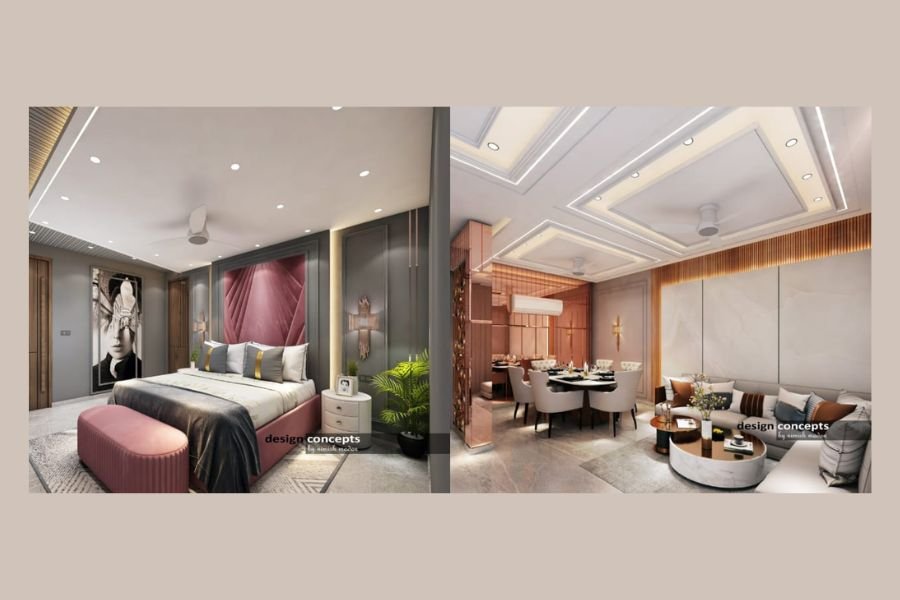 New Delhi (India), February 10: In this competitive setting, spotting the perfect architecture, interior and construction firm to suit your requirements can be exhaustive. But not to worry, thanks to Design Concepts by Nimish Madan and their team who delicately take care of your concerned needs.
Design is much more than just creating a visually appealing space. Interior design is the art and science of composing interior spaces. With an intention to enhance the functionality as well as the aesthetics of the volume. The designer targets to create a living space that is supportive of the activity/activities intended to be performed there; that is, the function of the zone and which is comfortable for the users at the same time is visually appealing.
What are the top qualities of a premium design firm?
Creates an impact: The best design firms strive to create an excellent impact that leaves the client along with their friends and family awestruck.
Long-term sustainability: Top design firms aim to deliver long time sustainability to their clients by using materials that are long-lasting and as well aesthetically appealing at the same time.
Amazing Aesthetics: The finest design firms aim to offer the best aesthetic experience to the customers by creating wonderful designs adhering to the exact requirements by converting their dreams into reality by offering a unique and personal touch to the interiors. The interiors represent a unique panorama of elegance, style, unmatched designs, diversity and colors that are sure to captivate anyone.
Do you know the firm that sticks to the above qualities of an exclusive design firm?
It's Design Concepts by Nimish Madan, an architecture, interiors and construction firm situated at DLF Capital Greens, Shivaji Marg, New Delhi.
Design Concepts by Nimish Madan is more than just a design company, it is a dream of a renowned interior & architecture expert and educationist – Nimish Madan. With 14 + years of experience, he is well respected in the industry. His expertise ranges from commercial to residential and hospitality to retail and beauty projects. At Design Concepts by Nimish Madan, they combine this extraordinary talent with great experiences to create timeless spaces as exceptional as the clients they are created for.
The Design Concepts by Nimish Madan is a full-service design firm that specializes in creating beautiful, functional, and sustainable spaces. Their team of experienced architects and interior designers is dedicated to creating innovative and unique designs that meet the needs of their clients. They strive to create spaces that are both aesthetically pleasing and functional, while also being mindful of the environment. Design Concepts by Nimish Madan might be your one-stop solution to your design needs that create excellent and unique spaces with 100% customer satisfaction. Nimish Madan is a pro at handling client queries and providing them with the exact service they might be looking for. He started his career as an architecture & interior educator and visited some of the most high-profile interior design and architecture institutions in Delhi such as Amity School of Architecture and Planning, Amity University, YMCA Delhi, Jagannath Institute of Management Sciences, University School of Architecture and Planning, and the list continues. Nimish, a well-skilled name in the architecture and interior design industry, started his journey in 2009 and currently it's among the premium names of construction organizations in Delhi, NCR.
Months of hard work helped Nimish and his team gained their clients and since then there has been no looking back. They have served some of the most top-tier clients such as the likes of:
Golden Bricks Pvt Ltd. Builders and Developers
GKI Projects
Narang Buildtech
Shubh Bhoomi Developers
Guru Kripa Contracts
Silver Reality
From residential to commercial and lifestyle to food, whatever spaces they build are nothing if not masterpieces. When their great plans marry their superior designs, the result is out for the world to see and wonder. On-time Delivery, Customer Satisfaction, Value for Money, Use of Latest Technology and Materials, Environmental Ideology and Unique Sense of Style. Not just that, they offer services at par with international design standards. They have done residential, commercial, retail, hospitality and beauty projects so far in Delhi NCR along with their presence in most of the states in India.
Nimish Madan being an educationist has also produced a useful books for the National Aptitude test in Architecture (NATA) and JEE Mains exam for students, published by the Ramesh Publishing House,Delhi.
Why should you work with Design Concepts?
There might be a plethora of reasons why would like to suit your architecture or interior design needs. From commercial to residential and hospitality and retail, his expertise goes a long way. Design Concepts is an exclusive destination to your interior design needs, where the architects and designers specialize in creating unique and sustainable spaces.
Some of the best reasons to work with this firm include:
Plan: They firmly believe that good design is born out of a great plan. Precisely why, before starting a project their planning team huddles together and plans out an absolute strategy that makes the spaces they create, timeless and unique.
Design: The key to a great design is to reject more and select less. They don't rest until they have that design that's totally unique and has the power to captivate the beholders. The skilled team of workers thrives to pull out the best design that suits the client's needs.
Build: The major existent word in their dictionary is 'masterpiece'. Regardless of the project type, the team focuses on building the best that leaves you praising the creation.
Deliver: Their only aim is to deliver the best output that the client has no scope to complain but be amazed. Designers at Design Concepts are critical problem solvers who study your needs closely, work on carving out the perfect plan and come up with the finest output to meet your needs. Not only do they ensure perfect on-time delivery but customer satisfaction is their top priority. They blend the use of the latest technologies in their work and adhere to the standard international design styles. They ensure to create of functional and aesthetically pleasing spaces and provide the client with a world-class experience for their property.
Are you looking for exclusive interior design or construction services in New Delhi? Be it for your residential, commercial, hospitality, retail, or beauty projects in Delhi and NCR, any building designing or anything related, your wait is over.
Reach out to Mr. Madan today and suit your concerned needs! Their office operates at DLF Capital Greens, Shivaji Marg, New Delhi.
If you have any objection to this press release content, kindly contact pr.error.rectification[at]gmail.com to notify us. We will respond and rectify the situation in the next 24 hours.