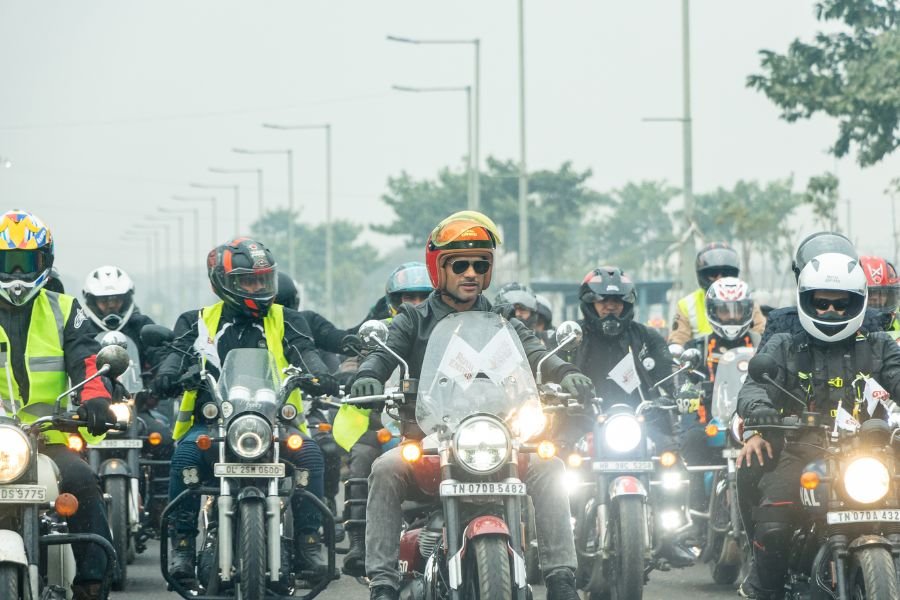 ~Programme reached out to states of Punjab, Uttar Pradesh & Delhi on 28th & 29th January~
~More than 500 riders participated in the community upliftment ride~
Gurgaon (Haryana) [India], February 1: Royal Enfield's CSR and Sustainability arm, the Eicher Group Foundation, along with Shikhar Dhawan Foundation, organized an innovative ride to engage the Indian motorcycling community, including Shikhar Dhawan himself, to come together and ride for the cause of community upliftment on the back of the National Tourism Day. On 28th & 29th January 2023, more than 500 motorcycle enthusiasts, in Amritsar, Delhi and Agra, with hearts as large as the engines of their bikes, rode to distribute various kinds of aids for schools, orphanages, blind schools, zero line villages and other such regions where resources and logistics are often sparse. Among the many things that were distributed were sewing machines, which were given to women with tailoring skills in order to help generate livelihood. Specialized walking sticks for the visually impaired and high-quality wheelchairs for the differently abled were also distributed along with customized hygiene kits. Art kits were distributed too, along with ration kits that will feed a family of four for a month, shawls and clothing. Two bio-toilets were also installed in tourist spots in Delhi.
In Amritsar, the riders covered three routes with scenic or iconic locations, starting from Golden Temple, right up to the Indo-Pak border near Wagah. In Agra, the start point was the Taj Mahal, culminating at Mathura and Vrindavan. In Delhi, the ride was flagged off from the Royal Enfield brand store in Saket. The Eicher Group Foundation is firmly committed to working with communities and engaging the global motorcycle enthusiast community to bring about positive interaction and behavior changes that will help rebalance our world. The Shikhar Dhawan Foundation is committed to supporting the communities in rural and remote areas where medical infrastructure and aid are in short supply.
Speaking on the occasion, Shikhar Dhawan Said, "As part of our social mission, Shikhar Dhawan Foundation is happy to collaborate with Eicher Group Foundation for this community upliftment program to build resilience and drive long-lasting change. We also intend to catalyze a global movement of lakhs of riders who can actively partner with us in our endeavor. Through this unique partnership, we look forward to sowing the seeds of prosperity and happiness across the globe through collaborative efforts to serve the community."
"Royal Enfield is synonymous with leisure riding and touring in India. Keeping in with the spirit of purposeful exploration, Royal Enfield riders have often been agents of positive change, whether in minimizing their footprint in a bid to "leave every place better" or in partnering with local communities to build resilience. As a follow-up to the recent National Tourism Day, we are excited to collaborate with the Shikhar Dhawan Foundation to ride together for the cause of community and social welfare in some of the most iconic tourist spots in northern India," said Bidisha Dey, Executive Director, Eicher Group Foundation.
_end_
About Royal Enfield
The oldest motorcycle brand in continuous production, Royal Enfield has created beautifully crafted motorcycles since 1901. From its British roots, a manufacturing plant was established in Madras in 1955, a foothold from which Royal Enfield spearheaded the growth of India's mid-sized two-wheeler segment. Riders and a passionate community are fostered with a rich profusion of events at a local, regional and international level. Most notable are Rider Mania, an annual gathering of thousands of Royal Enfield enthusiasts in Goa, and the Himalayan Odyssey, a yearly pilgrimage over some of the toughest terrain and highest mountain passes.
A division of Eicher Motors Limited, Royal Enfield operates through more than 2,100 stores across all major cities and towns in India and through nearly 850 stores in more than 65 countries around the globe. Royal Enfield also has two world-class technical centers, in Bruntingthorpe, UK, and in Chennai, India. With more than 37% CAGR for the last 5 years and a 108% growth in international market sales in 2021-22, Royal Enfield is the leader in the global mid-size motorcycle market.
About The Shikhar Dhawan Foundation
The Shikhar Dhawan Foundation is a non-profit organization that strives to address the issue of providing quality education, hunger eradication, job creation, poverty, and eradication of illiteracy among other issues. Since March 2022, the Shikhar Dhawan Foundation has worked towards reaching more individuals & impacting their lives. The Shikhar Dhawan Foundation is continuously leveraging technology to cater to millions of individuals. Shikhar Dhawan Foundation is committed to helping the NGOs in the following 3 ways-
1. Capacity Building- To fulfill our vision by focusing on building the capacities of NGOs towards the betterment of the people, and work in support of local development institutions through mutual collaboration.
2. Collaborative Learning- The skills developed during the collaboration will enable the partner organizations to improve their management skills, and resources and to provide effective community-based services over a period of time.
3. Community Integration- SDF and the partner NGOs will utilize their experience in integrating communities in project implementation, participatory approaches, monitoring and evaluation, grant administration strategy and management with a unified aim and ambition of serving the people, reducing inequalities and empowering the marginalized groups. All the NGOs are brought together on a single platform that serves as a network to share and exchange their learning and knowledge.
Our Vision is: To sow the seeds of prosperity and happiness across the globe through collaborative efforts to serve the community.
Address: Shikhar Dhawan Foundation, Co-Offiz, 8th Floor, Magnum Tower, Golf Course Extension, Sector-58, Gurgaon-122011
Contact: +91 8810245800
Email: contact@shikhardhawanfoundation.com
If you have any objection to this press release content, kindly contact pr.error.rectification[at]gmail.com to notify us. We will respond and rectify the situation in the next 24 hours.