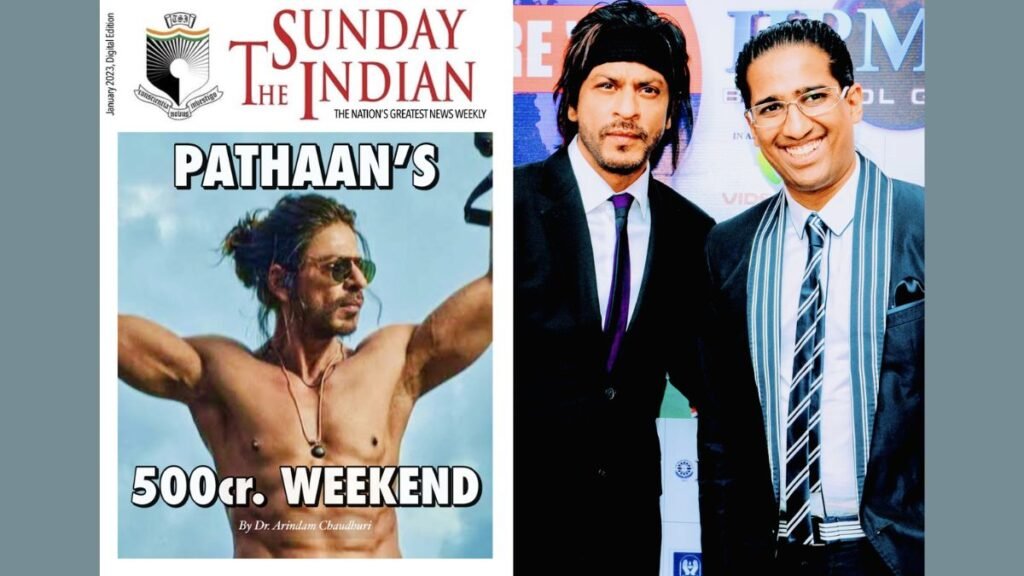 Left: Cover of the digital edition of the latest issue of The Sunday Indian; Right: Arindam Chaudhuri with ShahRukh Khan
New Delhi (India), January 28: The last time Management Guru and IIPM's Honorary Director, Dr. Arindam Chaudhuri, reviewed a film was 15 years back when Om Shanti Om was released. He has done it again for Pathaan on his new online portal, DailyIndian. What sets the review apart is the way he has dissected the marketing of the film.
While giving 9/10 stars, Arindam Chaudhuri predicts that Pathaan will have a whopping 500 cr+ first weekend worldwide!! And this entire money will come with a total of ZERO Marketing costs!! That's the power of KING Shah Rukh Khan — the King not only of Bollywood but also of Marketing!
EXCERPTS FROM HIS EDITORIAL: Needless to say, I watched Pathaan yesterday night! And the atmosphere was absolutely mind-blowing!! SRK makes an entry right at the film's beginning, and the crowd just goes out of control!!! Not much later, the Besharm Rang song comes. While the crowd enjoys, the moment the lines of the song come where Deepika Padukone is wearing her saffron bikini, everyone cheers loud, very loudly.. it's crazy electrifying. The cheering is not for how hot she looks (of course, she scorches the screen) but it is SECULAR & DEMOCRATIC INDIA giving a resounding slap on the face of the #boycottshahrukhkhan and #BoycottBollywoodMovies illiterate gang of divisive termites who were trying to pull the film down and needless to say went behind not only their favourite star but also his son not so long back.
After that, the movie takes off!! With Pathaan, Shah Rukh Khan changes gears at long last— into a full-blown action hero. One of the world's best actor's dialogue delivery, charm, dimpled smile, body— everything is a sheer pleasure to watch and experience! And with that, YRF gives India it's first real Mission Impossible feeling! It works wonders.
But more than everything else, Pathaan is a marketing wonder! 56 cr first day Hindi Business, another 50 cr rest of the world on a non-holiday!! 70cr India Business the next day!! There's no rationale in the film, but Yash Raj Films & SRK know that in today's age of OTT, only world-class action can get audiences to the hall. And do they deliver? They show how without spending a dime, even on posters, they can create a blockbuster! They use Deepika to perfection! They know the spineless invertebrates of the boycott gang have done enough promotion, so they don't give a single interview, roadshow, or TV appearance — no, nothing!! They don't even have anything much in the trailer. They released two songs, one teaser and only one version of a trailer and put it on Burj Khalifa and on social media! 
But yes, they concentrate on the product!! And what a world-beating class product they delivered!! Every moment is worth your money!! 
They know keeping the name "Chaudhuri" or "Bengali" has no pull or romance attached, but Khan, Pathaan, and Sardar all sound romantic and macho! So from keeping the name Pathaan to likely choosing a well-planned colour for Deepika's bikini for a song called 'Besharm Rang, ' they get every marketing trick in the book perfectly. In my previous piece (http://www.dailyindian.com/2023/01/04/how-deepika-padukone-is-powering-srk-2-0/) I also wrote how Deepika's stardom was used to perfection with her presence in FIFA being the single biggest marketing trump card ever played in the history of cinema.
After 15 long years post-Om Shanti Om, Shahrukh again delivers a genuine hit worth his name and mega-stardom! Yes, post OSO for 8 years till 2015, he had Rab Ne Bana Di Jodi, MNIK, Don 2, Jab Tak Hai Jaan, Chennai Express, Happy New Year and Dilwaale. But I'm sure everyone will agree they weren't really what you expect from SRK especially given that during the same time period, Salman and Aamir gave a plethora of gigantic box office successes in front of which all these films of SRK looked pale. And post-2015, for 7/8 long years, absolutely nothing. Not one film made any dent, any impression, or any money. 
After the debacle of ZERO, I wrote an article —11 things SRK must do to retain Box Office stardom https://www.facebook.com/76429890015/posts/pfbid0zyfoUidepEkrZRgHMz866EVbRqtgeMGuvBQCysDP87nMesUoKXSFvEgeWUbem3xRl/?mibextid=cr9u03 (interestingly if you read it, it seems he has done at least 10 of those 11 things)— that the sad part of being a megastar is you have to give box office figures. Necessarily… to justify your place! And for fifteen long years, that was missing. Finally, it's back, and if I have to take a guess, this one should stop only after becoming Bollywood's biggest box office success ever, beating Dangal! It should end up doing 400cr in India alone. Worldwide figures should touch 700cr plus (not counting China). China was my 11th suggestion, for which I'm not clear if he has a strategy. It is where YRF and SRK will need to have a marketing strategy and budget. If that works, then the sky will be the limit, not just for Pathaan but also for his future films!
Go watch Pathaan because it's a movement against a regime that wants to spread hatred and divide India. And while you show the strength of our secular nation, you will get full #paisavasool and fall in love again with Shah Rukh Khan! 
Rating: 9/10One star less because Box Office isn't everything in a film. A ten-star film should be Box Office plus a story to take back home.
If you have any objection to this press release content, kindly contact pr.error.rectification[at]gmail.com to notify us. We will respond and rectify the situation in the next 24 hours.