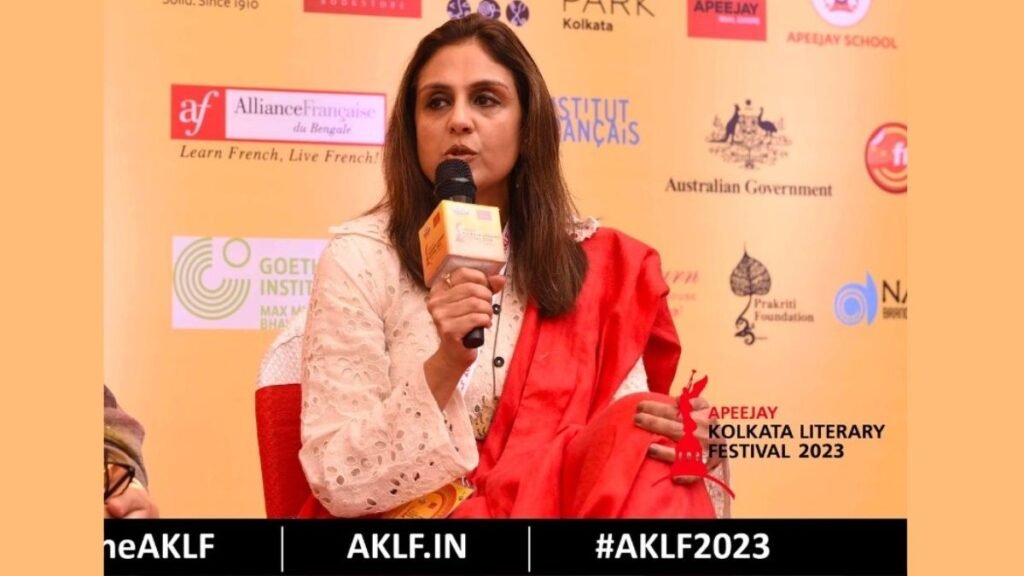 Kolkata (West Bengal) [India], January 16: Shalini Modi, an enthusiast of old Indian scriptures, the Vedas, Upanishads, Puranas, and epics, has shared her views during an hour-long session 'Past, Present and Future' at the prestigious Apeejay Kolkata Literary Festival 2023 on 13th January in the morning. During the session, she was accompanied by reputed authors like Shobha Tharoor Srinivasan and Nita Bajoria. She believes that the stories and philosophy in the epics and scriptures are relevant to our lives even today, and a parallel can be drawn to any situation in our lives. Shalini Modi is the author of two books based on mythology and is often asked what inspired her the most to write books on mythology. She grew up listening to stories from Ramayana, Mahabharata, and Puranas, Amar Chitra Katha, which added to her knowledge and interest at the same time. As she grew up, she liked finding symbolism in these stories and our traditions. Children, too, would often question their relevance. This made her try her hand at writing during Covid.
She has authored two books, namely 'Shravan, Swar, Darshan, Tales, Chants and Temples and 'Seven Immortals, Immortality: Curse or boon'. Seven Immortals is about the lives of the Sapt Chiranjeevi, or immortals, which is a part of Hindu mythology. They are all male characters who were either blessed or cursed to live on till the end of Kalyug. Apart from being immortal, they are high achievers of their times, belonging to either the Treta or Dwapar Yug. They all collect on one spot on their last day on earth as pralay descends, causing mass destruction. The theme of the book is immortality vs mortality. The first book is written in the style of story-telling or the Shravan parampara, which has been a popular concept for thousands of years. It was the only way of passing down the events and stories to the people. Shiva told the first story to his wife Parvati, and when animals and birds heard the Shiva Parvati samvad, they narrated it to the sages, who foretold them to common people and so on. Our texts hold many treasures, including the powerful mantras, hymns, and chants written by the great sages of the past who have, with their severe penance and spiritual and yogic practices, attained the highest knowledge. The stories and hymns in our scriptures are connected to many beautiful ancient temples which were built by sages and kings of the times on spots of special power or where idols appeared by themselves, thus called swayambhu, one that appears on its own.
Speaking on the occasion, author Shalini Modi added, "Mythology has always been a topic of never-ending curiosity to me. Hindu mythology has a lot to offer the readers, and I have been fortunate enough to shed light on a few among those through my books. My session at AKLF 2023 'Past, Present, Future' witnessed the presence of eminent authors like Shobha Tharoor Srinivasan and Nita Bajoria discussing the writing for young readers. Each of these panellists or authors has turned to the past, present, or future to connect with readers of today and tomorrow – this can be the key to the discussion."
If you have any objection to this press release content, kindly contact pr.error.rectification[at]gmail.com to notify us. We will respond and rectify the situation in the next 24 hours.